4-day Yangshuo Bike Adventure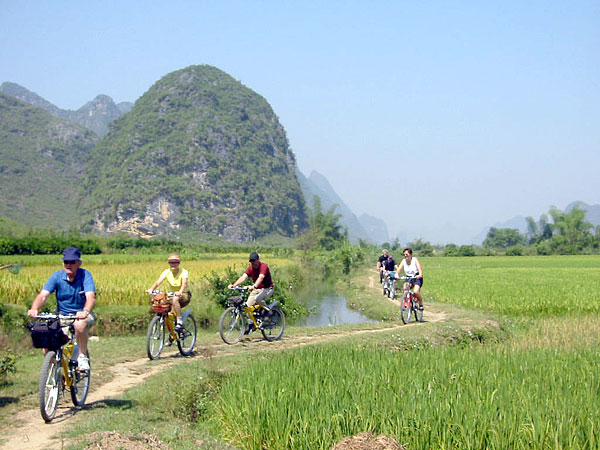 Tour Overview
During this 4-day biking tour, venture into Yangshuo countryside to enjoy the stunningly karst scenery and typical rurual scenes.
Duration: 4 Days
Tour Code: CT-013
Inquire Now
Tour Itinerary
Day 1

Arrival in Yangshuo (No meal)

Meet your guide at Guilin airport or train station, and transfer to your hotel in Yangshuo (1.5-2 hours). Check into your hotel.
Day 2

Yangshuo (B, L)

After breakfast, ride a bike to Yu Long Bridge via Jiuxian, later have a break at Jiuxian Secret Garden Hotel. Then go to board a bamboo raft to enjoy the amazing landscape along Yu Long River. After lunch and rest, bike to the Moon Hill, walking up about 800 steps to the arch (25 minutes) to have a wonderful panoramic view of Yangshuo scenery. Finally, ride back to Yangshuo via Aishan Village.
Yulong Bridge above the Yulong River in Yangshuo

Yangshuo Moon Hill with a natural arch
Day 3

Yangshuo (B, L)

After breakfast, ride a bike to Fuli (12 km), an 800-year-old town near Yangshuo. Walk down a cobblestone street. Here you can also see the little home-based workshops making fan paintings. Then pay a visit to the local market to see the lifestyle of local villagers. Continue your bike trip to Xingping, take a boat trip on Li River, and stop at a local fishing village, where the former US president Bill Clinton once set foot on. Ride back to Guilin (66 km).
Fuli - hometown of the hand-made paper fan

Age-old Xingping town
Day 4

Yangshuo departure(B)

After breakfast, transfer to the airport or train station in Guilin.
End of service.
Tips:
B-Breakfast, L-Lunch, D-Dinner

For this tour, comfortable walking shoes are recommended. And the sightseeing time arrangement on the 1st and 4th day would be adjusted according to your flight or train arrival and departure time.

<a href="//www.pinterest.com/pin/create/extension/" style="height: 20px; width: 40px; position: absolute; opacity: 0.85; z-index: 8675309; display: none; cursor: pointer; border: medium none; background-color: transparent; background-image: url("data:image/png;base64,iVBORw0KGgoAAAANSUhEUgAAACgAAAAUCAYAAAD/Rn+7AAADU0lEQVR42s2WXUhTYRjHz0VEVPRFUGmtVEaFUZFhHxBhsotCU5JwBWEf1EWEEVHQx4UfFWYkFa2biPJiXbUta33OXFtuUXMzJ4bK3Nqay7m5NeZq6h/tPQ+xU20zugjOxR/+7/O8539+5znnwMtNTExwJtMb3L/fiLv3botCSmUjeCaejTOb39AiFothfHxcFIrHY8RksZjBsckJcOIRMfFsHD/SsbExUYpnI8DR0dGUGjSb0byhEJp5Uqg5CTSzc2CQleJbMEj9/ywBcGRkJEk9DQqouEVQT1sK444yWI9UonmTjGqauVLEIlHa9x8lAMbj8SSpp0rwKGMVvg8P46vbg0C7na8z8JsMcgHe7jlEa+edRhiLy8n/TUMfu6EvLElk+U0WtGwrTrdfAGQf5J8iiK4LVzDU28t8JtMSocf8E+l68myaNFXm/6rXslLK7ay5TOunuRvZWpJuvwAYjUaTpOIWoquuAZ219RTaxKYp9BbjycoN5FvL9qH9TBX5rvoGdJythvXYSTxdtRnWylO/ZdqrLsGwszzhWQ593z2KlAwCYCQSSZJ6ehZ0W7bD9VBLgN0NCqr3qR7R2rBrL3pu3Sb/7nDlz2uy6cG0OXk0GTbZXzNp8trsPAQdTj6frlWzN2DcXZGKQQAMh8NJ6rpyHe+PnkCr/CAFdZyvpfpjuvkifLF9wIt1Wwlo0OHie1RvWrKa93RjzfzliTzPKz3ltB0/Tevmwp14wGUgHAzSOoUEwFAolFaaBSuhnslPRkJexUJtZ6v5HtUeLswl33n1BgEY5fvhs9sJ3FAiT+QYyyvoAQJuD0KBAFRTJNAuz5/s3gJgMBhMJwrVFRThM5tY5zUF/A4X1f2fvQTRLCuBreoim0YmAbqNJryvPEXeeq46kaNdkQ/1HCncbJKPs9ZSv2VHGfWsZ2hfkhKAfr8/pdxWKx4wwD69PmVfNSOL+lr2w+gYqHpWDtXt1xQ8AMlWU0e1lqLd/APRHoP8AJqWrQG9gYxcPMsvSJUvAA4MDKTUJ7MZLaVy8v+qT21tcDx/OemePr0RTkNrur4A6PP5xCgBsL+/X4wiQDpuuVxOeL1eMYmYeDY6sOp0z+B0OuHxeEQhxkJMFosJiSO/UinOI/8Pc+l7KKArAT8AAAAASUVORK5CYII="); top: 1356px; left: 55px;">
Price Guide
Inclusions
All transfers and city transportation
Entrance fees and meals as mentioned above
Private car or van with English speaking guide
Two-night at Guilin Hotels with Western breakfast
The above private escorted tour is customized for you, your family or your friends exclusively. No other travelers will join in your group.

Exclusions
Tips to your tour guide and driver
Other personal expenses