6-Day Undiscovered Backroads Biking Tour of Yangshuo and Li River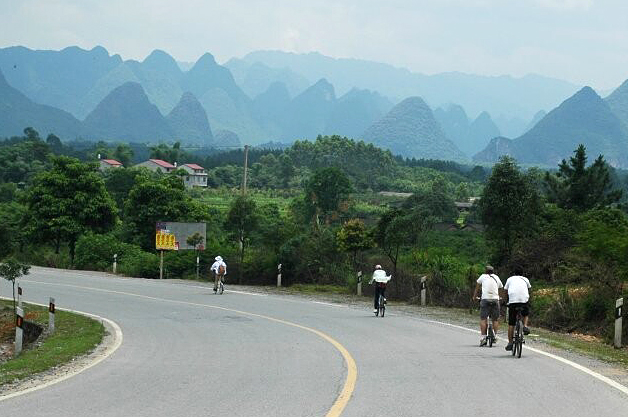 Tour Overview
This 6 days bike tour not only focuses on the real secret highlight places worth to see around the Li river and the stunning countryside of Yangshuo, but also all the unsophisticated places contained. When biking, you will surely have a strong feel that Yangshuo is beautiful but the villages on the way hidden behind the busy cement roads offers you a complete insight of the rural life in South China. This tour is perfectly suitable for mountain bicycles.
Duration: 6 Days
Tour Code: TT-009-a
Inquire Now
Tour Itinerary
Day 1

Arrival at Guilin (D)
Please aware of that this is an unique biking route for bicycle fans or anyone who wants to experience a complete biking program in China.
We will meet you at Guilin airport and take you to your city center hotel. No matter you are a skilled rider or a newbie, you will be given a basic user manual about the mountain bicycle we offer and the matters need attention about this tour. You will get your bicycles today and have a try with our tour leader.
If your flight arrives in Guilin in the morning, you will have more free time to visit the city. An optional evening cruise through Guilin city is highly recommended.
Overnight in Guilin.
Day 2 Guilin - Huixian Wetland Areas - Yanshan Town (50km) (B, L, D)
Optional 50KM or 80KM
Tour Data: For the first 45KM.

We will start this tour by biking from the hotel and leave Guilin from a less busy road, a section of off-road biking is included today. After some small paths and villages we will arrive at Huixian country, continue our trip to the wetland banks then take a boat and start to enjoy the splendid scenic views, you may even climb the hill to see a complete picture of the wetland (Optional, $41 per ship, max. 6 people). After lunch and rest, we go on riding along the small path and villages to Yanshan town of Guilin and check in hotel for rest. If the group arrives at Yanshan town early, you can have an optional visit to the Garden show park of Yanshan, it's optional and charged.
Today the tour takes to enjoy the limestone peaks, crisscrossing rivers, old bridges and ancient routes connecting villages. The level biking is easy but the path crisscross the labyrinth of the small paths. Follow the leader closely.
Overnight in Yanshan town.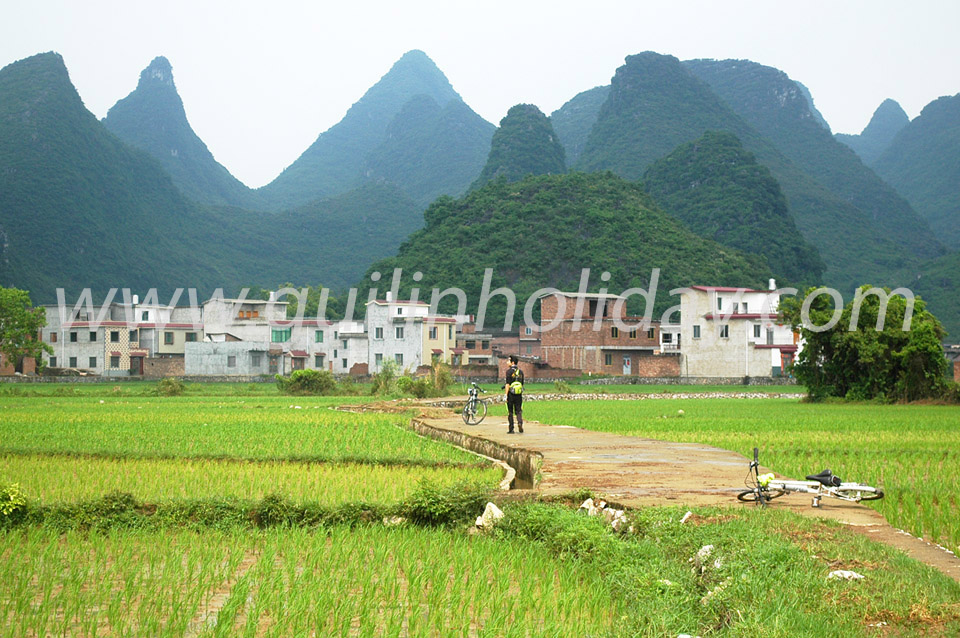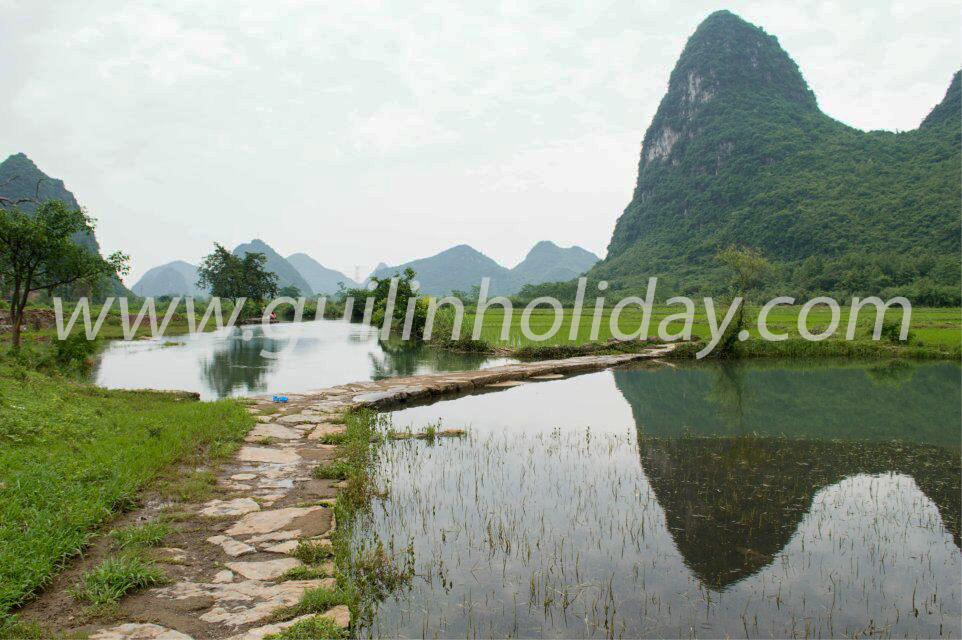 The cycling of real rual Guilin Country road biking around Guilin and Yangshuo
Optional biking: Except the 50KM biking today ends at Yanshan (totally around 4hours biking and 1-2hours for drifting on the Huixian wetland ) , you can choose to have a bike visit to the Golden pheasant river reservoir at Luojin town, we may need to ride for a little longer distance. But the reservoir is the most beautiful one of Guilin, it is undeveloped, less polluted and for free. If your group is well equipped, efficient and skilled in biking, think about making this reservoir into your route because this reservoir is even more beautiful than most of the charging places!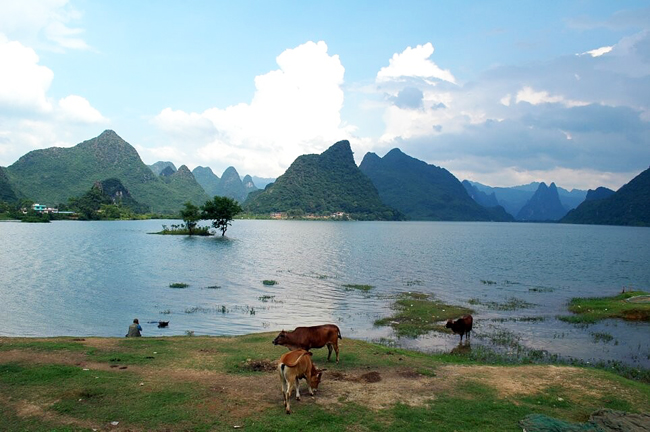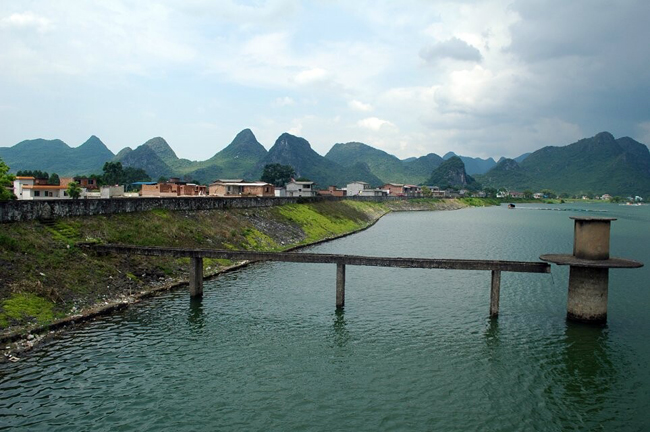 The Golden pheasant river reservoir at Luojin The hidden highlight biking route of Guilin
Day 3 Yanshan Town - Putao - Yangshuo (75km / 46miles) (B, L, D)

During the biking today, you will see meandering rivers, limestone hills, rural countryside with rice paddies and mud brick houses. The amazing karst topography and peaceful country road accompanies you all the way to Yangshuo. Our trip is quite different from the traditional tours by cars, the biking route today is not so simple, you will encounter macadam, unsurfaced forest-road with soil or even mud. We will arrive at Yangshuo before evening.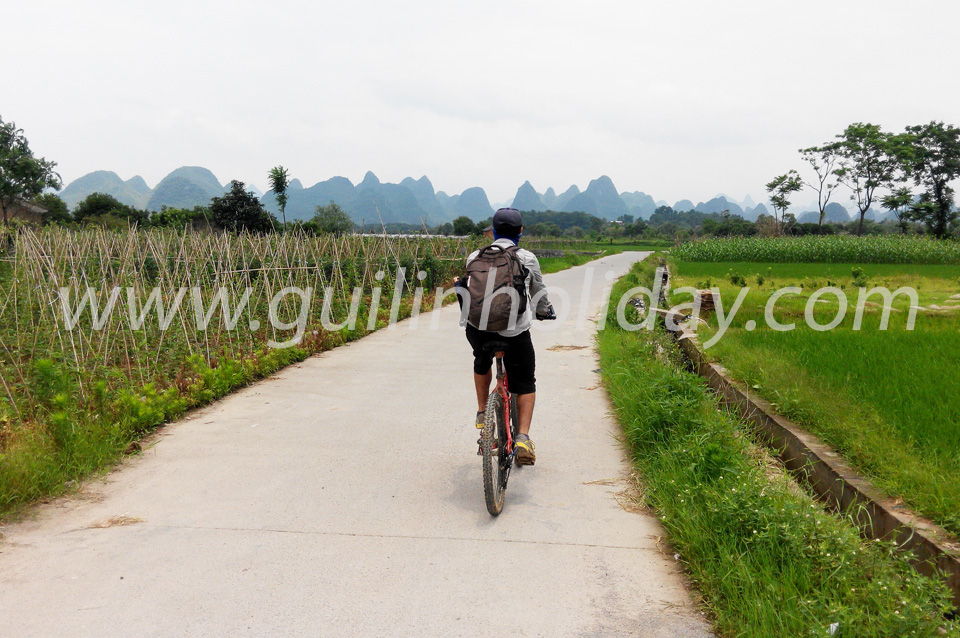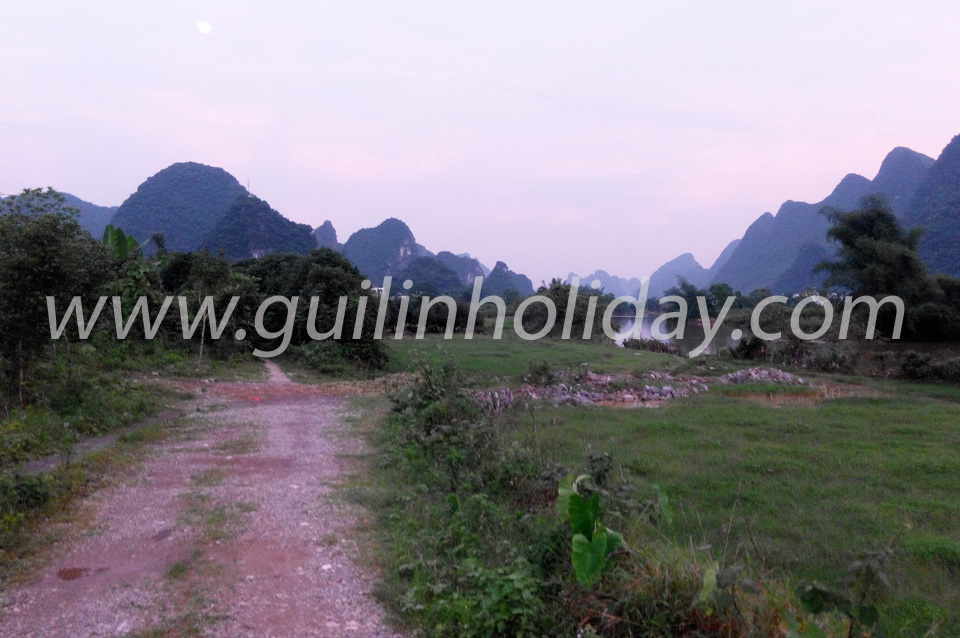 Cycling on the way to Yangshuo Countryroad biking around Jiuxian and Yulong River near Yangshuo
Day 4
Yangshuo - Xingping (43km / 27miles) (B, L, D)
Optional hill climbing to see panoramic view of Li River

We start our riding today along the Li River, biking through the lanes of peaceful villages, keeping away from the dangerous tunnel and road for cars. Enjoying a pleasant journey to Xingping, a small town located on the northeast of Yangshuo, this beautiful place is an important wharf of the Li River. After checking in hotel at Xingping, you will have an optional choice to have a free time or go with the guide to climb the Laozhai Hill. On the top of the hill, a great panoramic view and the great bend of the Li River will definitely shock you! You need to climb over 1000 simple stairs before reaching the top of the hill (the wild stairs cause a hard trekking up), some people may feel dangerous but they will surely be rewarded with the wonderful mountain views.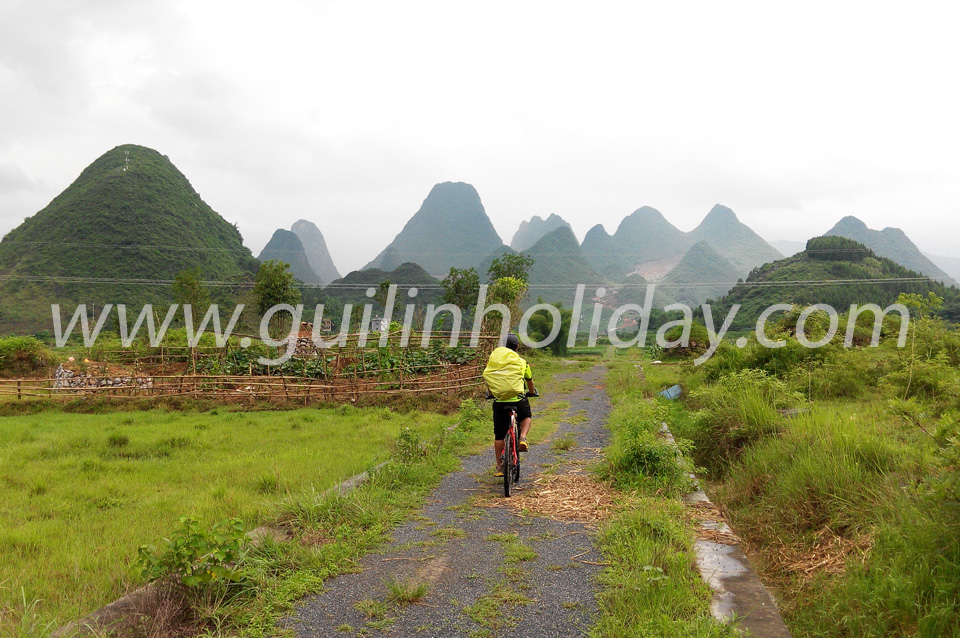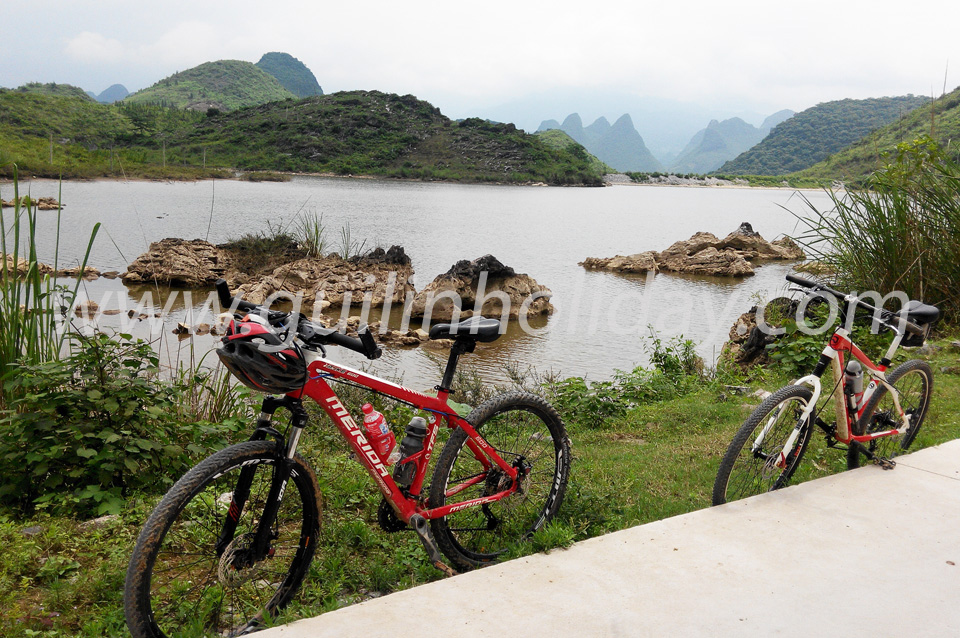 Biking on the backroads of Yangshuo Beautiful mountains, rivers and reservoirs
Day 5
Xingping - Daxu - Guilin (40KM/25miles or 77KM/48miles) (B, L, D)
Optional bamboo raft cruise or rough road and bicycle climbing up and down.
We will take a bamboo raft cruise from Xingping to Yangdi and enjoy the most highlight section of the Li River (Optional. The traditional Li River cruise tours is time consuming and tired, a highlighted experience of 1-2hours is enough for us. Your bikes will be placed on the raft and go with you). Then we continue our bicycle tour from Yangdi, we choose country roads close to the nature and also to avoid tourist groups and the pollution from the vehicle exhaust.
Or we can choose cycling back from Xingping to Guilin all the way on the land, it's about 48miles in total.
All the bicycles will be returned to us after you checking in and your tour finished today.
Overnight in Guilin.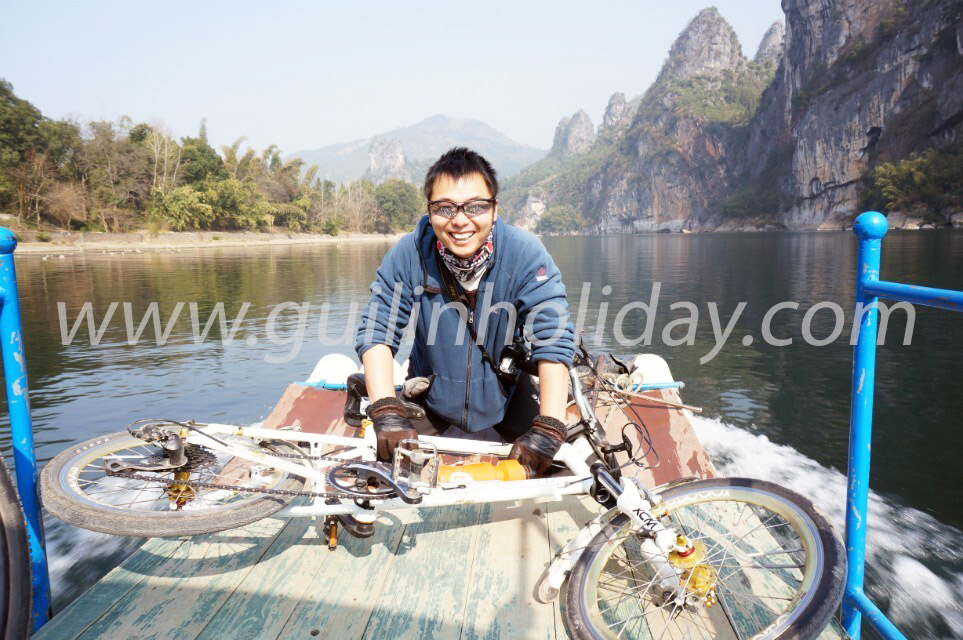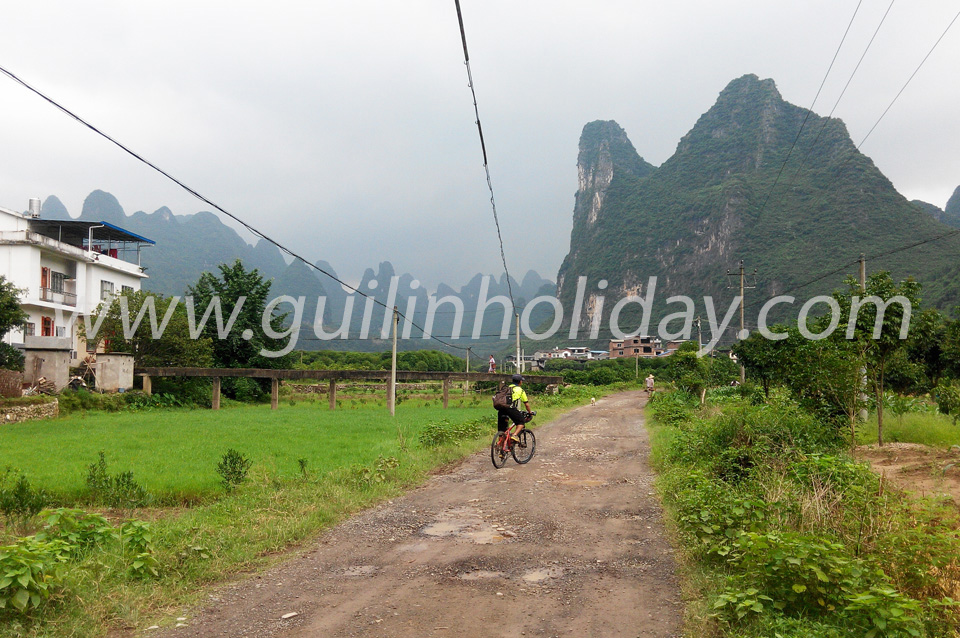 Option1: Li River highlight rafting cruise from Xingping Option2: Cycling on land back to Guilin
Day 6 Guilin Departure (B)
Our trip service ends with the breakfast today. If you want a transfer service, please book before hand with us.
Price Guide
Price and Date:
Around $810 p.p for 2-3 people group 4 cycling days + attraction visit + transferring services + meals + hotels
$550/p.p (min. 5 people group) Comfiming booking and payment at least 3 weeks before the tour departure date.
gourp number limits (1-10 people), please send enquire to get the other prices based on your group numbers.
It is available to book this tour without supporting vehicle, riders should carry their own baggages during the whole trip or store the unneccessary things with us on arrival, the price will be lower. Please send your enquire for details.
Important notes: This is an absolutely backroads biking through the country road with tons of confusing intersections, the supporting car will have less chance to help the group during our cycling, so please follow the leader carefully or we may get lost easily. Strict discipline for the paticipants is required to ensure our safety.
Included Services: Guided
1. 5 nights' accommodation in comfortable hotels or guesthouses with twin share rooms, private bathrooms
2. Arrival airport transfer (one group only, for single travellers, it is recommended to take the airport shuttle bus on your own);
3. Meals: all breakfasts, most lunches and dinners;
4. Water and simple snacks whilst cycling
5. Entrance fees as per itinerary unless stated as "optional"
6. Our cycling leader who can fix small bike problems;
7. Air-conditioned support vehicle & driver (minimum 2 vacation seats);
8. Quality well-maintained mountain bikes of 27 speed front suspension;
9. Bike tools, spare parts and a backup wheels or bikes if necessary;

Not included
1. Departure airport transfers;
2. International airfares and airfares to Guilin and exit Guilin;
3. Visas;
4. Insurance*
5. Tips, gratuities, personal expenses
6. Helmet or cycling gear (our bike pedals are standard and may not suit you)7. Cruise fee of the wetland or Li River, they are recommended but optional.

*Please note that obtaining your own travel insurance is required in order to participate on this biking tour. It will need to include a minimum coverage of medical expenses with emergency evacuation, personal liability and accident insurance. Our biking leader will need to see a copy of your insurance at the group meeting on the first day. We reserve the right to refuse you if you do not carry such an insurance policy.