Half Day Guilin City Join-in Biking Adventure to the Countryside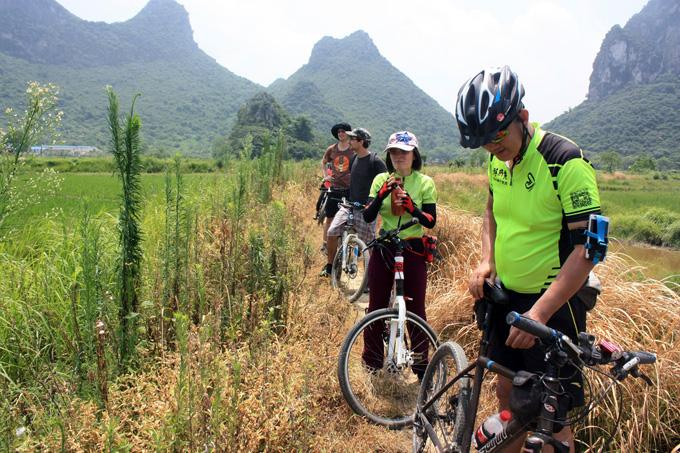 Tour Overview
This half-day bike tour is elaborately designed for those active travelers seeking unique experience of Guilin. Unlike any regular tours provided by other local travel companies, you will ride mountain bikes to the rurality of Guilin, avoiding busy traffic and tourist flows, enjoying the view of stunning limestone hills, rice fields, old villages and zigzagging rivers. Lunch for rice noodle, a well-known local snack of Guilin. Join us for the 4-hour fun and rewarding trip on two wheels!
Duration: 1/2 Days
Tour Code: TO-GL0107-CT
Inquire Now
Tour Itinerary
Cycle Type: Leisure-ride in the city and countryside area.
Group Type: Join-in group Guilin bike tour.
Difficulty: ★★☆☆☆ to ★★★☆☆ based on guests' physical condition.
Total cycling distance: about 32 to 40 KM
Tour duration: around 4 hours.
Tour available date: Guarantee departure for every Monday, Wednesday, Friday, and minimum 2 pax for the rest of the week. Private tour and price available upon requests.
Tour start and finish point / our address on map:
Paticipants are required to be there at No.40, Sanduo Road of Guilin on your own before 9 AM, it is 20 meters on the right of Guilin City Administration of Industry and Commerce / 100 meters from the red color bridge named Lize Bridge heading to Zhongshan road. (If you find that arch, we are located inside!)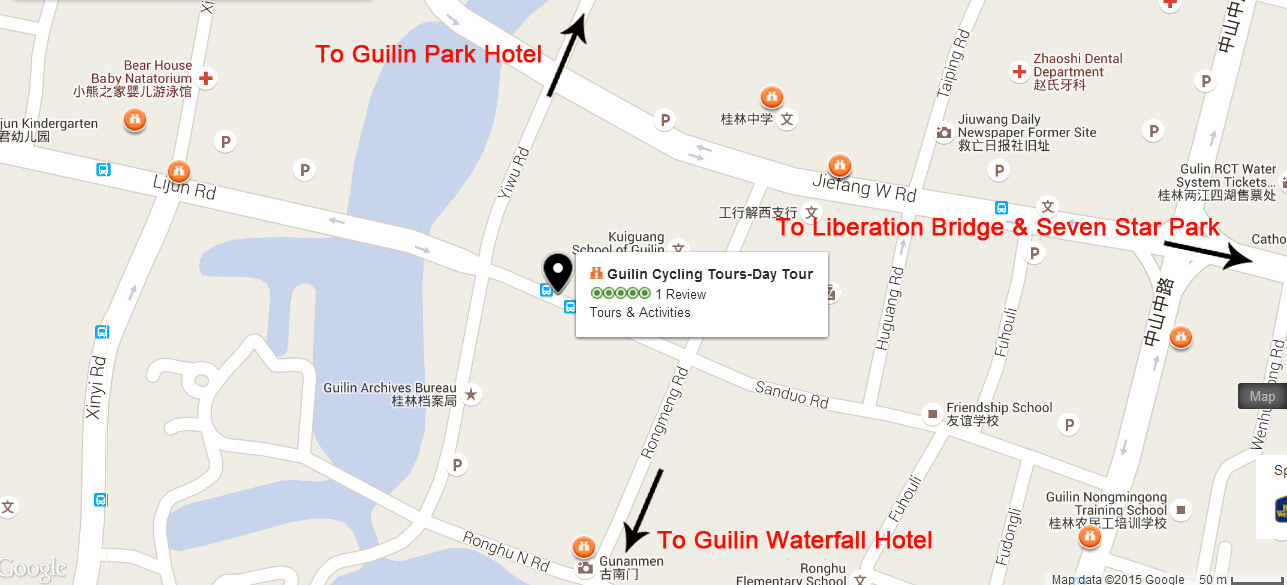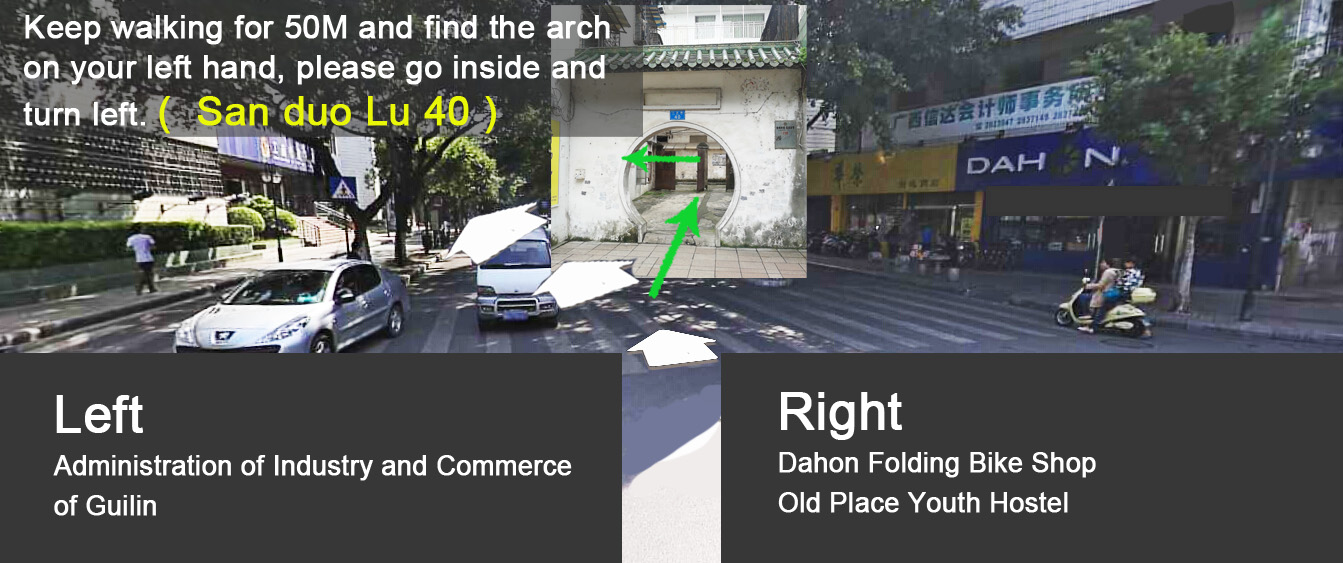 Roads: Well paved concrete roads, countryside trails, rice filed trails, trekking with bicycle for very few part during this tour.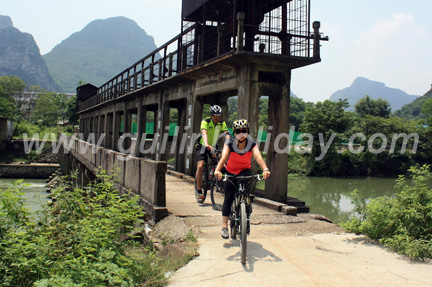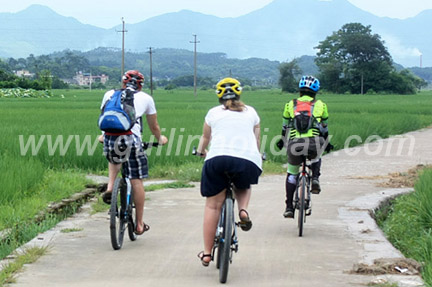 This tour was well designed by our bike tour specialists. The feature of this bike tour is that you will ride on the country road and see the scenery away from other tourists. Fully enjoy your holiday at this beautiful town.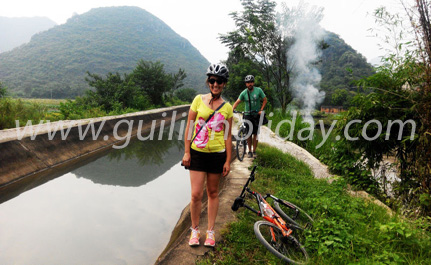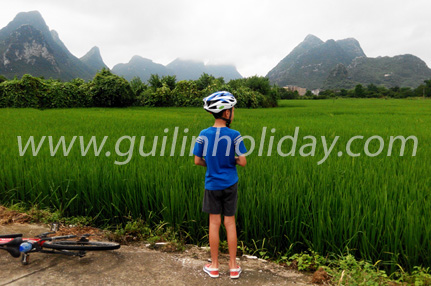 This is a join-in cycling tour, paticipants will meet together at our designated tour starting place before 9 am, pick up a suitable mountain bike based on your height, sex, and habbit. your guide will have a short briefing for the tour tips and bike instructions. Then cycle together by the lakes into a street of less traffic until getting to the rural areas. The guide will be with you riding along the river, going through the rice fields, enjoying some off-road biking and tranquil rurality.
Lunch at a local rice noodle restaurant. Rice noodle is a traditional and popular staple food of locals, dating back to 2200 years ago. Around 1:30pm, going back to our office at city downtown.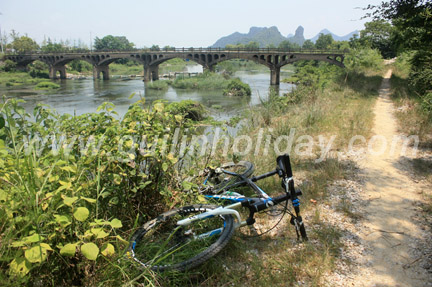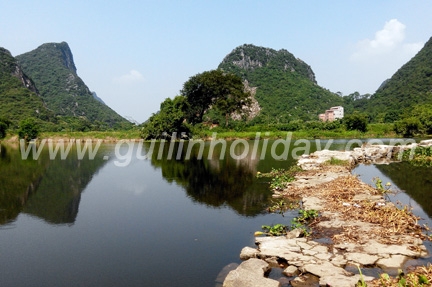 Price Guide
CNY 300 /p.p garantee departure with two applicants.
Including a 24/27 speeds mountain bike rental, free helmet usage , English and Chinese speaking bike guide, one bottle of mineral water and one energy stick (or usually rice noodle lunch).
How can you book this tour:
1. By email (at least one day before the tour date and before 18:00)
2. Directly from your hotel receiption if they are selling our products.
3. Direct local phone call to Mr. Robert Liu at 13635190031.
4. Earlier arriving and enquiry on our tour starting address on every Mon. Wed. and Fri.
Please inform us the belowings on booking this tour.
1. Your Full Name (Full spelling including middle names); 2. ID Card or Passport NO. 3. Nationality; 4. Gender: 5. Tour Date.
Tour applicants should read, agree, and sign for the exemption cluase before joining this tour.
Cycling tour is an outdoor activity of many unpredictable dangers and possibilities, participants should estimate their healthy, physical sports level and interests before join this tour. Anyone with diseases not suitable for such a tour should not conceal it for participation (Heart disease, asthma, etc). Participants of this tour should be responsible for any lost of property or life caused by own sudden illness.