5-Day Exclusive Mountain Bike Adventure with Attractions & Activities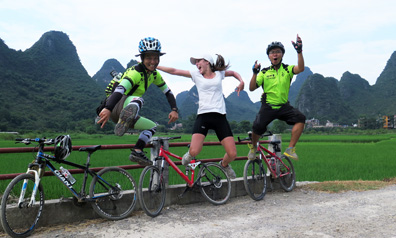 Tour Overview
Riders are always complaining about not having too much time for more interesting things to do after a whole day cycling lasting over 70KM per day on average, however, this tour is specially designed and helps you to enjoy a perfect China holiday around 5-7 days in Guilin. Applicants for this tour will only cycle around 50KM per day through our exclusive countryside trails or the most valuable areas of Karst landform, while still having enough time for attraction visits or outdoor activities like trekking, kayaking, attraction visiting, and other options based on your wishes. A perfect trip starts from a tour plan that better fits you!
Duration: 5 Days
Tour Code: TT-009-LT
Inquire Now
Tour Itinerary
Tour Highlights:
1. Daxu ancient town, Xingping ancient town, Fuli ancient town and green way built in 2015;
2. Hidden trails and best way to away from the city traffic and pollution;
3. Exclusive route to enjoy countryside mountain bike cycling from Guilin to Yangshuo and Yangshuo back to Guilin; (2 Years' Design)
4. Flexible itinerary and attraction visits based on your tour length, additional options like seeing the rice-terrace fields of Longsheng;
5. Bamboo rafting on Li River at Xingping;
6. Reed flute Karst cave visit in Guilin;
7. Light show of Sister Liu at Yangshuo. Yulong bridge and Yulong River;
8. Featured dinners;
9. Supporting van and baggage free of worries;
10. Budget design of this tour is available.
Group Type: Leisure mountain bike tour on paved road, off road and hidden trails.
Difficulty: ★★☆☆☆ Between easy and intermediate, suitable for all fitness. Few climbing and mainly bike on flat.
Total cycling distance: about 156KM
Tour available starting date: Every day upon requests.
Tour start and finish point: Guilin - Daxu - Xingping - Fuli - Yangshuo - Guilin
Bicycle tour supporting van will be used for transferring our baggage and help us for rest and stop when available in this tour.
Roads: Well paved concrete roads, narrow greenway by the riverside, countryside trails, rice filed trails, macadam, muddy road, etc.
Day 1

Arrival at Guilin (D)
If your flight arrive Guilin early, arranging extra attraction visits in Guilin city is available :)
We will meet you at Guilin airport and take you to your city center hotel. The tour leader will dinner with the group tonight for a brief about this tour and the details for tomorrow's cycling. The restaurants in Guilin offers you the most delicious food during the whole bike program, enjoy your dinner!
Overnight in Guilin, our hotel will be arranged in downtown of Guilin, you are easy to walk along the beautiful lakes, pedestrian street, or the ancient city wall, snacks and shops are everywhere .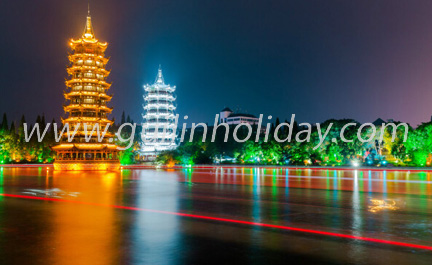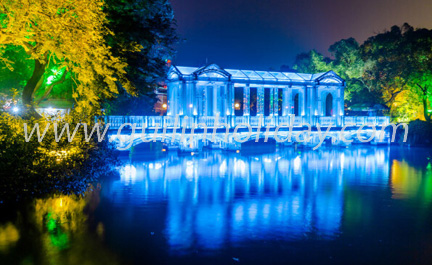 Day 2

Guilin - Daxu Ancient Town - Xingping (B,L,D)

--

75KM
Cycling Duration: Around 8 hours. 26KM in the morning and 49KM in the afternnon.
Roads: 60% concrete & 40% diversified.

GPS Data from Guilin to Daxu through Trails and Countryside Villages ( 26KM in the morning )
Our supporting car will bring our bicycles and the leader of this tour to your hotel, and then we start our unusual bike adventure at around 9 a.m. Today's cycling will be divided into two parts, the bike trip from Guilin to Daxu Ancient Town in the morning and the cycling trip from Daxu to Xingping town in the afternoon.
We will bike through villages and roads only known by local cycle specialists from Guilin to Daxu, we will not affected by the busy traffic on the road and enjoy our own trip to the nature, passing by trails, country roads, water dam and farmers' orchard, the arriving time on Daxu is about 11:30. And then we will bike into the brand new greenway only for bikes around Daxu, a big project finished in 2015, until we stop and visit the Daxu Ancient Town and have our simple rice noodle lunch there.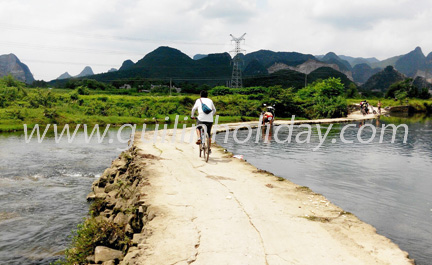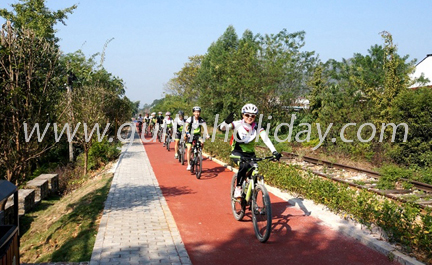 After a happy lunch and chat with our leader at Daxu Ancient Town, we continue our challenge and adventures cycling to Xingping at around 12 o'clock, we still have about 49KM to go in the afternoon, however, we will have a great time together as we cycle through tens of villages and roads hidden between the peaceful villages that haven't been too much commercialized. We tried best to avoid the main road where every common travel bus goes and enjoy our own bike heaven most of the time. The Xitang reservoir will definitely slows you down on the top of the mountain before overcome the mountains to Xingping.

GPS Data from Daxu to Xingping ( 49km in the afternnon )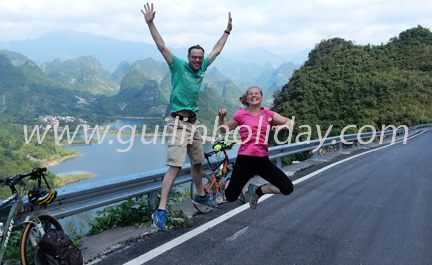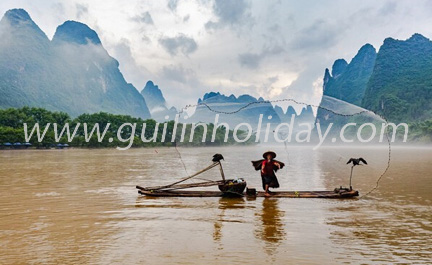 We arrive Xingping in late afternoon and then check in hotel for a big rest while still having time to visit the old town of Xingping and the scenery printed on 20yuan of Chinese currency. We will live in Yijingxuan hotel 3KM from the crowded town and enjoy our own deluxe mountain view room and rest on our private balcony. A tried but perfect day ends with a sound sleep.
Day 3

Xingping Li River Rafting - Countryside Cycling to Yangshuo (B,L)

--

35KM
Cycling Duration: Around 4 hours.
Roads: 50% concrete & 50% diversified.

GPS Data from Xingping to Yangshuo ( 35KM )
After breakfast at our hotel, we will cycle or take the supporting van to the dock and enjoy a bamboo rafting on the Li River for about 1 hour, taking pictures of the highlight scenery of Li River including the most famous one - the Nine Horses Fresco Hill. A trekking up to the top of Laozhai hill is an option today where we can see the panorama view of Li River, the climbing of Laozhai hill is for free and takes us about 1.5 hours, it is not suggested for people who have diseases.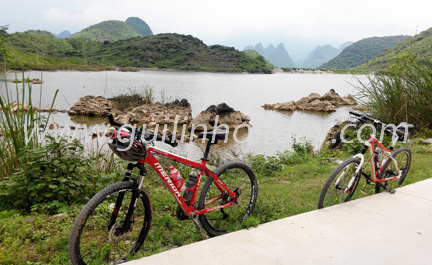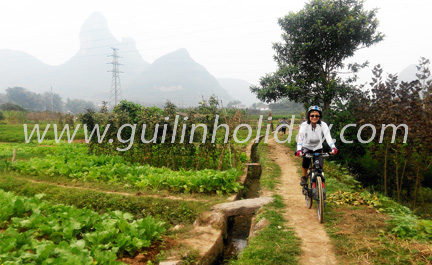 And then we cycle outside the town and say goodbye to this pretty town then cycle into trails and complex roads between villages. We will encounter some off road climbing today and some of the trails are narrow with bushes, so be careful and follow the leader carefully, call us for a photo stop anytime you like as the scenery will never be seen by common travel groups!
We have a coffee stop at Fuli ancient town, enjoy the peaceful town there then across the river if the river is not over flooded, then cycle to Yangshuo.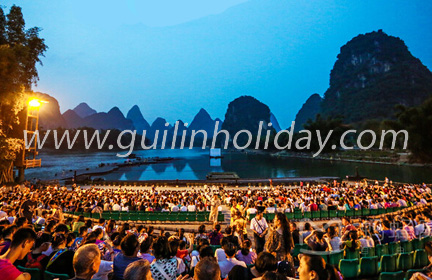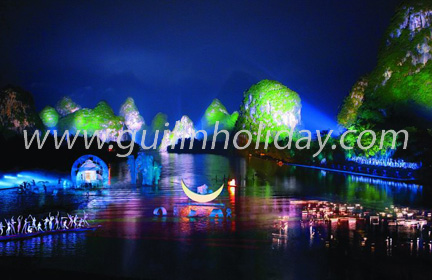 You will have many choices for dinner tonight on your own then we will enjoy the Liusanjie Light Show tonight, be ready for seeing thousands of tourists as it is so famous!
Day 4

Yangshuo - Liutang Village

- Guilin - Reed Flute Cave Visit
(B,L)
--
46KM
Cycling Duration: Around 4 hours.
Roads: 80% concrete & 20% diversified.

GPS Data from Yangshuo to Liutang Village ( 46KM )
Every minute of this tour values, so we cycle from Yangshuo back to Guilin, and passing through the Yulong Bridge and Yulong River and Jiuxian village in the morning, we bike mainly on concrete roads, surrounded by beautiful Karst hills and sceneries. We avoid traffic and annoying groups after leaving Baisha and Yulong River, then enjoy the world with man and nature only, passing by Putao town and finally arrive at Liutang.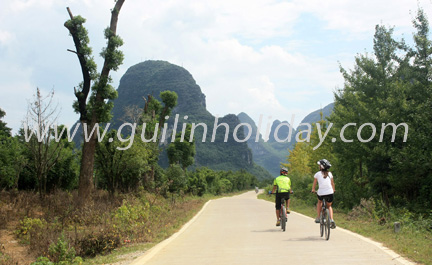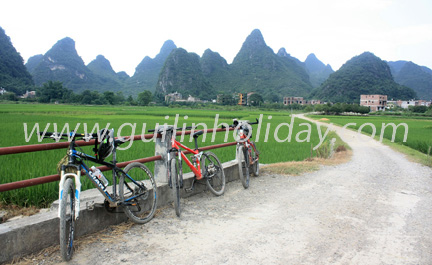 We finish the bike part of this tour then are transferred back to Guilin with private car after having lunch at Liutang village. We need about 1.5 hour on the car before back to Guilin city. We go directly for a visit of the representative Karst Cave - the Reed Flute Cave of Guilin, then going back to our hotel for rest.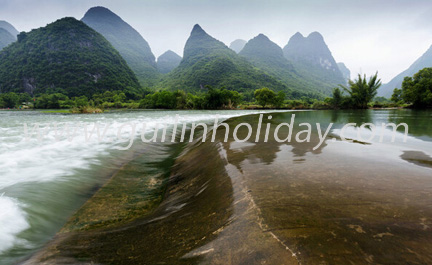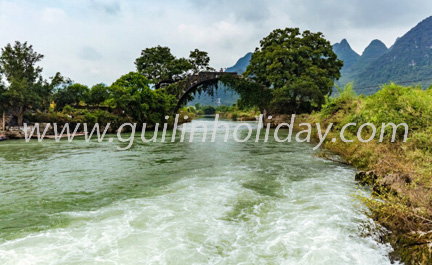 We will say goodbye to the our supporting car driver today after cycling, so it will be the last chance to say thank you and do some tipping if possible. A bike tour is much harder for the leader and the driver compared with a common car visit group. If your tour does not include the airport see off service, we are also going to say goodbye to our leader today. (Suggested tips to the leader and the supporting car driver, from USD120 and above per group)
Day 5 Guilin Departure (B)
Our trip service ends with the breakfast today. If you want a transfer service, please book before hand with us.
For your reference: Taxi to Guilin aviation hotel + public shuttle bus to airport on your own = around CNY 40 Yuan.
Book a private car seeing off from your hotel to the airport with us = CNY250 per car (1-3 people) or CNY300 per car (4-7 people)
Optional Day (s)
There are many other places worth to see around Guilin except the Li River and Yangshuo. Tour applicants who have more days for visit can add the followings places or anyother places into this tour based on your wishes.
1. One day Longji Rice Terrace with shuttle bus and guide service. -- At USD71 p.p (Suggested Months for Visit: April - October)
2. One resting day at Yangshuo for more interesting things to do between Day3 and Day4 -- price based on your free day itinerary.
3. One day biking to the greenway of Xing'an county and great Lingqu canal on the first cycling day or last cycling day. - At USD95 p.p.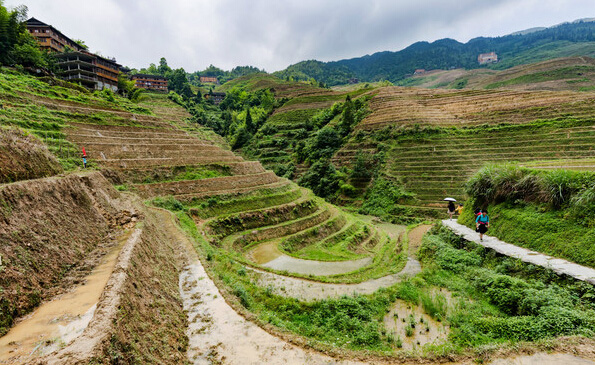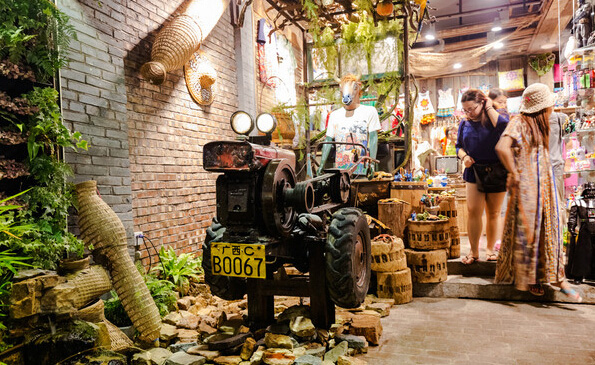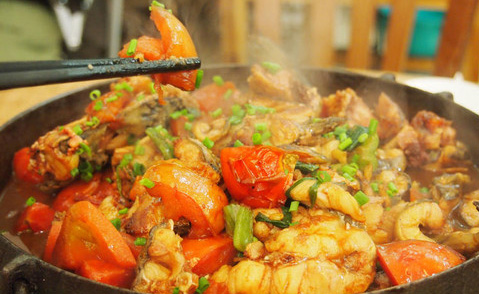 Price Guide
2016 Price: (Price based on featured countryside hotels or of the same level of 3 star hotels, twin-beds rooms and Non-holiday dates)
$780 p.p ( 2 people ) $650 p.p ( 3-5 people ) $520 p.p ( 6-8 people ) $450 p.p for (9-10 people )
Single Room Supplement: USD130
How to lower the cost of this bike tour for budget travelers:
1. Bike without our supporting car but leader only, we will arrange luggage rack on your bike, you can simply pack your bags with your essentials for a multi-day cycling trip.
2. On the last day when we finish our cycling at Liutang, the supporting can will take back our bikes and the leader will take shuttle bus with you back to Guilin then take taxi or public bus to visit the Reed Flute Cave.
3. Arranging basic twin rooms in hostels priced around CNY130 per room for every stop (many of them without breakfast).
Included Services: Guided
1. 4 nights' accommodation in comfortable hotels or guesthouses with twin share rooms, private bathrooms
2. Arrival airport transfer (one group only, for single travelers, it is recommended to take the airport shuttle bus on your own);
3. Meals mentioned as B, L or D;
4. Water and simple snacks whilst cycling;
5. Ticket fee for Li River rafting at Xingping, Light Show ticket at Yangshuo and entrance ticket of Reed Flute Cave at Guilin;
6. Our cycling leader who can fix small bike problems;
7. Air-conditioned support vehicle & driver (minimum 2 vacation seats);
8. Quality well-maintained mountain bikes of 24/27 speed front suspension;
9. Bike tools, spare parts and a backup wheels or bikes if necessary;

Not included
1. Departure airport transfers;
2. International airfares and airfares to Guilin and exit Guilin;
3. Visas;
4. Insurance*
5. Tips, gratuities, personal expenses
6. Helmet or cycling gear (our bike pedals are standard and may not suit you)

*Please note that obtaining your own travel insurance is required in order to participate on this biking tour. It will need to include a minimum coverage of medical expenses with emergency evacuation, personal liability and accident insurance. Our biking leader will need to see a copy of your insurance at the group meeting on the first day. We reserve the right to refuse you if you do not carry such an insurance policy.