Guilin Culture Tour for Chinese Painting Practitioners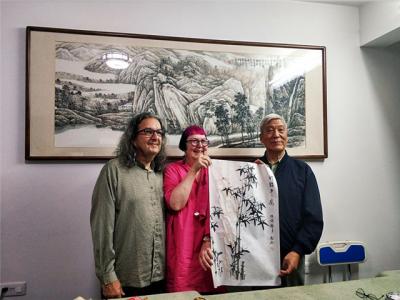 Tour Overview
"Master Pi is a great master of Chinese painting. His skills in both painting and teaching make him a unique practitioner within China. In this course, which he specifically wished it to be for non-Chinese speakers so as to increase our skills in this art form, he will give both group and one-on-one tuition. Master Pi has deliberately kept the group small as to allow for the most intense and focused learning experience. In the many times I have visited Master Pi, he has been warm, engaging and generous of his time and skill. He wishes to share his knowledge and love of his unique talent. I feel honored to have met him and deeply honored to be called a friend." - Stephen Carroll 2019.
Duration: 12 Days
Tour Code: PT-001
Inquire Now
Tour Itinerary
Day 1 Day 1 Nov. 08, 2019 Fri. Arrival in Guangzhou (B)
The professional guide will meet you at the airport, and transfer to Ocean Hotel (1 night). Overnight in Guangzhou.
Day 2 Nov. 09, 2019 Sat. Guangzhou – Guilin, Lecture of Tea, Chinese Art and Painting. (B, L)
After breakfast, transfer to the train station to take a bullet train to Guilin (2.5hours). Transfer to Heshe Hotel or Guilin Yi Royal Palace Hotel and have lunch. Visit to a local tea house and listen to a lecture of tea and its connection with Chinese art and painting. Meet Master Pi with formal introductions. Visit art supply establishments and obtain any necessary art supplies for the course. Advice will be given by Master Pi on particular brushes etc. that will suit technique and personal requirements.
Day 3 Nov. 10, 2019 Sun. Guilin - Traditional Chinese Painting Course, Art Gallery (B, L)
Morning: As this program is for those with experience there is no introduction to general skills.
1. Rock painting
2. Line painting
3. Advanced texture strokes for rock painting
4. Moss painting
5. Traditional 3D techniques (parallax and perspective)
6. Traditional composition techniques.In the afternoon, visit Banyan Lake Art Gallery and Flower Bridge Art Gallery Painting appreciation and copying skills.
Practice Traditional Chinese Painting in Guilin

Visit Guilin Ronghu Art Gallery
Day 4 Nov. 11, 2019 Mon. Guilin - Traditional Chinese Painting Course (B, L)
Morning:
1. Trees
2. Trunks
3. Branches
4. Leaves
5. Traditional composition techniques and theory.Afternoon: Visit the workshop of Mr. Huang, who is a master of making traditional Chinese fans.
Day 5 Nov. 12, 2019 Tue. Guilin - Landscape Painting Practice(B, L)
Morning:
1. Combination of rocks and trees into a landscape.
2. Clouds
3. Water
4. Traditional composition of a Chinese landscape scene.Afternoon, drive out of town to a workshop of making traditional lacquer ware.
Learn from the Chinese painting mater in Guilin

Make traditional lacquer ware
Day 6 Nov. 13, 2019 Wed. Guilin - Painting from Nature(B, L)
Full day course: We will be outside to sketch and paint with pen or brush "plein air". Please prepare a sketch book or painting clip. Mr. Pi will discuss materials for plein air technique that suits the individual. Guilin is in a perfect area for traditional Chinese painting, the Karst mountain formations are unique and the surrounding rock and forest formations of this type are best seen in this area. You will begin to construct a portfolio to continue with your paintings for years to come.
Visit Camel Peak at Seven Star Pak

See painted cloth dragons for Chinese New Year celebrations
Day 7 Nov. 14, 2019 Thu. Guilin - Flower Painting Lesson (B, L)
Morning:
. Flower painting technique.
2. Line drawing using only brush work.
3. Gongbei (elaborate style)
4. Xieyi (free hand brush technique).Afternoon, drive to a farmer painters' village. The local farmers learn to paint landscape paintings to make a better life besides their farm work and sell at the low end art market. They also make painted cloth dragons for New Year celebrations.
Day 8 Nov. 15, 2019 Fri. Guilin - Daxu Ancient Town Painting (B, L)
Full day course: Drive to Xiong Village near Daxu old town with Mr. Pi, stroll in the village. You will see the old farmers' houses, and even slogans during the Cultural Revolution (1966-1976) that have been well preserved here. Under the direction of Master Pi there will be advanced sketching practice. Later head for Daxu for lunch. Walk around the old street and pay a visit to a local resident. In the afternoon, more sketch practice at the old town.
Day 9 Nov. 16, 2019 Sat. Guilin - Exhibition(B, L)
Morning:
1. Continue rock, tree and flower technique
2. Individual time with Master Pi for technique fine tuning and precision brushwork.
3. Choose and prepare works started or completed in this week for exhibition.
4. ExhibitionAfternoon, walk around the downtown lakes and enjoy tea at a local tea house with lecture and sketching.Have a farewell dinner with Master Pi in the evening.
Day 10 Nov. 17, 2019 Sun. Guilin – Yangshuo, Yulong River Bamboo Rafting(B, L)
In the morning, explore Reed Flute Cave in the suburb of the city. Then transfer to Yangshuo for lunch. In the early afternoon, take a bamboo raft down Yulong River (1.5hours) to see the rural life of South China. This is a perfect area and activity for continuing your plein air sketching. In the evening attend the Impression Liu Sanjie Light Show. Overnight at Bamboo Leaf Hotel (2 nights).
Visit Seven Immortals Peak Tea Farm

Yulong River Bamboo-rafting
Day 11 Nov. 18, 2019 Mon. Yangshuo - Painting about Farms, Local Plants, Wildlife(B, L)
Get up early in the morning, and have a Taiji course (7:30-9:00am). Then have breakfast. After that, drive to Seven Immortals Peak Tea Farm to see the tea trees and tea production, taste the organic tea. Have lunch at the farm. Free time in the afternoon. Both the morning and the afternoon are a perfect time and place to continue painting. Take this opportunity to capture the unique vistas of this area including farming practices and local plants and wildlife.
Day 12 Nov. 19, 2019 Tue. Yangshuo – Guilin – Guangzhou(B)
Transfer to Guilin train station to board a bullet train to Guangzhou to catch your international flight back home.
Price Guide
Please note this course is for intermediate and advanced artists only who already have their own art practice. Beginners tuition will not be given.
The tour cost based on a twin share is US$2450pp for minimum 6 pax
Single supplement: US$580.
Note:
1. The participants in the group will be between 6-10 persons
2. There are limited vacancies, please book before the date of July 31, 2019.
Included services:
1. Private tour escorted by English speaking guides in Guangzhou and Guilin.
2. Private air-con bus in each place.
3. Accommodations: above mentioned hotels with daily breakfast.
4. Meals are included as specified (B=breakfast, L=lunch, D=Dinner).
5. Domestic bullet train (first class): Guangzhou/Guilin/Guangzhou. Note: if the first class tickets are not available, then 2nd class tickets will be offered. Fare difference will be refunded to you.
6. First entrance fees.
Non-included Services:
1. International flights.
2. Visa arrangement.
3. Excess baggage charge.
4. Optional tours & Personal expenses.
5. Tips to the guides and drivers. (US$5-10 per day per person for guides, half of that for drivers).
6. Medical insurance and emergency evacuation insurance (We highly recommend you to have it at
You may also like...