Home
> Impression Sanjie Liu
Impression Sanjie Liu
This famous water and light show in Yangshuo had its premier in 2004 and is regarded as one of the top shows in China. It is a must and one of the most important attractions for all the tourists in Yangshuo. The show – Impression Sanjie Liu was created and directed by legendary Chinese director, Zhang Yimou, who also created and directed the opening ceremony of the 2008 Olympics. He is also regarded as one of the top movie directors in the world.
The outdoor amphitheatre is located about 2 km from West Street of Yangshuo and water of Li River is the stage of the show, 12 limestone hills on the riverside are the nature backdrop of the show. More than 600 performers are involved into this show. Some of the performers are just local farmers, fisherman and young children who are living in the surrounding villages. They are still doing farm work in the daytime. This outdoor show gives the audience some ideas and information of different local ethnic minority groups like Zhuang, Yao, Miao and Dong.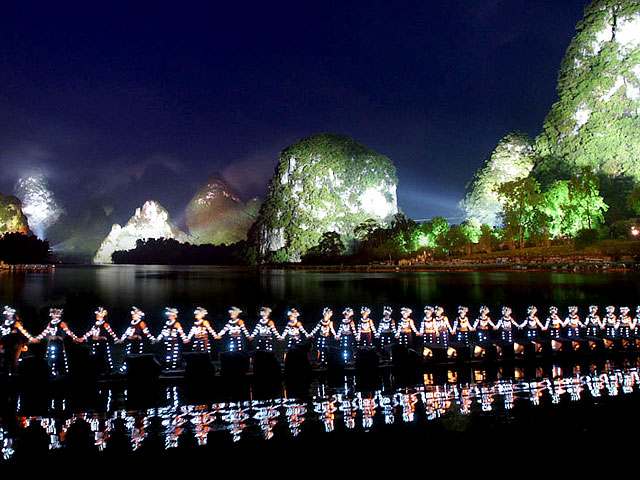 This show is from a story of a Zhuang girl whose name is Liu Sanjie (means "third sister Liu"). In the story, Liu Sanjie was born in the town of Liuzhou in the 8th century and working on the farmland with her two old sisters. She had beautiful voice and quite good at singing folk songs. And all her songs reflected the farmers' daily life, thought and good wishes for the future life. The legend is that a warlord falls in love with Sanjie but she is already in love with a man from her village. The warlord does not accept this and kidnaps her, but Liu Sanjie's lover and friends from the village set out to rescue her and the couple escapes, living happily ever after.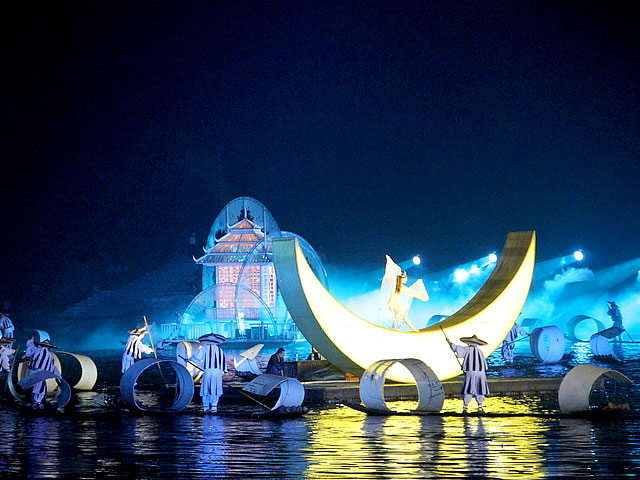 The show is performed almost every night except during periods of heavy rain. Normally the show starts at 8 pm, but in high season and weekends there are often two shows on one night, one starts at 8 pm and the final show at 9:30 pm. Making a reservation for the show Tickets is always a must due to the fame of this show.