Guilin Evening Life Tour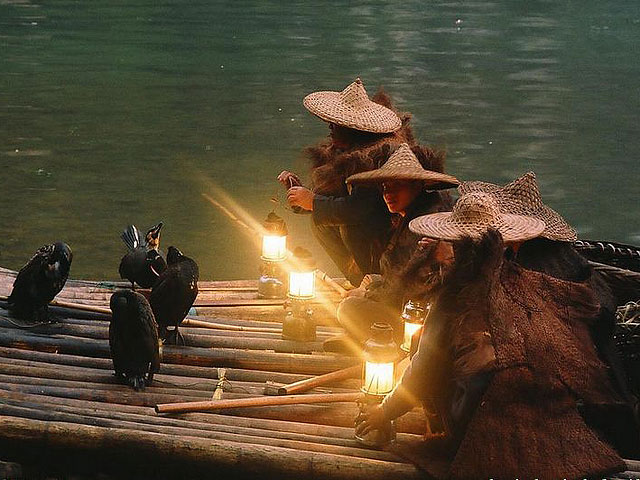 Tour Overview
Taking the bus along this water system with some stops allows you easily explore the some of the local history and the city's beautiful evening; and then go to better understand the local tradition by watching the cormorant fishing...
Duration: Days
Tour Code: TT-015
Inquire Now
Tour Itinerary
Departure:
Daily
Pick-up point and time:
Hotels between 7:45 pm and 8:15pm
Finishing point and time:
Hotel around 10:30pm
Language: English
Pick up from hotel between 7:45pm and 8:15pm. Drive along Guilin's four lakes to see the ancient city water system. Make several stops so that you can get off taking some photos and walking a little bit. Then go to the Li River to watch cormorant fishing by boat.
Banyan Lake and Fir Lake are located in downtown Guilin. They are like two pieces of crystal embedded in the central part of the city. The origin of both parks dates back to Tang Dynasty when they were part of a city moat. As Guilin expanded to the south, the moat became a lake within the city area.

Built in Song-Dynasty, Blue Ribbon Bridge (now Sun Bridge) separates the lakes. The Fir Lake was named after the fir trees growing on the shore and the Banyan Part got its name because of a large banyan tree standing on shore near the 1,000-year-old South City Gate.
Cormorant Fishing - a traditional mode of fishing in China involves the use of cormorants to catch fish. Fishermen on bamboo rafts use strong lights suspended over the water to attract the fish. The cormorants, which are tethered with rings round the base of their necks, catch the fish and then disgorge them for the fishermen (When their work is done the rings are removed so they can eat.) The fisherman stands on the raft, using a pole to propel the boat. His cormorants perch on his outstretched arms, diving on his command. One good cormorant can feed an entire family.
Back to your hotel around 10:30pm.
Service ends.
The night view of Mulong Lake - one section of Guilin city water system


Sun and Moon Pagodas in the Fir Lake
Price Guide
Inclusions
Private Guided Service
Private Car or Van
Cormorant Fishing

Exclusions
Tips to the guide and driver