13-day Back-to-nature Guilin and Zhangjiajie China Cycling Tour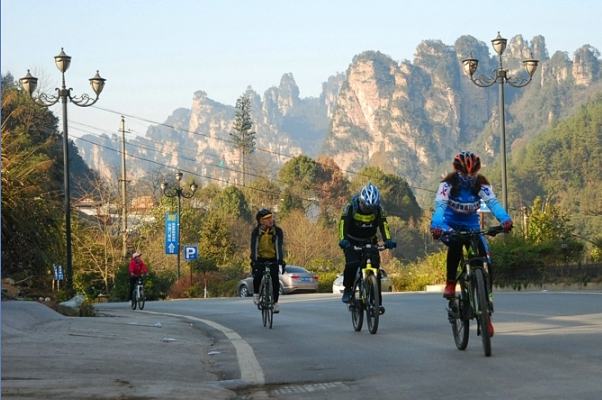 Tour Overview
This 13-day tour brings you from Hunan to Guangxi province in South China, with a supported bike riding. It covers the hidden backroads and timeless villages among the stunning peaks. Riders will firstly enjoy the special landform of Hunan province and then cycle into the untouched biking experience to see the well-known Li River, unknown secret waterfalls and reservoirs in Guilin and Yangshuo, the tour is devided into two parts, you will see completly different views from them.
Duration: 13 Days
Tour Code: TT-035-R
Inquire Now
Tour Itinerary
Day 1 Arriving Zhangjiajie
You will need to arrange the arrival flight on your own to Zhangjiajie city, if your flight arrives Beijing airport, you can book a direct flight of China Airline there to Zhangjiajie city, flight leaves at around 20:10 then arrives after about 3 hours.
Day 2 Zhangjiajie Non-cycling Travels (B)
Zhangjiajie is a city full of natural resources. There are many places worth seeing. Zhangjiajie National Forest Park was recognized as the first national forest park in China in 1988 and was included in World Heritage list by UNESCO in 1992. The park is famous for its strange peaks, quiet valleys and elegant forest. More than 3,000 sandstone hills with various shapes are erecting at the wonderful land.
We can have a visit to the Tianmen Mountain (the Heaven Gate Mountain), the winding mountain road looks like a dancing dragon, bicycle races and events are held here every year.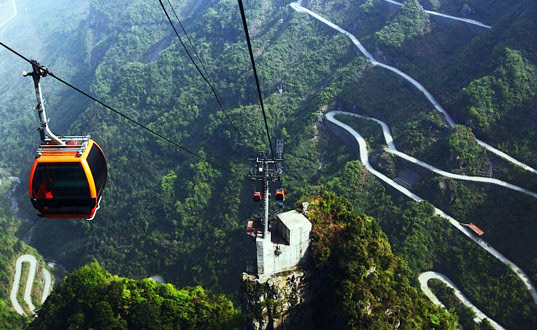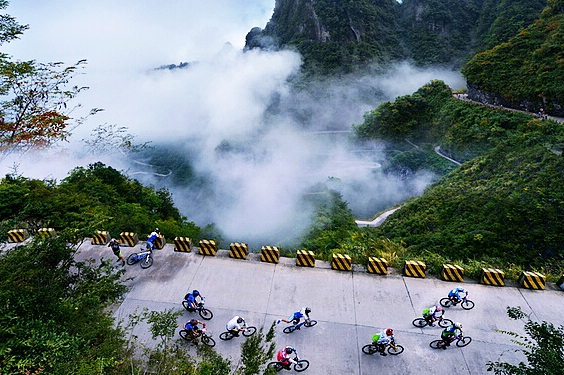 The Road on Tianmen Mountain looks like a Dragon Unique Cycling Challenge on Tianmen Mountain
Day 3 Zhangjiajie - Furong 86km (B,L,D)

This is the most challenge day during the biking in the trip of Hunan provice, we have to overcome many difficulties like biking up and down on those long-distance slopes. The traffic is less jammed today but we have to pay attention to our speed when getting down. We will have our lunch at Shidixi, guests may see featured building and root carvings.
The town is less popular than Fenghuang due to the location, transportation and advertisement, that's why guests enjoy more natural sceneries and unsophisticated people here. Staying overnight in a stilted building close to the riverbank is an excellent choice; we may enjoy the sunset and the huge waterfall.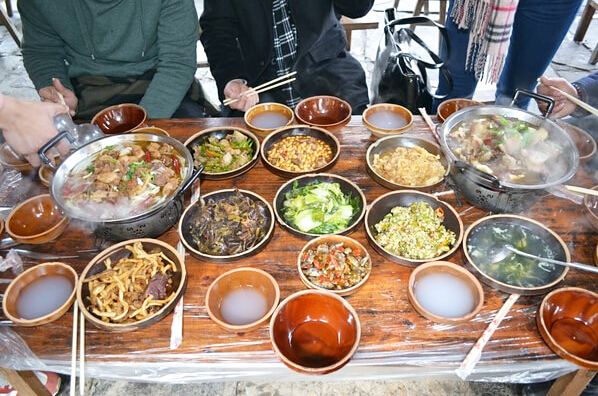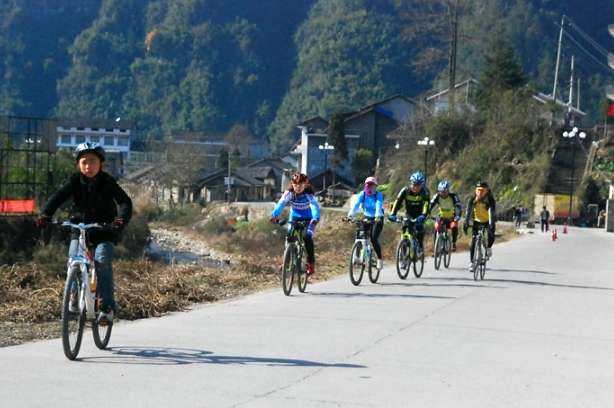 Local Miao Restaurants and Dishes Cycling in Hunan Province of China
Day 4 Furong - Aizhai 90km (B,L,D)

We will say goodbye to the quite night of Furong town. Bike on the well-paved roads, continue our biking after a well replenishment. We will encounter three long-distance tunnels today so the biking floodlights are necessary.
In the late afternoon we will have break at Jishou,the capital city of the Western Hunan Tujia and Miao Nationalities Autonomous Prefecture, and then finish the last 16KM to Aizhai.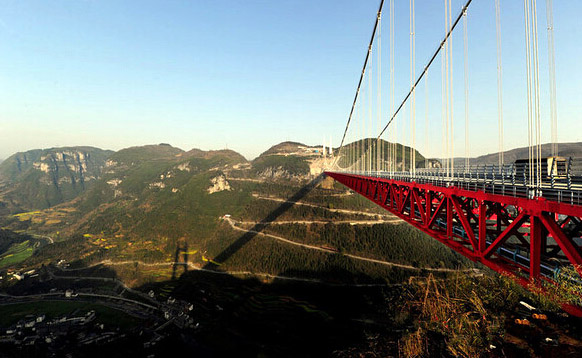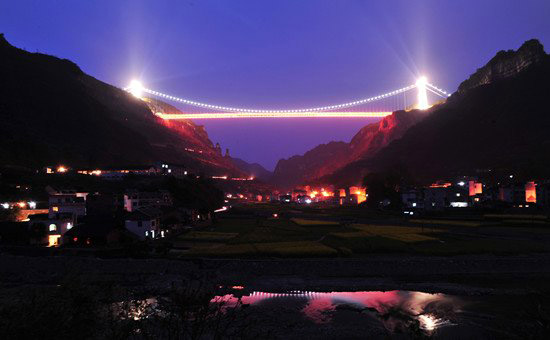 Aizhai Suspension Bridge The Biggest Suspension Bridge in Asia
After our cycling today arriving Aizhai, guests can have a free time to rest or everyone can take an optional bus visit to the Dehang village of the Miao nationality, it is adjacent to the phoenix ancient town. The village is about 5kms from Aizhai.
We stay overnight in the folk house of Miao people. The Aizhai suspension bridge here is the biggest one in Asia!
Day 5 Aizhai - Fenghuang 65km (B,L,D)

Riders should aware of the safety today while biking as the road is narrow and the trip today contained with many up and down slopes.
In the afternoon, we will arrive at the famous Phoenix Ancient Town (named Fenghuang Ancient Town in Chinese). The town is a popular place for travelers as it shows the peaceful landscape of Hunan countryside and has a historical story. The historic buildings and meandering river, the embroidery, the people, everything here takes you into a dreaming world. Take your time for a wandering along the city wall and towers, shopping and relaxing, we will stay overnight at this beautiful town and the meal today will be very distinctive.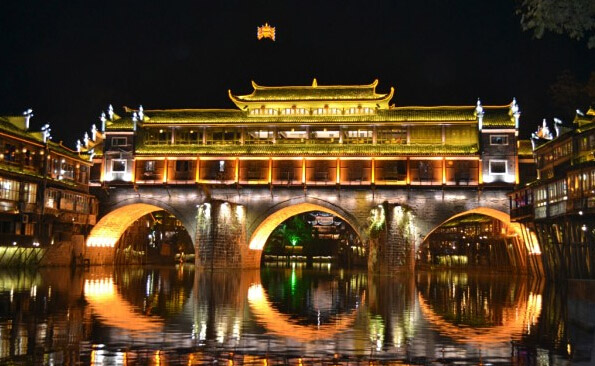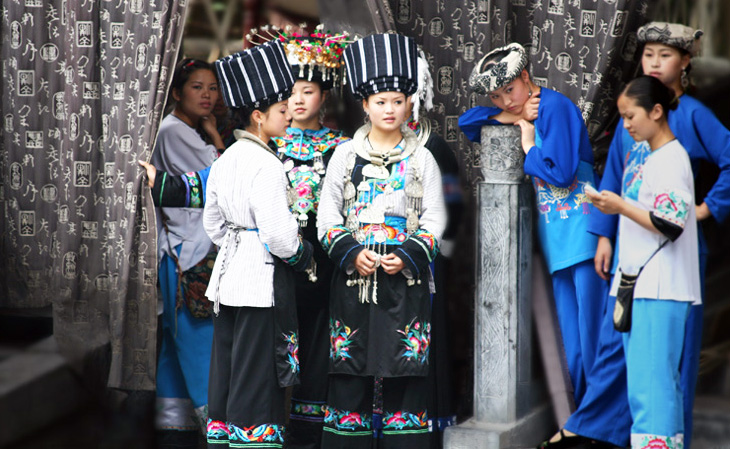 Night scene of Phoenix Ancient Town The Ethinic Minority in Hunan Province
Day 6 Fenghuang Ancient Town - Mayang (for over night train) 35km (B,L)

We will have half day rest then check out at noon, as we have an easy cycling today, only 35KM to Mayang.
We'll get together for a group meeting and test ride the bikes before heading out to the destination today. As we have to stay overnight on the train today, the leader will explain the details and give you kind suggestions to make sure everything goes smoothly.
We will have plenty of time to enjoy our tour today on bikes as the distance is only 35KM. Enjoy your leisure time on the road and get deep into the beautiful scenery and local culture.
Day 7 Mayang - Liuzhou - Guilin (B,D)
Guangxi province is connected to Hunan, where Guilin is located. Our train arrives Liuzhou in the very early morning, make sure you have a early rest and get up early today.
We get off from the train then take a breath for fresh air then tranfer another train to Guilin, another 2 hours on the train but this time we have a bullet one! The train arrives Guilin at around noon. You will have lot of time for rest and enjoy the beatiful city.
We will have a great dinner today, witness the differences between Hunan dishes and Guangxi one.
Day 8 Guilin - Huixian Wetland Areas - Yanshan Town 50km (B, L, D)
We cycle into trails and countryside road today! Bye bye busy traffic!

We will start this tour by cycling from the hotel and leave Guilin from a less busy road, a section of off-road cycling is included today. After some small paths and villages we will arrive at Huixian country, continue our trip to the wetland banks then take a boat and start to enjoy the splendid scenic views, you may even climb the hill to see a complete picture of the wetland. After lunch and rest, we go on riding along the small path and villages to Yanshan town of Guilin and check in hotel for rest. If the group arrives at Yanshan town early, you can have an optional visit to the Garden show park of Yanshan, it's optional and charged.
Today the tour takes to enjoy the limestone peaks, crisscrossing rivers, old bridges and ancient routes connecting villages. The level biking is easy but the path crisscross the labyrinth of the small paths. Follow the leader closely.
Overnight in Yanshan town.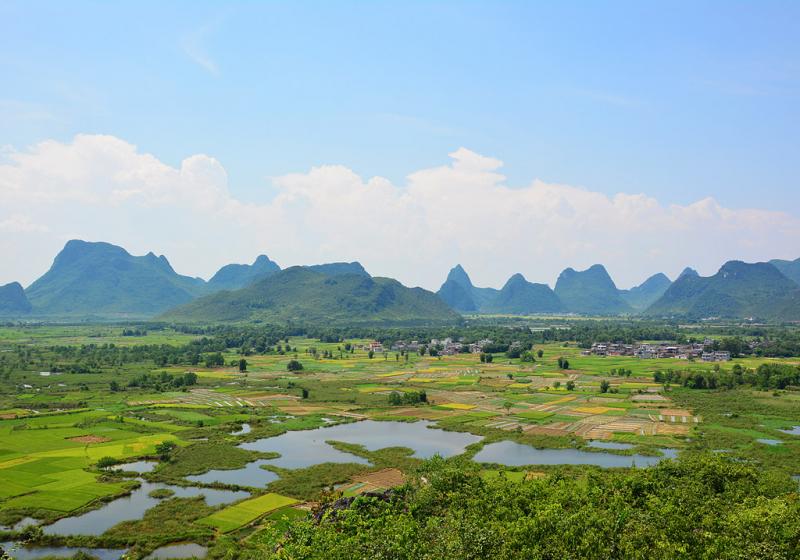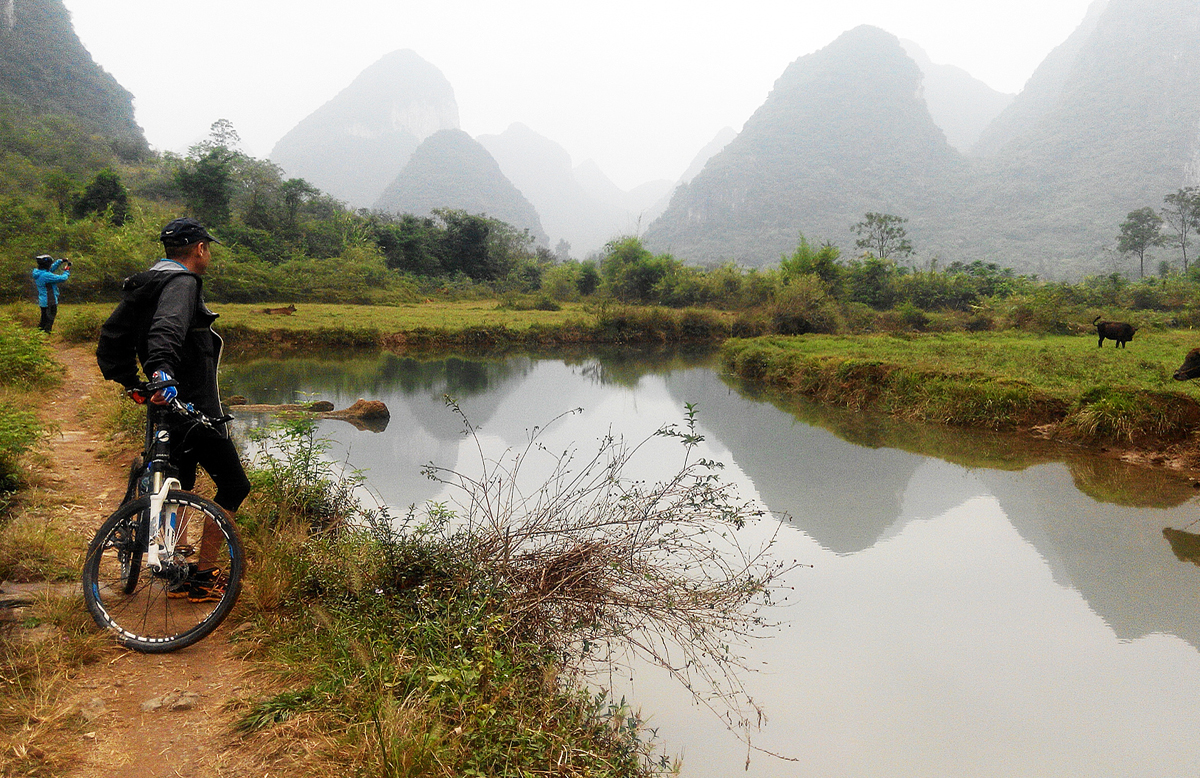 The panorama view of Huixian Wetland Country road cycling around Guilin and Yangshuo
Day 9 Yanshan Town - Putao - Yangshuo 54km (B, L, D)

During the biking today, you will see meandering rivers, limestone hills, rural countryside with rice paddies and mud brick houses. The amazing karst topography and peaceful country road accompanies you all the way to Yangshuo. Our trip is quite different from the traditional tours by cars, the cycling route today is not so simple, you will encounter macadam, unsurfaced forest-road with soil or even mud. We will arrive at Yangshuo before evening.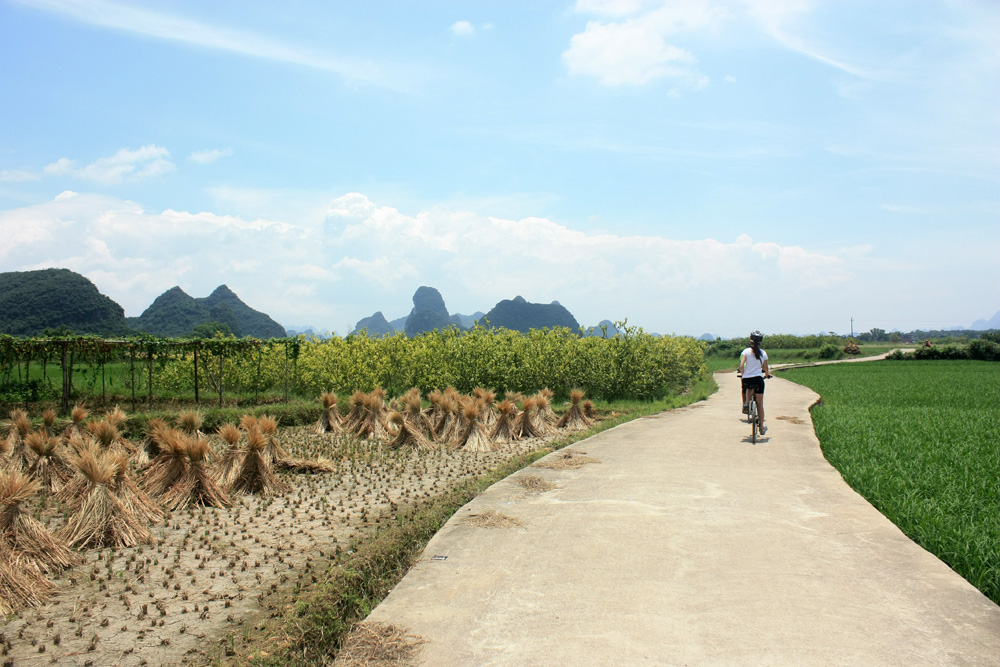 Day 10 Yangshuo Free Day(B)
You can choose to continue your bicycle tour today with our guide to Gaotian town or any places nearby that interests you. Upon return, we will visit moon hill and climb the 900 or so stairs for a panoramic view of the surrounding farmlands and peaks. It is awesome. Or you may have a free time today. (The lunch will be included if everyone goes to the same destination)
Overnight at a guesthouse in Yangshuo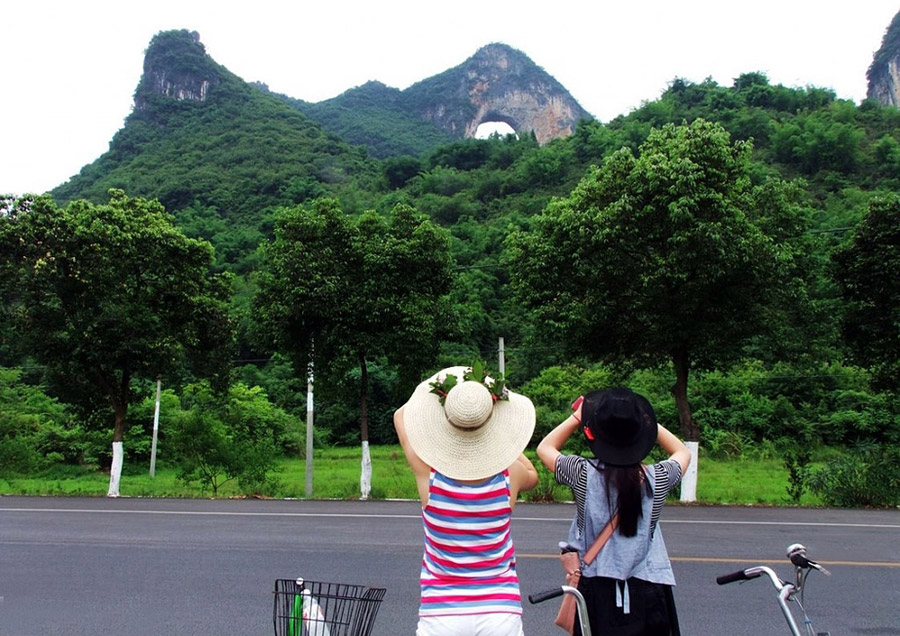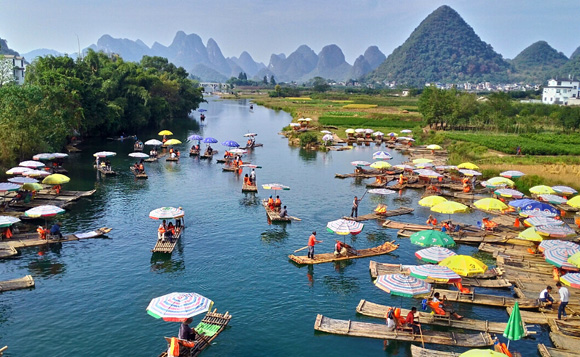 Cycling to see the Moon Hill in Yangshuo Yangshuo is now popular to the world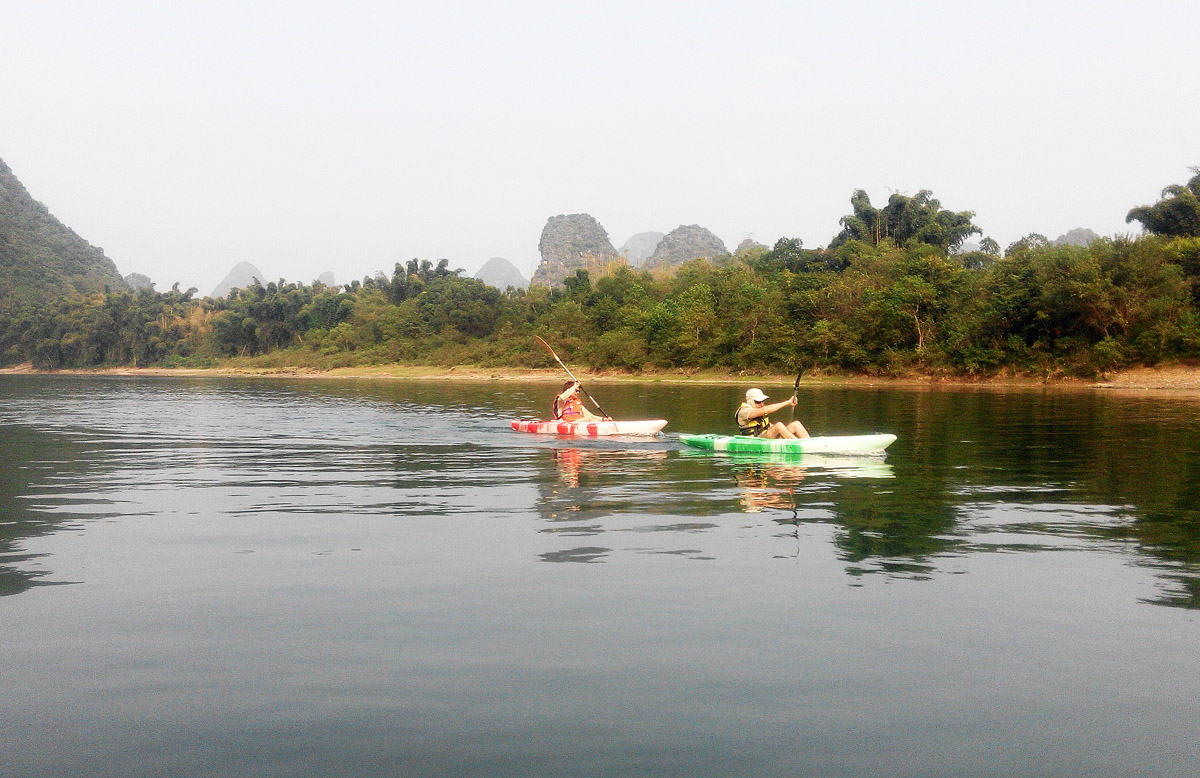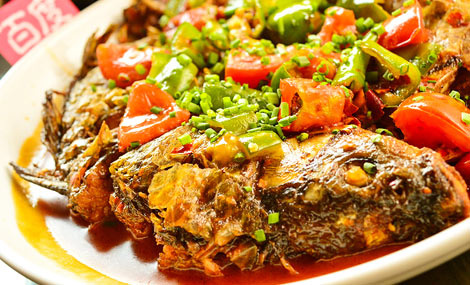 Day 11
Yangshuo - Xingping 32km (B, L, D)
Optional hill climbing to see panoramic view of Li River

We start our riding today along the Li River, biking through the lanes of peaceful villages, keeping away from the dangerous tunnel and road for cars. Enjoying a pleasant journey to Xingping, a small town located on the northeast of Yangshuo, this beautiful place is an important wharf of the Li River. After checking in hotel at Xingping, you will have an optional choice to have a free time or go with the guide to climb the Laozhai Hill. On the top of the hill, a great panoramic view and the great bend of the Li River will definitely shock you! You need to climb over 1000 simple stairs before reaching the top of the hill (the wild stairs cause a hard trekking up), some people may feel dangerous but they will surely be rewarded with the wonderful mountain views.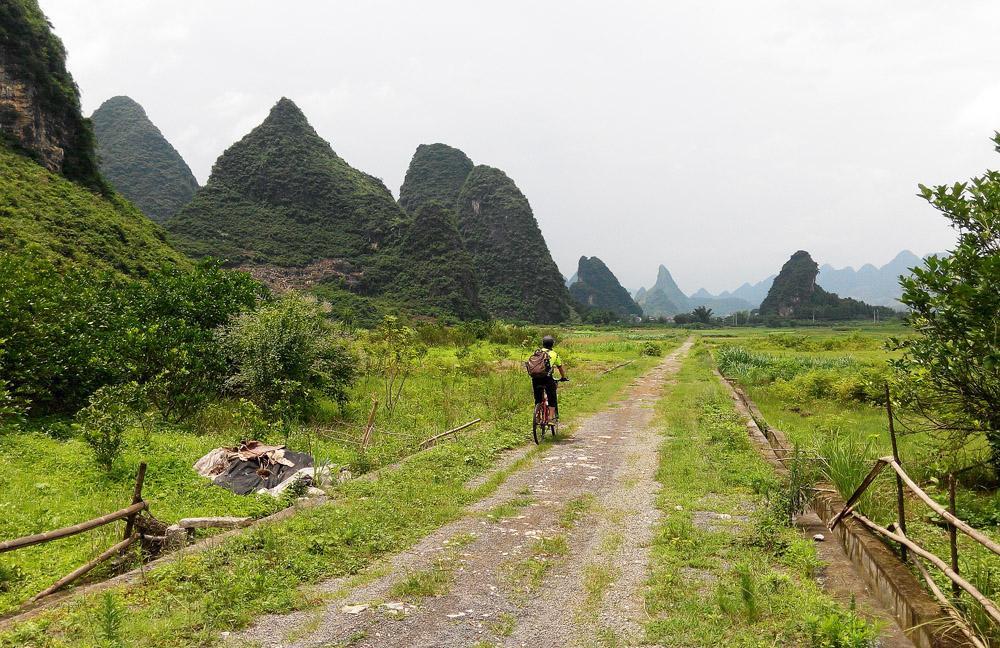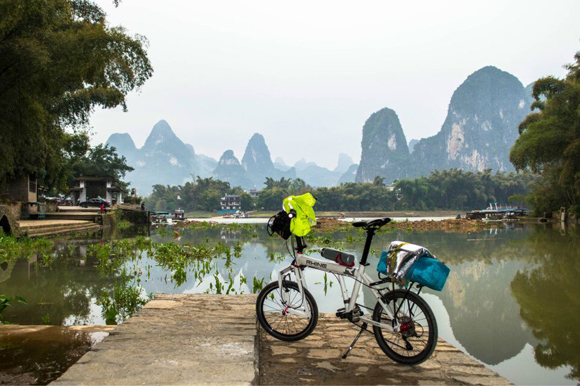 Day 12
Xingping - Daxu - Guilin
77km
(B, L, D)

A bike trip between Xinping and Guilin covers highlighted scenery of Guilin's Krast landform, also including a place worth for visit - the Daxu ancient town. We will spend a whole day biking back to Guilin from Xinping, passing through the Krast mountain areas. When the river and water level is safe, the leader will show our rider more of the hidden areas, the rice fields, the water dam, the smaill trails, and the perfect asphalt road. We encounter two climbs from Xingping to Daxu and arrive the ancient town of Daxu and the newly built greenway at noon.
After simple lunch and a visit and rest in Daxu ancient town, we keep on our biking back to Guilin, if time permitted, we will cycle from through archard and fields, enjoying the exclusive mountain bike routes only supplied by our company, avoiding the traffic and pollution before finally arriving Guilin city.
We finish our whole cycle itinerary and will have a big celebration tonight, and say good bye to the tour leader and supporting car driver. (Suggested tips to the leader and the supporting car driver, USD450 and above per group)
Overnight at a city center hotel.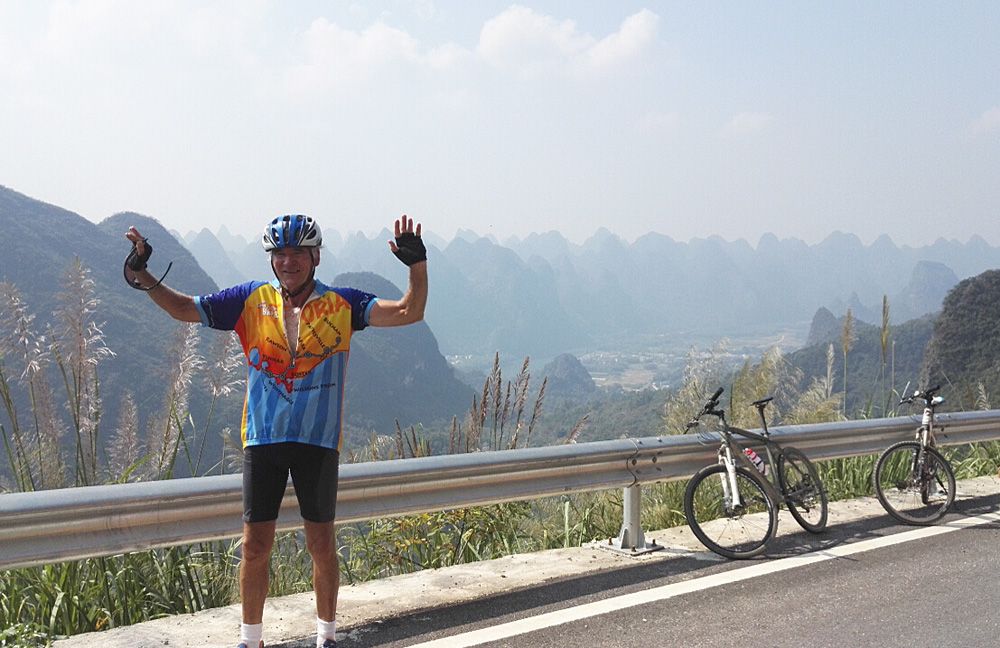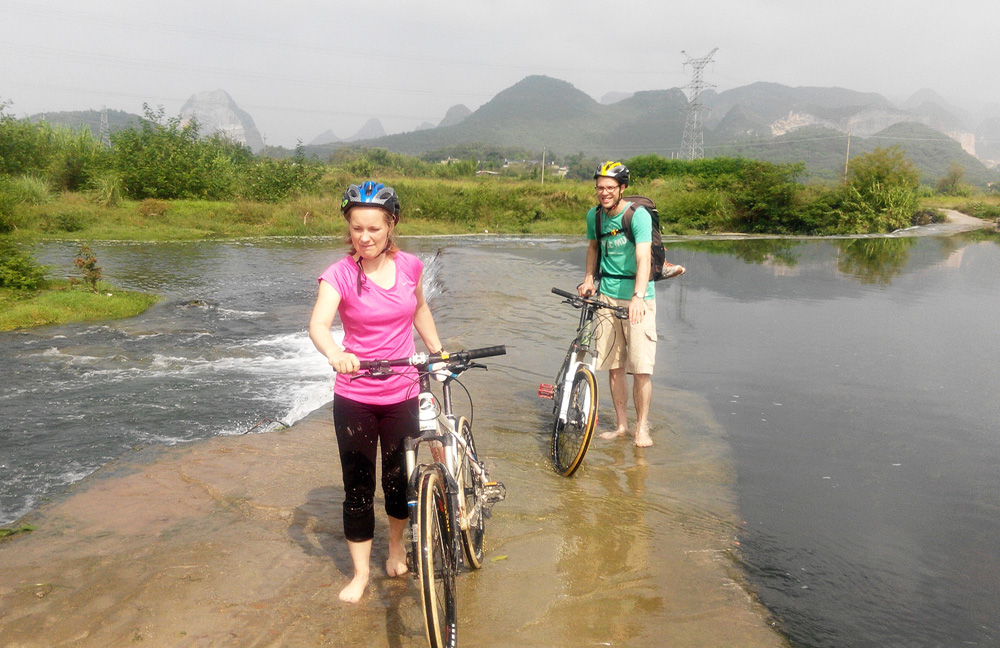 Cycling to see the pouch hill at Xingping Exclusive mountain bike cyclings trails in Guilin
Day 13 Departure from Guilin (B)
Our service ends after the breakfast today. Guests will in charge of their own depatures. Book ahead with us if you need transferring service to the airport. It is suggested to Leave China from Hong Kong as it is convenient to fly from Gulin to Hong Kong.
Welcome to our bike rental shop in Guilin at anytime!
Price Guide
Dates: Upon your requests
2016 price: USD2520 p.p (min. 2 people to start this tour)
Included Services:
1. 11 nights' accommodation in comfortable hotels or guesthouses with twin share rooms, private bathrooms;
2. All transport from the start point to the finish point; High-speed train Ticket from Liuzhou to Guilin and overnight soft/hard sleeper train ticket from Mayang (Hunan province) to Liuzhou (Guangxi province)
3. Meals: all breakfasts, lunches and most dinners mentioned in the itinerary noted as B,L,or D;
4. Water and snacks whilst cycling;
5. Entrance fees as per itinerary unless stated as "optional"; Entrance fee and traffic fee for day 2 at Zhangjiajie is not included.
6. Our cycling leader who can fix small bike problems;
7. Air-conditioned support vehicle & driver (minimum 2 vacation seats);
8. Quality well-maintained mountain bikes of 27 speed front suspension;
9. Bike tools, spare parts and a backup bike;

Not included
1. Departure airport transfers;
2. International airfares and airfares to Zhangjiajie and exit Guilin;
3. Visas;
4. Insurance*
5. Tips, gratuities, personal expenses
6. Helmet or cycling gear (our bike pedals are standard and may not suit you)

*Please note that obtaining your own travel insurance is required in order to participate on this biking tour. It will need to include a minimum coverage of medical expenses with emergency evacuation, personal liability and accident insurance. Our biking leader will need to see a copy of your insurance at the group meeting on the first day. We reserve the right to refuse you if you do not carry such an insurance policy.