One-day Rurality Cycling Tour to Huajiang River of Guilin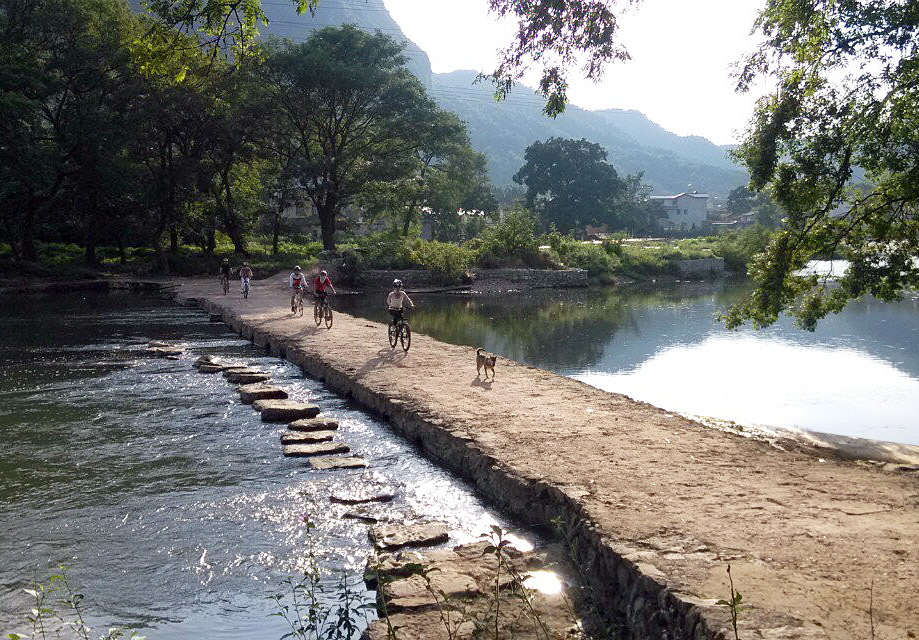 Tour Overview
Go cycling along the Huajiang River into Guilin countryside and discove an idyllic pastoral scene in rural China. This tour perfectly fits the guests who are already travelling/living in Guilin city and searching for countryroad biking experiences, it is suitable for cyclists at any age and on any cycling level, and it's a good choice for weekend activities for friends and families.
Duration: 1 Days
Tour Code: TO-GL0102
Inquire Now
Tour Itinerary
Cycle Type: Leisure-Ride + Cross-country (XC)
Difficulty: ★★★☆☆
Popularity: ★★★★★ Exclusive route only available with our company, hidden trails and scenery.
Total Cycling Distance: Different routes available, totally about 30-65km.
Tour Duration: 4-8 hours.
Roads: Mainly on well paved concrete/asphalt country roads, cross country.

Tour Data: 65KM (Cycle to Huajiang River then to Daxu, the longest distance GPS data, for refference only).

This cycling to Huajiang River covers up 65 km in one day. This tour will be in the company of experienced leader. Part of the trails is on paved road; and there will be a little challenge for a 1.5-km climb which helps cyclists to understand the glamour of cycling. We mainly cycle the country lands along the Huajiang River, through the verdant rice paddies, and into several rural villages.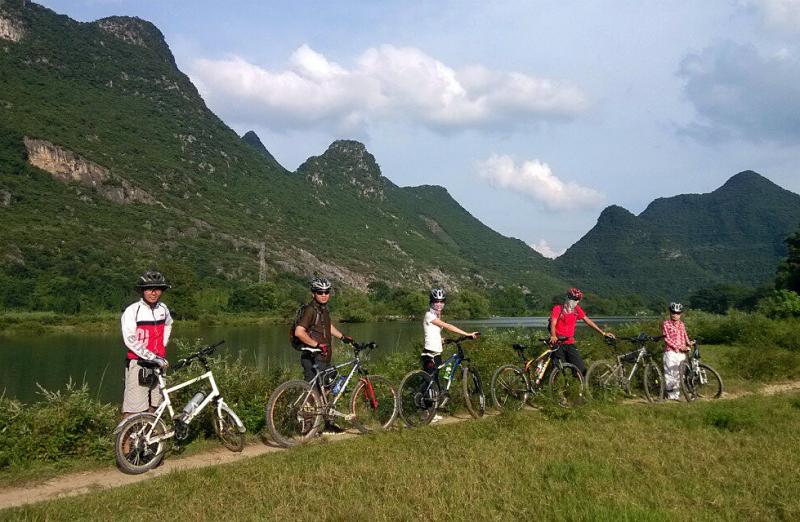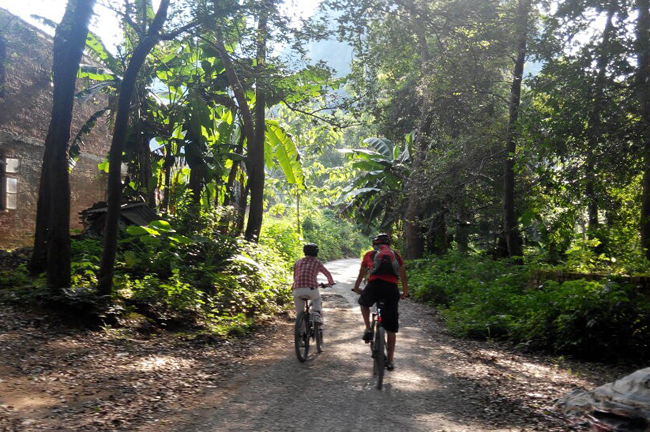 Huajiang River, just 16 kilometers from Guilin city, winds the way for 40 kilometers and finally flow out into Li River. There are beautiful limestone peaks, rice fields, and quiets villages. Thus, this river is praseds as the "back garden of Guilin".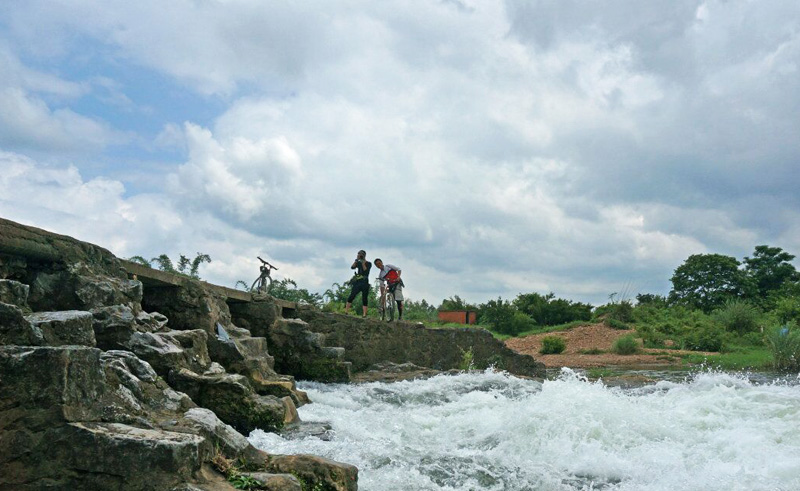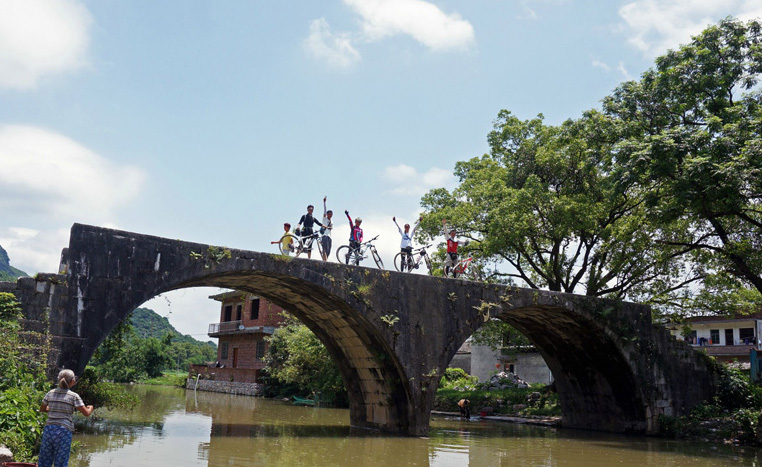 The country roads leads us to the famous ancient town-Daxu, we will enjoy our time for full relax visiting the old street of the town and it is recommended to try the local snacks and fruits there, strawberry, asmanthus bean jelly, etc.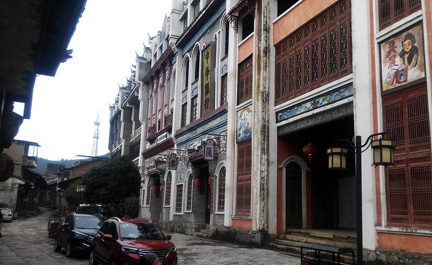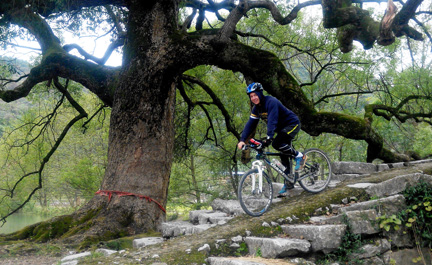 We cycle from Guilin to Huajiang first if you can only bike around 30KM per day and we cycle to Daxu first then to Huajiang River if you choose the 65KM itinerary. For 30KM riders after arriving Daxu, we will have 3 options based on your wishes and healthy condition as belows:
1. Cycle through the main road back to Guilin (18KM on the busy road with cars but flat).
2. We cycle back to Guilin through hidden viallages and gorgours trails where riders will encouter the experience they are hard to feel in the city, acrossing the dam if the water lever is not dangerous to people, feel how does it like when cycling on off road for just a small section, bike through local villages, orchards, seeing the rice paddy, local market of Guilin, etc. It's highly recommended and a great value of your money!
3. We can take a shuttle bus back from Daxu if you feel hard to finish the rest part of the tour by paying cash. (ticket price not included in the quotation, about RMB10-15 p.p usually with the bikes)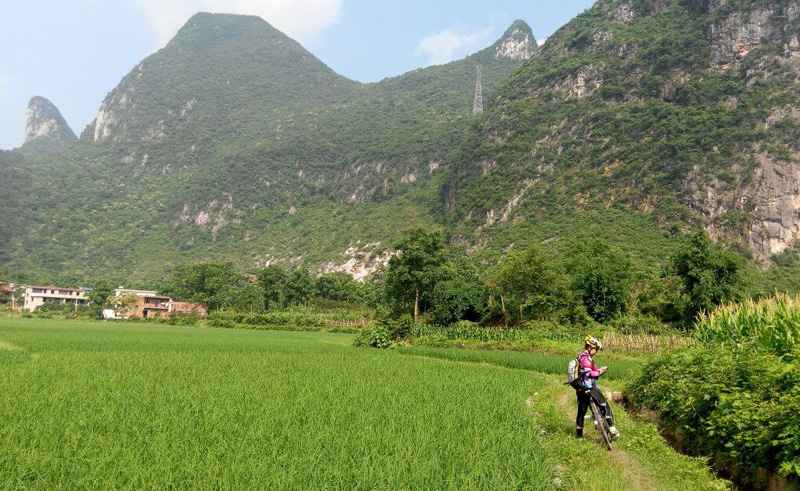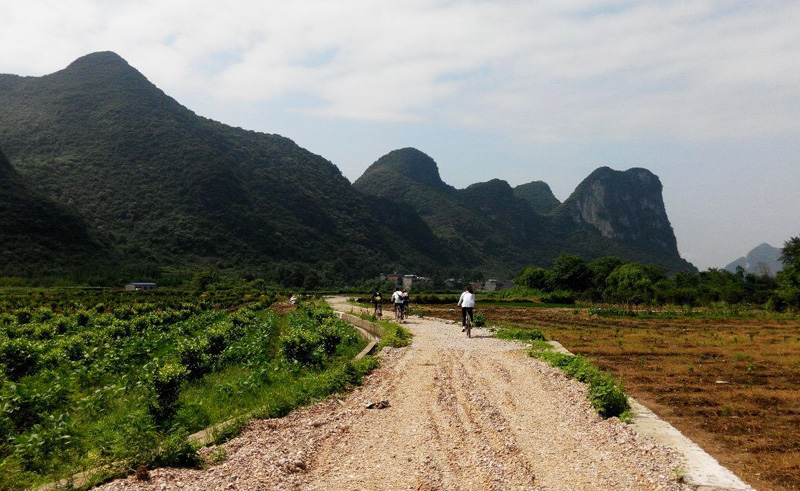 Other recommended one day cycling tour in Guilin: Huixian wetland countryroad adventure cycling
Top one day bike tour to Yangshuo/Xingping
Welcome to our bike rental shop in Guilin at anytime!
Price Guide
Tour Departure: Daily , garantee departure except really poor weather.
Booking and payment: Online payment or cash. Booking should be at least one day prior to the tour departure date (more days earlier if departure is on weekends).
Tour Price:
One people: RMB850

2 - 3 people:
RMB550/p.p
Over 4 people: RMB450/p.p
Included Services:
1. An English-speaking cycling leader, with route guidance GPS map and simple bike repairing tools;
2. Well-maintained brand quality mountain bikes of 27 speed front suspension;
3. Free helmet usage;
4. One bottle of mineral water and simple local rice noodle lunch, one bottle of soda drinks.
Not included:

1. International airfares and airfares to Guilin and exit Guilin;
2. Visas;
3. Insurance;
4. Tips, gratuities, personal expenses.
5. We don't offer rider gears for cycling (helmet is excepted).
Note:
A. If anyone quit this tour on the half way, he/she may need to pay in cash for returning bus.It is not available to carry too many bicycles into the bus.
B. The bicycle we use are high quality mountain bike, an identity card or passport deposit is needed.
C. Self lock bicycle shoes is not recommended for this tour.