Top One Day Cycling from Guilin to Yangshuo/Xingping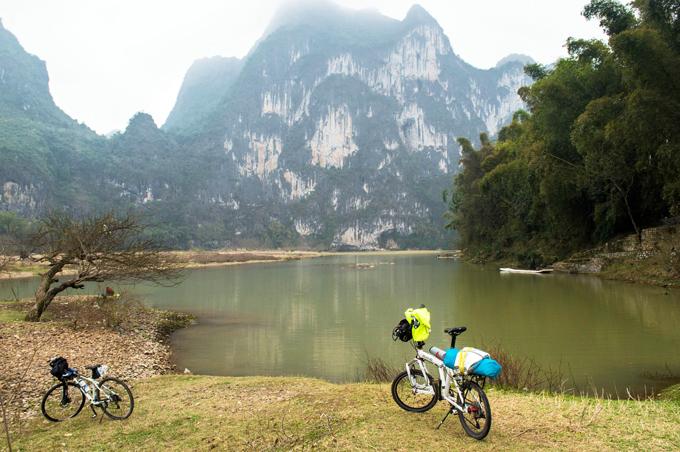 Tour Overview
Riders are always asking about the bike routes from Guilin to Yangshuo. This tour is suitable for people who want to explore the highlight scenery between Guilin and Yangshuo, it is flexible with an ending at Xingping ancient town or Yangshuo based on customers' requests. There are two routes cycling on each side of the Li River to Yangshuo. Please read the tour itinerary, total cycling distance and price carefully and choose your own one.
Duration: 1 Days
Tour Code: TO-GL0105
Inquire Now
Tour Itinerary
Cycle Type:
Mountain bke leisure-ride across country or on well-paved road.
Difficulty:
★★★★☆ (route A) ★★★☆☆ (route B)
Popularity:
★★★★★
Exclusive route only available with our company, hidden trails and scenery.

Total Cycling Distance:
68KM (to Xingping ancient town).
Tour Duration:
8 hours+.
Roads: Well paved concrete / asphalt roads. Dirt roads, Country tracks, Macadam, etc. Route A or B based on your cycling experiences and wishes.
Route A: Countryroads cycling from Guilin to Xingping/Yangshuo from the western side of Li River (only available for skilled riders in non-rainy days)

Guests will meet the tour leader at 8:30 in the morning at the designated address.
After testing bikes. we starting cycling out of the Guilin city from the silent trails from the western side avoiding the busy national road of G321, it takes us about 45 minutes to cycle out of city area and about 2.5 hours before arriving Mamian village. We arrive Yanshan town at about noon, and taking a rest there.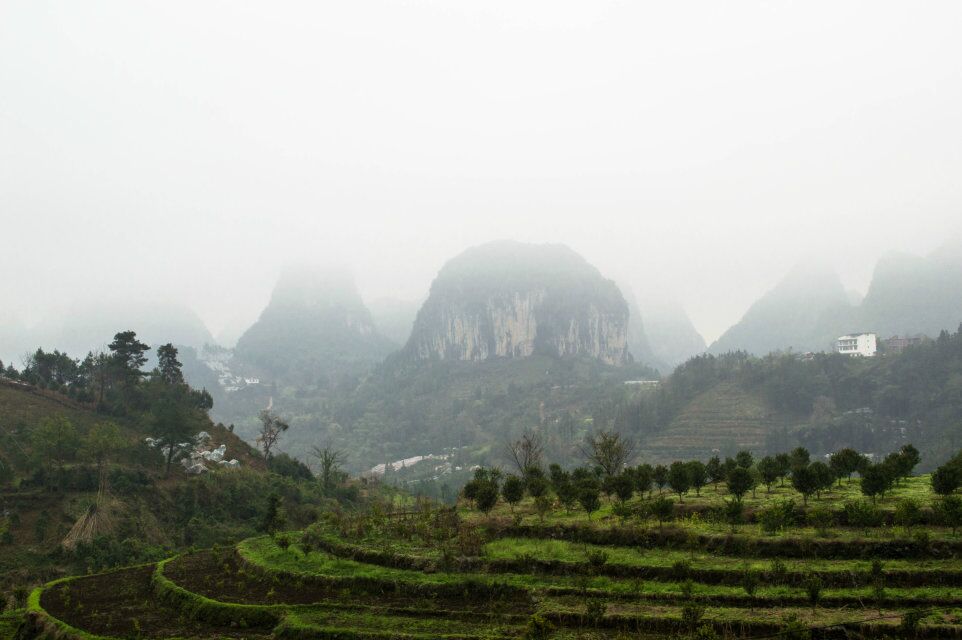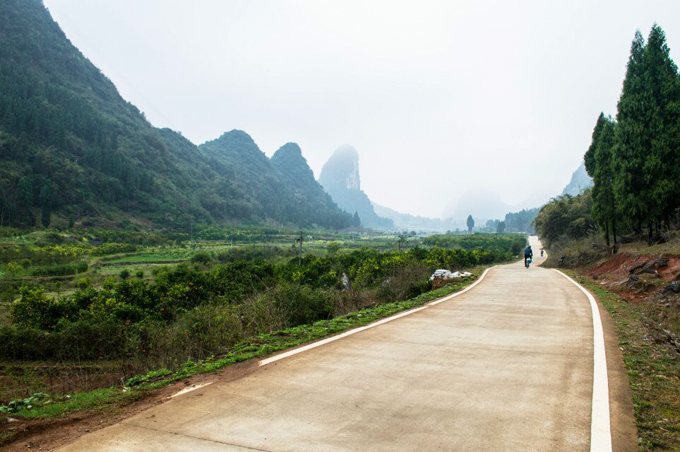 We continue our peaceful cycling again through viallages on country roads after lunch into the eastern part of the main road and enjoy the awesome scenery there, the buses and cars are far away from us. The less commercialized villages means few annoying tourists and cars but less chances to having supply, so please take enough food and water before leaving Yanshan town. We will encounter more climbings in the afternoon, riders will enjoy the real country roads (some of the sections are poor and muddy) envied on books and others' blogs.
After a not-so-easy cycling up and down through the mountain area, we arrives at the dock in front of Xingping ancient town. We will take a boat across the Li River to the other side then continue with the final 8km painting-alike cycling arriving Xingping.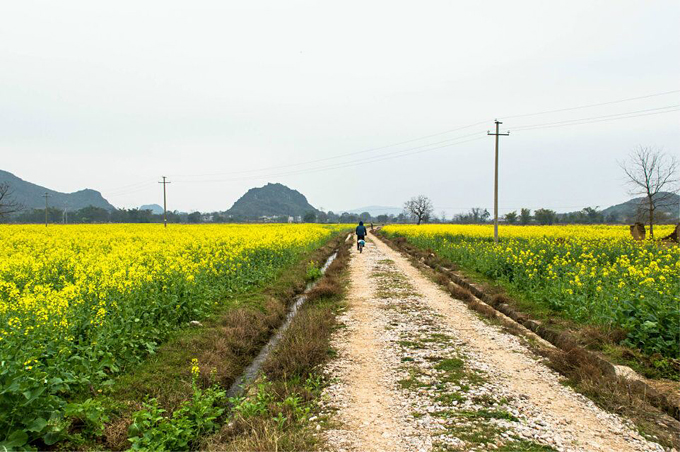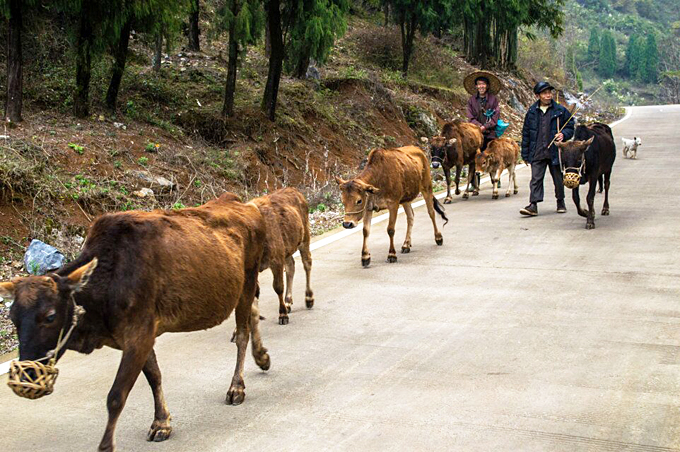 The tour finishes in Xingping, if riders would like to stay in Yangshuo(all the riders can only choose to live in Yangshuo or Xingping), we have to cycle outside the countryroads to the busy national road before acrossing the river to Xingping. The bicycle will be returned to us and tour finishes.
Route B: Well-paved road cycling from Guilin to Xingping from the eastern side of Li River. (available for everybody who wish to experience cycling about 70KM in about 8 hours, all weather)

Depature after testing bikes. We firstly cycling 19km to the famous Daxu ancient town located on the east of Guilin. Then continue our cycling from the most popular cycling route to Yangshuo by common cycling gourps. After another 18KM leaving Daxu, a big cycling up will challange us. Don't forget to take deep breath while biking up and take your time to slow down when going downhill as there are such beatiful landscapes all along the road.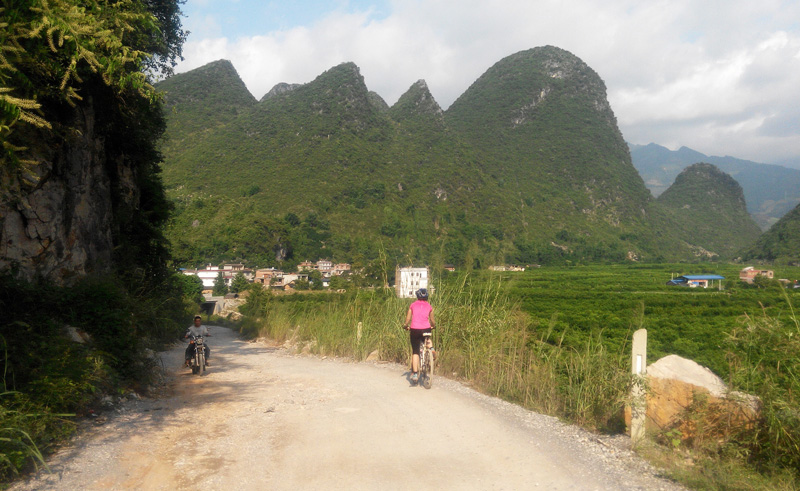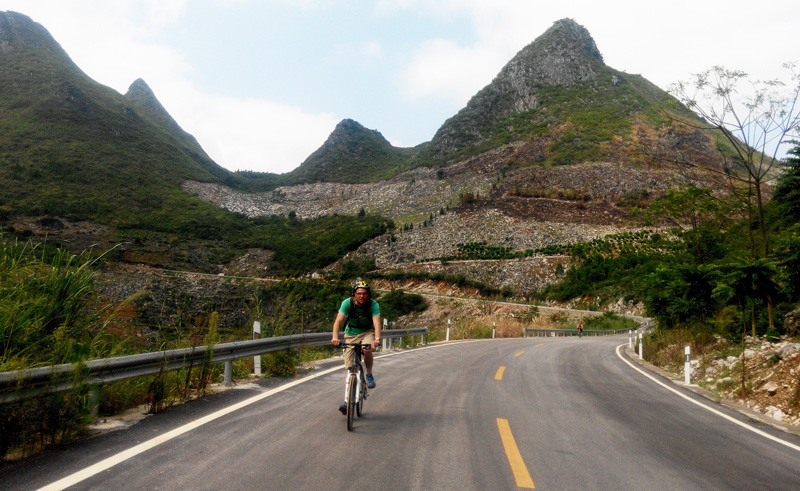 A certain period on the undulating roads calls for experiences on how to save energy while cycling. Finally we arrives Xingping and still have many free time to visit the old town market, the scenery on RMB20yuan currency, etc. Choosing route B will have no chance to turns to Yangshuo on the road.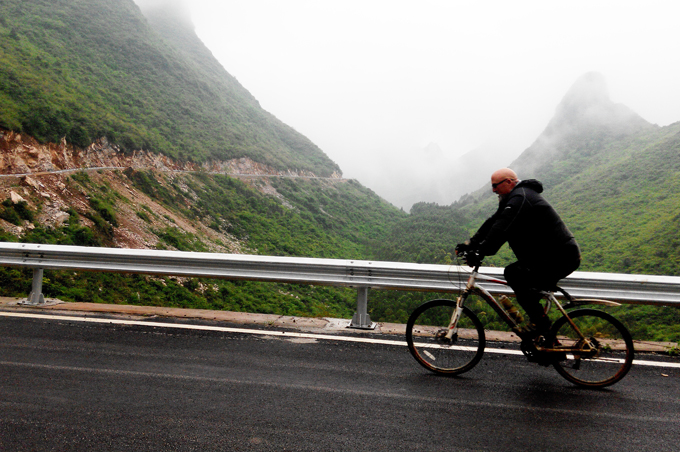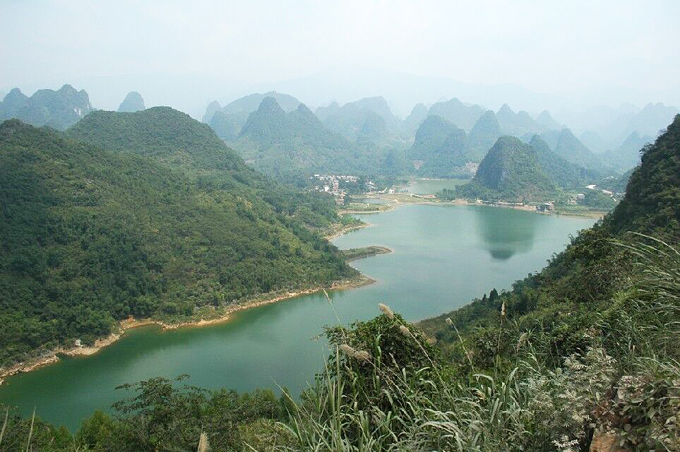 Yangshuo is now crowded with travellers and the price for everything is getting more and more expensive, people who looking for a silent world will consider of arranging their accommodation outside Yangshuo or in Xingping. The world more beautiful than Guilin lies between the roads from Guillin to Yangshuo and Xingping.
Transportation: High-speed train from Xingping or shuttle bus to Yangshuo back to Guilin on your own is the most convenient way recommended.
Note:
A. The route B is possiblely to be affected by the rebuilding of the main road from Guilin to Yangshuo. The route A countains steep off-road climbings among mountain areas and is not suitable for unskilled riders but it's ok for people with good long-distance cycling backgound.
B. Self lock bicycle shoes (SPD shoes) is ok for route B and not recommended for route A.
C. There are more climbings on route B but the average difficulty for it is less than route A.
D. Choosing cycling to Xingping, not to Yangshuo is recommended. Guests may have their own bus transfer to Yangshuo any time, it is only 1 hour by shuttle buses.
Other recommended one day cycling tour in Guilin:Huixian wetland countryroad adventure cycling One Day Wild Jungle and Waterfall Adventure Bike Tour of Guilin
Price Guide
Tour Departure: Daily , garantee departure.Route A is not available on really poor weather days.
Booking and payment: Online payment or cash. Booking should be at least one day prior to the tour departure date (more days earlier if departure is on weekends).
Tour Price:
One people: RMB950 (without transferring service back to Guilin)
2-3 people: RMB750/p.p (Including luggage transferring from Guilin to Xingping/Yangshuo if you stay overnight there or transferring yourselves back to hotel in urban Guilin from Xingping/Yangshuo when the cycling ends)
Over 4 people:
RMB450/p.p (Only available for luggage transferring from Guilin to Xingping/Yangshuo, If you want a return shuttle bus ticket, extra RMB40 p.p is needed)
Included Services:
1. An English-speaking cycling leader, with route guidance GPS map and simple bike repairing tools;
2. Well-maintained brand quality mountain bikes of 24/27 speed with front suspension;
3. Helmets; 4. One bottle of mineral water and simple local rice noodle lunch.
Not included:
1. International airfares and airfares to Guilin and exit Guilin;
2. Visas;
3. Insurance;
4. Tips, gratuities, personal expenses;
5. We don't offer rider gears for cycling (helmet is excepted).