Less Travelled Guilin Cycling Day Trip into Huixian Wetland Park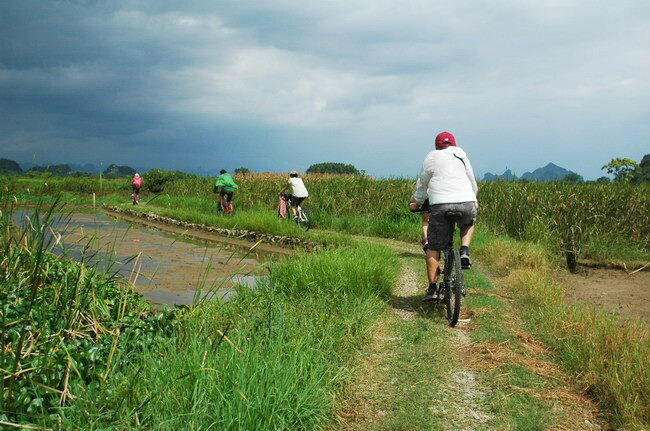 Tour Overview
Bike riding about 45 kilometers through small rural villages for Huixian Wetland Park for delightful countryside scenery. Optional backroads cycling or well-paved national road biking. Undiscovered optional attraction and tour itinerary only available with us!
Duration: 1 Days
Tour Code: TO-GL0103
Inquire Now
Tour Itinerary
Cycle Type: Leisure-ride or Cross-country (XC)
Difficulty: ★★★☆☆
Popularity: ★★★★★ Exclusive route only available with our company, hidden trails and scenery.
Total Cycling Distance: 45KM or 67KM.
Tour Duration: 8 hours.
Roads: Country roads, cross country, well paved concrete roads. Passive wade into water (not very deep, feet to knees) 1-2 times in rainy days.
Tour Data: For the first 45KM.

Amongst dozens of karst hills, Guilin Huixian Wetland is a large underground river-fed plain in Huixian town of southwest Guilin (less known by foreigners but excellent for a visit). Now, there are 20 lakes and ponds remained in the wetland. Typically, this wetland presents an idyllic countryside scenery of rice paddies and rural villages.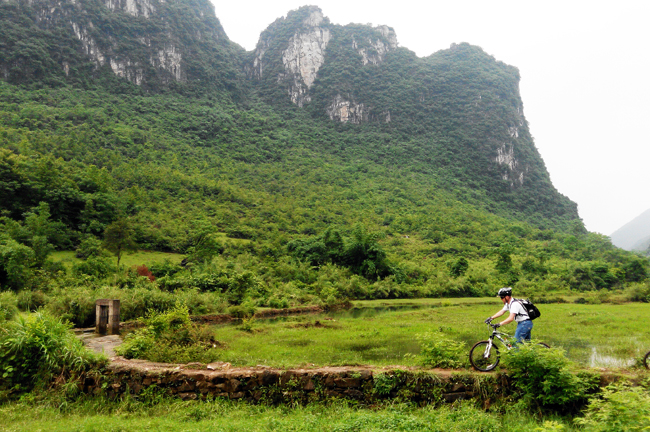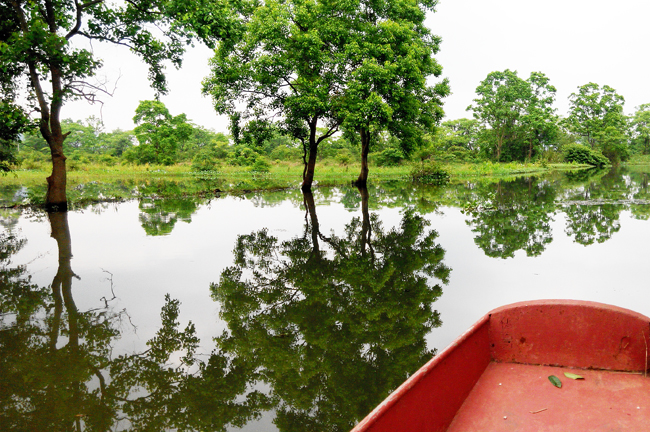 Guests will meet the tour leader at 8:30 in the morning at the designated address, after testing bikes, we starting cycling out of the Guilin city from the silent trails, it takes us about 45 minutes to cycle out of city area.
We continue our cycling through beautiful villages, seeing lots of local farms, leisure restaurants, peaceful tracks located between the hills. We might even across the brooks and forest, everything is so close to nature.
After cycling about 45 kilometers, we arrived Mudong town, where the Huixian Wetland area locates. Usually we arrived at Mudong at 12:30-13:30. Everyone will have a simple lunch of the famous Guilin rice noddles at Mudong (or simple fastfood in small restaurant or snacks in grocery). Then we have a chance to take a rafting on the wetland rivers, it's optional and the price is from $13 - $35 per ship (3-4people available in each) based on seasons and the local policy.
After the rafting visit about 2 hours, there are two options for riders. Riders will disscuss and can only choose one of the following.
1. Wild Hill climbing to see the splendid panorama view of the viallage and wetland, about 6km from Mudong. This option is a risky adventure but the secnery is SO perfect as the place we choose is less commercialized, this option is for free. But the hill is narraw and slipry, it is not recommended to choose this one for old, anyone has fears of height, etc. (Choosing option 1 is not allowed in rainy days!)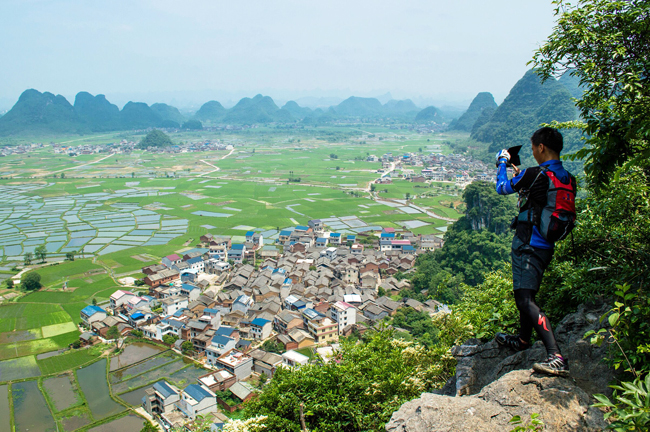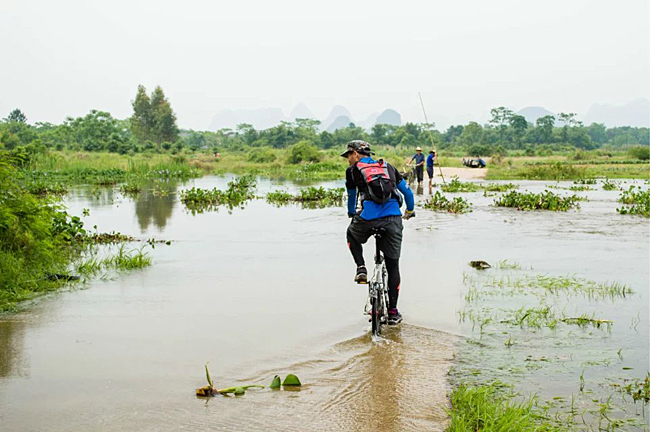 2. Cycling from Mudong to Huixian town for simple fastfood lunch if everyone do not wish to take the rafting boat, then after lunch and rest, we cycle together for another 25KM to see the less commercialized heven-alike reservoir - the Golden pheasant river reservoir 8km from Luojin town.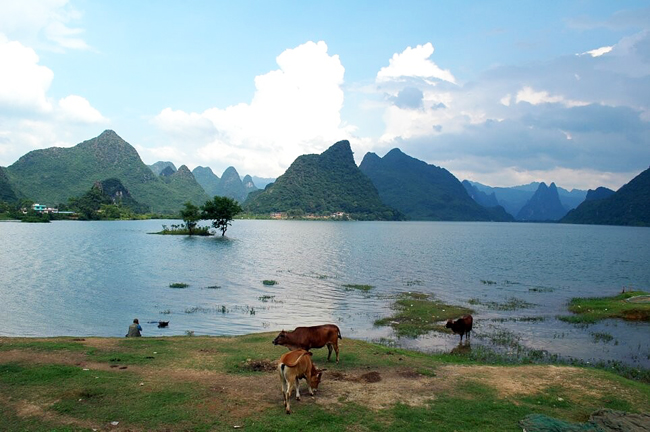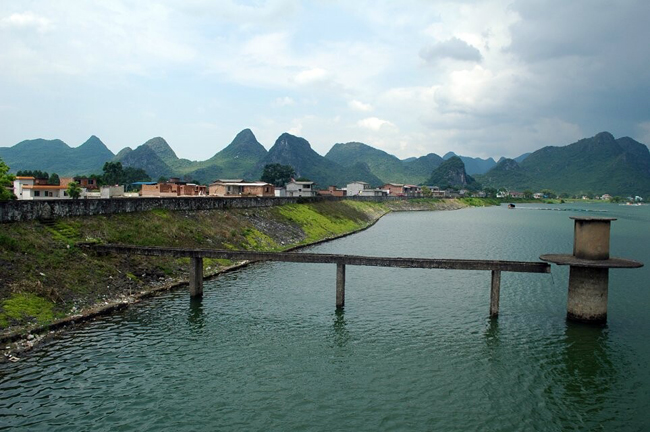 After the tour finished, everyone will be transferred back to Guilin with our supporting vehicle.
Note:
A. If anyone quit this tour on the half way, he/she may need to pay in cash for returning bus and the last bus back is at around 5:00PM. It is not available to carry too many bicycles into the mentioned returning bus.
B. Riders can cycle back from the most busy national road without the supporting vehicle transffering. (The price is cheaper but the distance will double , it is not recommended). If anyone do so, the total distant for option1 is 75kms, and 120km for option2.
C. The bicycle we use are high quality mountain bike, an identity card or passport deposit is needed.
D. Self lock bicycle shoes is not recommended for this tour.
Other recommended one day cycling tour in Guilin: One day cycling to Huajiang river and Daxu ancient town
Welcome to our bike rental shop in Guilin at anytime!
Price Guide
Tour Departure: Daily , garantee departure except really poor weather.
Booking and payment: Online payment or cash. Booking should be at least one day prior to the tour departure date (more days earlier if departure is on weekends).
Tour Price:
One people:
RMB800 (with public shuttle bus transferring back to Guilin when cycling is finished).
2 - 3 people:
RMB550/p.p (private supporting vehichle transferring after cycling)
RMB450/p.p (public shuttle bus tranferring after cycling)
Over 4 people:
RMB400/p.p (private supproting vehicle back)
About the public shuttle bus and priate suppritng one:
The public shuttle bus is narrow with local people and it is only available with group less than 3 people and it is only availbe before 4:30pm. The private suppriting vehicle only transferring the bicycles and riders back, it do not follow the cycling leader during the trip.
Included Services:
1. An English-speaking cycling leader, with route guidance GPS map and simple bike repairing tools;
2. Well-maintained brand quality mountain bikes of 27 speed front suspension;
3. Helmets; 4. Supporing vehicle transferring back from the Golden pheasant river reservoir at Luojin town (or from Huixian wetland area). 5. One bottle of mineral water and local rice noddle lunch.
Not included:
1. International airfares and airfares to Guilin and exit Guilin;
2. Visas;
3. Insurance;
4. Tips, gratuities, personal expenses;
5. We don't offer rider gears for cycling (helmet is excepted).
Optional Service:
Entrance fee for tourist sites(boat fee at wetland).