North of Guilin Cycling Challenge for Over 100KM through Mountain Areas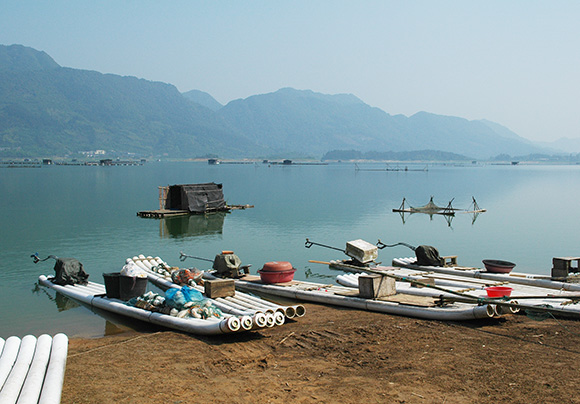 Tour Overview
No climbs = no happy? Are you skilled enough and very familiar with the southern part of Guilin? Then try to challenge one of our biggest mountains in northern part of Guilin. Discover the 48KM mountain and old villages, taste the traditional oil tea at Gongcheng county now.
Duration: 1 day Days
Tour Code: CYT-DT-012
Inquire Now
Tour Itinerary
Cycle Type: Full day challenge biking up the biggest mountain area and tour visit.
Difficulty: ★★★★(out of ★★★★★)
Total Cycling Distance: around 110KM
Tour Duration: 8-10hours.
Road Surfaces: 20km cyling up + 20KM down hill + 8KM undulating + 55KM flat on paved surface.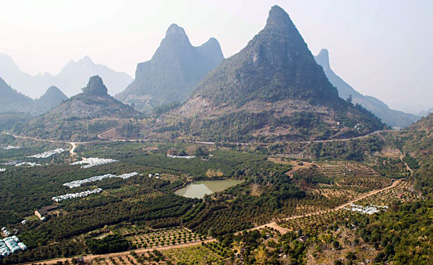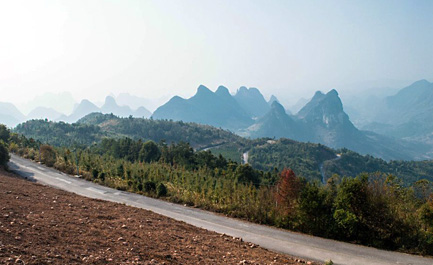 Our supporting van will bring the leader of this tour and your bikes to your hotel and drive us to Dajing and then we begin to climb the big mountain right away. After cycling about 10km, a beautiful reservoir can be found along the raod, looks like a bright mirror surrounded by mountains. A perfect place for a short coffee break and enjoy some photos. There are a lot of fruit orchards with golden oranges in autumn. Maple trees turn yellow or red, amazing scenery are hidden in the mountain.
After 20km down hill we will arrive at Dongjing, an off-the-beaten peaceful Yao nationality town hidden among mountains, we going to get some local food for lunch and rest for a while.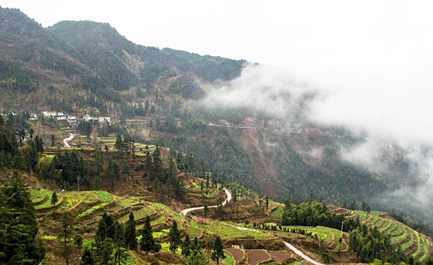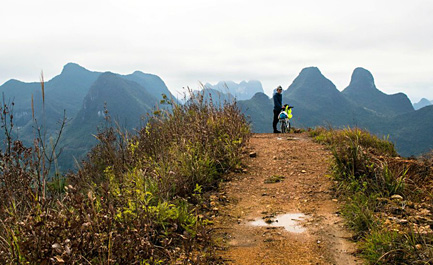 After another 18km cycling, there is an ancient town named Limu which was found 600 years ago and still under protect of local government . You must be attracted by those wood and stone carving on the old buildings.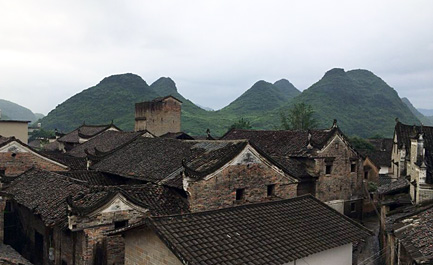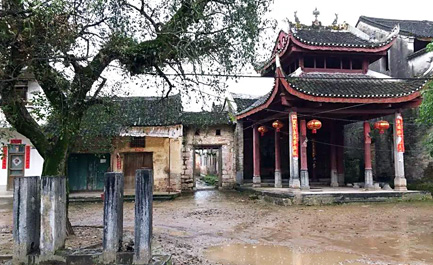 After finishing the big mountain, the road from now is really easy, both sides of the road are fruit orchards.
Finally, we will stop cycle at Gongcheng Yao nationality county. It is popular with it's oil tea (Oil tea is prepared by frying tea leaves with garlic, salt, ginger, chili, and possibly other ingredients in an iron wok. ) , persimmon festival and peach blossom festival.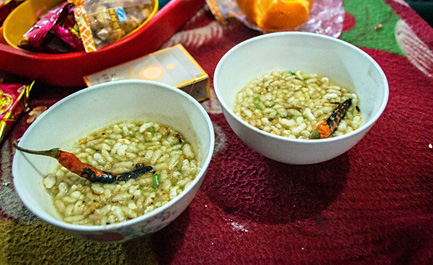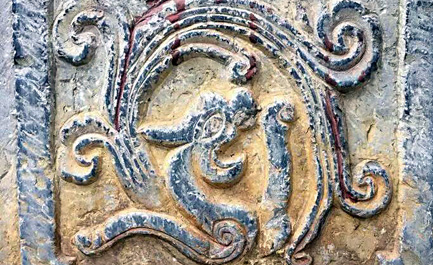 The expecting time arriving Gongcheng is around 6:00PM, we will need a 3-3.5 hours driving in the evening back to Guilin city, it will be a very tired day for us, so if you have enough time, we can rest at Gongcheng and leave the next morning after a short visit of it.
Price Guide
Tour Departure: Daily , guarantee departure.
Booking and payment: Online payment or cash. Booking should be at least one day prior to the tour departure date (more days earlier if departure is on weekends).
Tour Price:
One people: RMB1850 (including simple dinner)
2 - 3 people: RMB1100/p.p (dinner not included)
Over 4 people: RMB950/p.p (dinner not included)
Included Services:
1. An English-speaking cycling leader, with route guidance GPS map and simple bike repairing tools;
2. Well-maintained brand quality mountain bikes of 27 speed front suspension;
3. Free helmet usage;
4. One bottle of mineral water and simple local rice noodle lunch, one bottle of soda drinks.
Not included:
1. International airfares and airfares to Guilin and exit Guilin;
2. Visas;
3. Insurance;
4. Tips, gratuities, personal expenses. 5. We don't offer rider gears for cycling (helmet is excepted). 6. Extra overnight fee at Gongcheng if we can not go back to Guilin on time.
Note:
A. If anyone quit this tour on the half way, he/she may need to pay in cash for returning bus. It is not available to carry too many bicycles into the bus.
B. The bicycle we use are high quality mountain bike, an identity card or passport deposit is needed.
C. Self lock bicycle shoes is suitable for this tour.