One Day Cycle from Guilin to Yangshuo with Luggage Delivery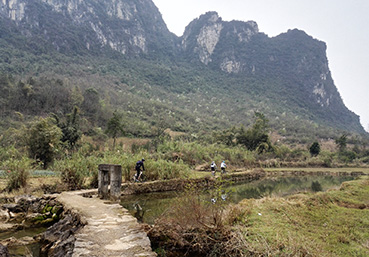 Tour Overview
Bike to Yangshuo from Guilin through peaceful and less commercialized villages; enjoy the hidden big Kart mountain sceneries. Worry-free cycling in the wild nature, optional easy ride on paved and plat countryside with family or challenging cycle on back roads between big mountains.
Duration: 1 Days
Tour Code: CYT-DT-008
Inquire Now
Tour Itinerary
Difficulty: Route A: ★★ / Route B: ★★★☆ (out of ★★★★★)
Total Cycling Distance: 57KM for route A / 66KM for route B
Tour Duration: 5-9 hours.
Road Surfaces: Route A – flat and well/simple paved surface. / Route B – diverse surface with many unpaved big climbs.
Option A is suitable for less experienced healthy rider or fans of outdoor activities.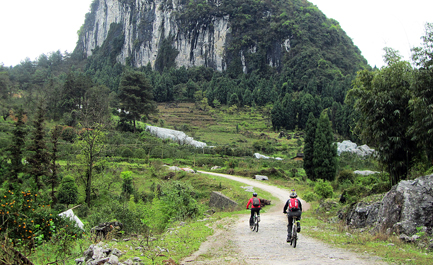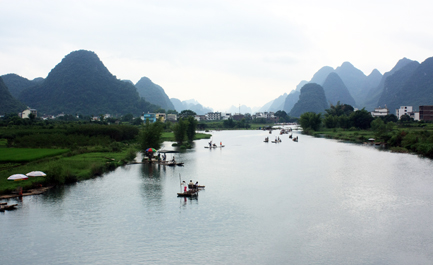 In the morning, be transferred with our bicycles outside the crowded Guilin city and drives about one hour. We start our cycling into countryside directly and avoid the traffic, passing through quiet villages and small forest; we cycle into the perfect concrete roads built between local famer's rice fields, surrounded by Karst scenery and small rivers.
Passing by the old street of local villages, we will witness the big changes between life nowadays and in the past. We enjoy biking on the perfect roads and will have enough time for rest and taking photos. In the afternoon, visit the famous Yulong Bridge and Yulong River, riders can enjoy an optional real bamboo rafting there for about 30 minutes. Then we continue our bike trip and arrive Yangshuo from simple paved road, surrounded by peticular views around Guilin and Yangshuo.
Your luggage will be delivered to your hotel at similar time when we finish our cycling.
Option B is recommended to skilled riders in non-rainy days.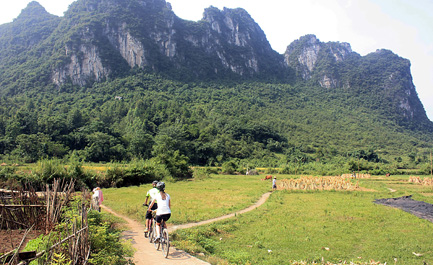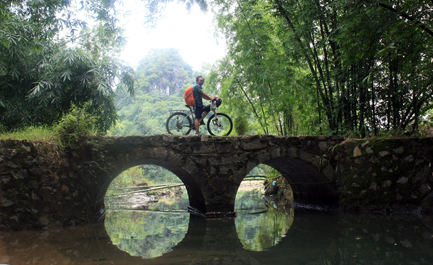 Also starting the tour on the van to the starting point of our cycling, getting into peaceful roads in the painting-alike countryside which is composed of flower garden, chickens, ducks and buffalos, we soon cycle into trails hidden among villages, feeling so intoxicated with how we can find such an silent world so easily.
We finish the first 1/3 tour without too much troubles although there are few short slopes on off-road. Save energy for the rest part of this tour as we are facing steep climbs on muddy roads and macadam, a mixture of road surface on paved or unpaved cycling. Awesome scenery but hard climbs, we will have chances seeing the pouch hill, the Nine-horses Fresco Hill, we have to conquer over many mountains and big climbs today at a total climbing up distances over 14KM.
Price Guide
PRICES START FROM PER PERSON
$ 100 (about €90) / p.p (min. 2 people group) for Route A
$ 110 (about €100) / p.p (min. 2 people group) for Route B
Extra hiring of private supporting van for a jump+ride cycling and get supported for full day = $50 (if you arrive Guilin in late morning and only have around half day but still want to do this, or if you hesitate in choosing this tour afraiding not fit enough to finish it)
Group number limits: (2-10 people), please send enquire to get the other prices based on your group numbers.
Included Services:
1. An English-speaking cycling leader, with route guidance GPS map and simple bike repairing tools;
2. Well-maintained brand quality mountain bikes of 27 speed front suspension;
3. Free Helmets usage;
4. One bottle of mineral water and simple local rice noodle lunch, one bottle of soda drinks.
Not included:
1. International airfares and airfares to Guilin and exit Guilin;
2. Visas;
3. Insurance;
4. Tips, gratuities, personal expenses.
5. We don't offer rider gears for cycling (helmet is excepted).