Guilin Bus Ticket Booking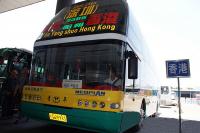 Inquire Now
Overview : Take an express bus from Guilin to the neighboring towns or other Chinese cities, with our reliable ticketing service.
Tour Code : TS-003
Guilin is a transportation hub in the north of Guangxi Zhuang Autonomous Region. It is very convenient to take a bus to head for the major cities in this country or the neighboring towns around Guilin. We can offer you reliable ticketing service with the minimum handling and delivery fees.

Major Bus Routes from Guilin:
Guilin-Yangshuo
Guilin-Longsheng / Longji
Guilin-Sanjiang

Guilin-Liuzhou
Guilin-Nanning
Guilin-Beihai

Guilin-Guangzhou
Guilin-Shenzhen
Guilin-Zhuhai

Guilin-Changsha
Guilin-Hengyang

Train /flight /bus fare + handling fee RMB50pp. + delivery fee RMB50/booking
* The delivery fee is based on the condition that the location should be within Guilin city downtown.
NOTE: During the 2016 Spring Festival travel rush (Jan.24 - Mar.3), bus tickets are always in high demand. Thus, we cannot 100% guarantee that we will be successful at your tickets booking.
Booking Procedure