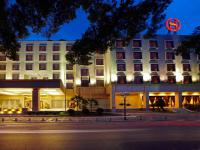 Address: No.15 Bin Jiang Road, Guilin, Guangxi, China
Tel: 86-773- 282 5588
Fax: 86-773-282 5598

Locations : Location: Distance from Centre of city 0 Km, from the airport 30 Km, from the railway station 2 Km
Surroundings: Zhengyang Commercial Street, Li River, Elephant Trunk Hill and Fubo Hill.



Descriptions
The Sheraton Guilin Hotel was opened in 1998 and refurbished in 2008. The hotel ideally located in the downtown on the west bank of the Li River within minutes walk from the Elephant Trunk Hill and Fubo Hill. 30 minutes drive from Guilin Liangjiang International Airport via the new highway.

The Sheraton Guilin Hotel has a Roman style lobby and traditional Chinese pavilions and terraces. From the top floor of the hotel, there are impressive views over the city. The hotel features four different Chinese and Western restaurants and a bar, which serve Cantonese, Sichuan, Korean, Guilin and foreign food. In addition, there is a small coffee shop. The hotel is furnished with conference halls, a business center, a recreation center, a beauty salon, a swimming pool, a water massage pool, a fitness center and a karaoke room.



Rooms
The Sheraton Guilin Hotel boasts 430 modern well-appointed rooms, including 17 suites, some with views of the Li River and hotel garden. All rooms feature the Sheraton Sweet Sleeper (SM) Bed, individually-controlled heating and air-conditioning, flat screen LCD TV sets, and personal computer outlets. All Deluxe Rooms and Club Floor rooms feature bathtub with separate shower cubicle.