Guilin Lijiang Waterfall Hotel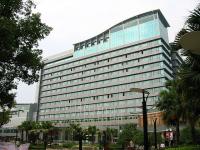 Add: No. 1 North Shanhu Road, Guilin, 541001
Tel: 86- 773- 2822 881
Fax: 86- 773- 2822 891

Locations : Location: It is located in the downtown area of Guilin City, only 3 kilometers from Guilin Railway Station and 30 kilometers from Guilin Liangjiang International Airport.

Surroundings: Fir Lake, Li River, Elephant Trunk Park, Solitary Beauty Hill

Descriptions
Guilin Lijiang Waterfall Hotel, the largest, latest and best-equipped hotel in Guangxi Province, is now being rebuilt on the former site of Lijiang Hotel into a deluxe five-star hotel with an investment of over 400 million Yuan. The artificial waterfall that rushes down from its top matches the picturesque ambience of the hotel, with Shanhu Lake (the Lake of Fir Trees) glittering right down in front. For the combination of convenient location and quite surroundings, it is one of the most ideal hotels for you to stay.

• The waterfall, listed in the Guinness Book of Records, is 45 meters high, 72 meters wide at the top and 75 meters at the bottom.
• Chinese restaurant, Western restaurant, Japanese-Korean restaurant Milky Way teahouse, Four-season hotpot restaurant, and 20 private dining rooms, with 1800 seats in total.
Rooms
Guilin Lijiang Waterfall Hotel boasts 646 spacious and comfortable guest rooms and suite available, with varied types of rooms like standard room, double room, river view room, executive room, 1 presidential suite and 22 deluxe suites available.

All rooms are elegantly decorated and well maintained, with comfortable beds, spacious rooms and color television air conditioner, hairdryer, radio and mini bar available. Meanwhile, River-view Room with one double bed, Executive Room with one double bed or two single beds and Executive River-View Room with two single beds have computer with LCD.