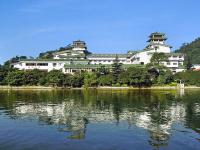 Add: No.1 Lousishan Road, Guilin 541001
Tel: 86-773-255 8899
Fax: 86-773-282 2296
Locations : Location: Distance from Centre of city 1 Km, from the airport 30 Km, from the railway station 2 Km
Surroundings: Solitary Beauty Peak, Folded Brocade Hill, Fubo Hill, the Lake of Osmanthus and Mulong Lake


Descriptions
Guilin Park Hotel was opened in 1990 and refurbished in 2006. The hotel located between Lake Guihu (the Lake of Osmanthus) and Mount Laoren (the Old Man Hill) in the city center. Guilin Park Hotel commands some of the most picturesque views in Guilin and contrasts finely with the famous Solitary Beauty peak, Piled Silk Hill and Fubo Hill.

The elegant Chinese Restaurants and Western Restaurant provide a variety of finest Cantonese food, local food, specialties and European offering. In Guilin Park Hotel, the guests can enjoy their time in fitness center, sauna, outdoor swimming pool and massage.

Rooms
266 tastefully decorated rooms and suites are all equipped and furnished well with modern guest amenities. There are standard room, cabana room, deluxe room, suite and deluxe suite available. All rooms are all equipped with central air-conditioning, music; color TV, IDD & DDD, mini bar, and tub with shower.