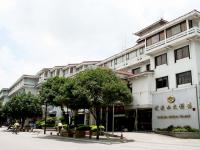 Address: No.27, Binjiang Road, Guilin
Tel: 86-773-2569898
Fax: 86-773-2822328

Locations : Location: Distance from Centre of city 0 Km, from the airport 28 Km, from the railway station 3 Km
Surroundings: Fubo Hill, Folded Brocade Hill, Seven Star Park, Solitary Beauty Peak and Elephant Trunk Hill

Descriptions
Opened in 1992 and refurbished in 2007, the Guilin Fubo Hotel is located on the east bank of Li River at Binjiang Road. The hotel was built just beside the Fubo Hill, which is a famous sightseeing hill in Guilin.

On the first floor, you can choose Cantonese Cuisine or Sichuan Cuisine in the Chinese restaurants. Western restaurants are available on the second floor. Emporiums, Gymnasiums billiards rooms and KTV rooms are also available.

Rooms
The Fubo Hotel boasts a total of 155 exquisitely decorated and well appointed guestrooms. All rooms and suites are comfortably furnished and well-equipped with modern guest amenities.