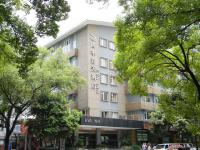 Address: 66 Binjiang Road, Xiufeng District, Guilin, Guangxi, China
Phone: 86-21-61226688 Ext. 7800
Fax: 86-21-61226683

Locations : Location: Distance from Centre of city 0 Km, from the airport 30 Km, from the railway station 2 Km
Surroundings: Elephant Trunk Hill, ShanHu Lake (the Lake of Fir Trees). Li River and Zhengyang Commercial Street.

Descriptions
Opened in 2008, the Eva Inn is located on the west bank of Li River at Binjiang Road, next to Sheraton Guilin Hotel. It is close to Elephant Trunk Hill (300 m) and the ShanHu Lake (200 m), and the Zhengyang Commercial Street neighbors the hotel to the west.

The Moon Café, located on the 7th floor of the hotel, offers you both Chinese foods and western foods. Bars and the Shopping center in the hotel can make your stay more joyful.

Rooms
The Eva Inn boasts a total of 113 contemporary rooms equipped with internet. Each room has free high-speed Internet access, and is furnished with a safe, hair dryer, refrigerator, and mini-bar. Guests may opt for non-smoking rooms.