Guilin Yangshuo Green Lotus Hotel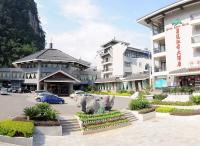 Add: No. 1 Guanlian Road, Yangshuo, 541900, Guilin, Guangxi, China
Tel: 86-773-8886666

Locations : Location: In the downtown of Yangshuo, Distance from the West Street 500m
Surroundings: Li River, the West Street



Descriptions
Located at the foot of the Green Lotus Peak in Yangshuo, and standing right on the bank of the Li River, Yangshuo Green Lotus Hotel is a top luxury hotel integrating the natural beauty of mountains and rivers and the local minority's architectural feature, which is also designed and established according to the standards of the national five-star hotel.
Yangshuo Green Lotus Hotel enjoys the graceful and elegant environment. And it has great location – only five minutes' walk from the renowned West Street. It is an ideal place for you to stay after sightseeing or a night out in the popular West Street.

Yangshuo Green Lotus Hotel has the complete set of functions, with equipments and facilities as follows:
* A reception lobby, with height of 15 m and area of 533 sq.m and bears a unique architectural and decorating style.
* A multi-functional hall, where can accommodate 400 people having meals and 500 people having meeting, as well as serve as a performance, exhibition and simultaneous interpretation hall. Three different types of meeting rooms, where can be used for different scales of meetings.
* Chinese and western restaurants with various types of cuisine, bars, coffee bars and 9 booths, totaling a number of 1,100 seats.
* A 380 sq.m outdoor swimming pool.
* KTV rooms and special performance halls.
* Two 500 sq.m river view garden-like platforms inside the hotel, where can provide meal, barbecue, recreation and sightseeing.



Rooms
A number of 333 various kinds of rooms, including president suite, 15 deluxe river view suites, 6 executive deluxe suites, 20 executive business suites, 2 duplex suites and 290 standard rooms. More than 80% of the hotel's rooms are river view rooms.