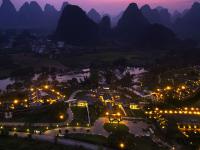 Add: North side of the Gongnong Bridge, Gaotian Town, Yangshuo County, Guilin, Guangxi, China
Tel: 86-773-6919988

Locations : Location: Distance from the downtown of Yangshuo and West Street 6 Km
Surroundings: Yulong River, Moon Hill and picturesque farmland

Descriptions
Yangshuo Resort Hotel is an amazing luxury hotel with fabulous location. It is right standing on the grassy banks of the picturesque Yulong River and at the foot of magnificent limestone peaks. The surrounding of the hotel is stunning and makes you feel relaxing.

This hotel is also an ideal place for those who want to escape from the crowd and those who want a leisure holiday with their families, friends and lovers.

Rooms
All the rooms have fantastic river and mountain view and offer you the most scenic beauty of any of the other Yangshuo hotels. It is a good choice for you to unwind, relax and enjoy your Yangshuo experience.