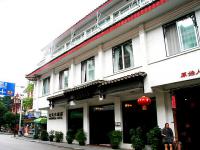 Add: No.7 Diecui Road, Yangshuo 541900
Tel: 86-773-8819288

Locations : Location: In the heart of Yangshuo, Distance from West Street – a stone throw
Surroundings: the Li River, the West Street

Descriptions
Yangshuo Magnolia is a beautiful hotel located right in the heart of Yangshuo. Yangshuo's famous West Street is just within 2 minutes' walk from the hotel.

Rooms
The hotel's 3 family rooms, 6 deluxe rooms and 21 standard rooms provide you many choices. And all rooms are equipped with cable television, phone with international access, air conditioning and 24 hours hot water. Some rooms have a balcony. All rooms have a modern bathroom with enclosed shower, hair dryer and quality toiletries

With spacious room and soft luscious bed, the magnolia is an ideal place for you to unwind, relax and enjoy your Yangshuo experience, especially after a night out in the bustle West Street.