Yangshuo Mountain Retreat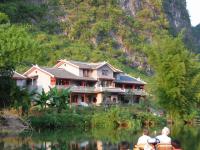 Address: Wang Gong Shan Jiao, Feng Lou Cun Wei, Gao Tian, Yangshuo, Guangxi
Tel: 86- 773- 8777 091

Locations : Location: Distance from the downtown of Yangshuo and West Street 7Km
Surrounding: Yulong River, Moon Hill, Picturesque farmland

Descriptions
The Yangshuo Mountain Retreat is a comfortable hotel with fabulous location in Yangshuo countryside; it is right standing on the grassy banks of the picturesque Yulong River and at the foot of magnificent limestone peaks. The surrounding of the hotel is stunning and makes you feel relaxing. It is a perfect choice far away from bustling streets.

The hotel's multi-purpose main meeting room can accommodate up to 48 people in a variety of configurations. The hotel also offers a variety of traditional local foods as well as a choice of Western dishes, English-speaking staff offer friendly service and good recommendations.

Rooms
Mountain Retreat in Yangshuo offers 22 stunning guest rooms with accommodations for 48 guests, including 2 single side balcony rooms, 6 twin mountain view rear room, 3 twin river view front room, 1double river front room, 2 triple river view front room, 1 four beds river view front room and 7 deluxe front room with river view and balcony.

All the guest rooms have river or mountain views and decorated with sustainable wood supply. The rooms are basic but comfortable and are flexible to accommodate families, groups, couples and individuals.