Riverside Retreat Yangshuo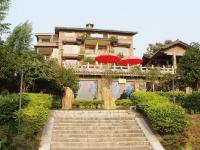 Add: No.10-3 Ao Tou Zha Village, Yangshuo County, Guilin
Tel: +86–773 8826 879



Locations : Location: Distance from the downtown of Yangshuo and West Street 5Km
Surrounding: Li River

Descriptions
Riverside Retreat Yangshuo, an ideal lodging overlooking the flowing Li Rivers, wedged amongst the bamboo forests and exotic countryside near Yangshuo County. It offers spectacular riverside views and a stunning panorama of the famous limestone karst peaks.

The Riverside Retreat Yangshuo features at open-air patio dining area, offering large selection of Chinese and Western dishes and you can enjoy the beautiful atmosphere then; Multi-purpose conference room ideally equipped for meetings, parties, lessons, and more – very comfortable for all of your meetings and group activities. It is convenient from the hotel to any other place in yangshuo by motorbike, taxi, mini-bus or a wonderful, short walk.



Rooms
The hotel offers 16 guest rooms and suites only, each offers stunning riverside and countryside views.