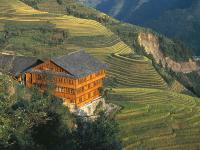 Add: Ping'an Village, Longsheng County, Guilin
Tel: 0773-7583318

Locations : Location: Located in Longji Rice Terraces scenery site – Ping'an Village
Surrounding: Fantastic Rice Terraces

Descriptions
Li'an Lodge is a wood structure implementing Chinese building technique of tongue and groove without nails. Strategically situated on the half way up to the viewing spot, Li'an Lodge is the top first class hotel at Longji. The hotel enjoys a fabulous environment. Some of the hotel rooms offer you the perfect views of the Rice Terraces.

Li'an Lodge is an ideal place for you to stay after you enjoy your rice terraces and the colorful minority culture experience.

Rooms
All the 16 hotel rooms are unique, different and beautifully decorated by Chinese culture and traditions and bring back your memory of "old China". There is a room named "Abacus", a room named "Silk", a room named "Harvest" and etc.