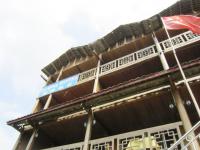 Add: Dragon ridge terrace, Ping`an village, Longsheng county, Guilin.

Locations : 1.5 hours' drive from Guilin airport; 4 hours' drive from Guilin; and 2 hours' drive from Yangshuo.
Surroundings: Longji Rice Terraces, Ping'an Zhuang Village

Descriptions
Liqing Hotel is located right on the Lomgji rice terraces in the village of Pingan. It is 1.5 hours' drive from Guilin airport, 4 hours' drive from Guilin and 2 hours` drive from Yangshuo. The hotel is run by a local Zhuang family. Come and sit on our sundeck and enjoy the views.

Also, you eat a great variety of dishes in our restaurant; not just local dishes and Chinese flavors, but also some western food like breakfast.
Rooms
The hotel has 30 double rooms and one very special family room. All our rooms have amazing views of the rice terraces, private bathroom with western toilet and aircon if you like.