Fengyuqiao International Hotel Sanjiang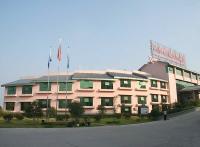 Add: Minzu Square, Sanjiang Country, Liuzhou
Tel: 0772-8580888
Locations : Located in the new business center of Sanjiang County; about 170km away from the Liuzhou Railway Station; 177km away from the Liuzhou Airport.



Descriptions
The Fengyuqiao International Hotel is a garden style hotel located on the Minzu Square-the biggest leisure activity center in Sanjiang Country, and adjacent to the landmark - Sanjiang Bell Tower. As for dining service, there is a Chinese restaurant with 270 degree river terraces in the hotel which can accommodate more than 700 people dining at a time.
Rooms
The hotel has 50 guest rooms at different levels, including standard room, business room and deluxe room; and 100 rooms will be added in the near future.