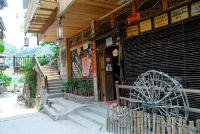 Add: Chengyang Bridge Scenic District, Sanjiang 545500, China
Tel: 0772-8582619
Locations :

Situated in ChengYangQiao scenic area (A level national tourist scenic spot) – Chengyang rock village.
Descriptions
Longfeng Hotel Sanjiang is new peasant family hotel established by local Dong people. With all timberwork structure and unique fitment, Longfeng Hotel boasts unique minority style and effective service, which makes it a special guesthouse in Sanjiang.
Rooms
The hotel offers 16 rooms which are well equipped with modern facilities such as TV, air conditioning, and Internet access–high speed. All rooms are warmly decorated to fit your taste and needs. Here in the sixth floor with viewing platform you can take a bird's-eye view of the whole village.