"People Mountain People Sea" during China's Golden Week Holiday 2012
Where did you see "people mountain, people sea" ? This is a hot topic on the Chinese internet to discuss the just-concluded National day holiday. The phrase "people mountain, people sea" literally translated from Chinese idiom "人山人海", which means "huge crowds of people". Many netizens have uploaded picture of incredible crowds across China.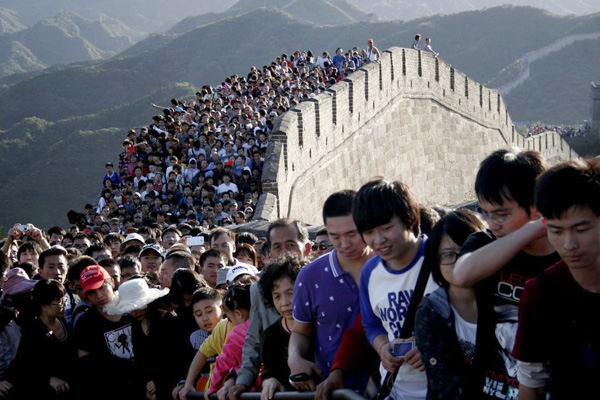 Photo: "Seas of people" on the Great Wall on October 3, 2012

So, there is a most useful travel tip for tourists. If at all possible, avoid traveling in China during the "Golden Week" of National Day (October 1-7).
Currently, China has 7 official public holidays in a year, 11 days altogether. There are only two long holidays, the Spring Festival and National Day holidays, with three days each. Usually, the length of the two holidays can be extended to seven days including weekend, nicknamed Golden Week. As Spring Festival is traditionally a time for family reunions, it is inevitable that most Chinese will choose to travel during the National Day holiday.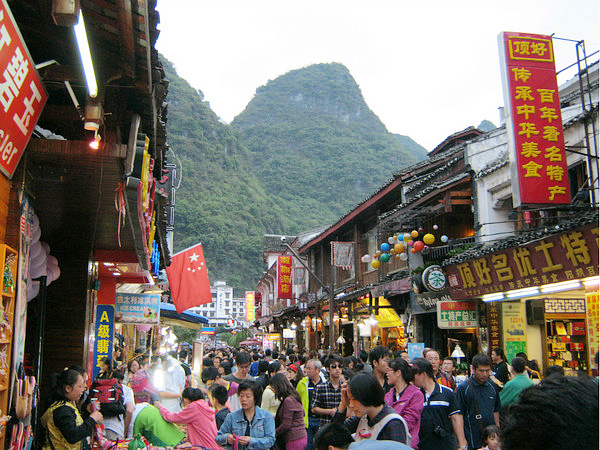 Photo: Crowds of people at Yangshuo West Street during Chin's National Day holiday
Guilin is well-known for its karst landscape and idyllic contryside scenery. For most travelers, it is a dream destination. Yangshuo and Longji in Guilin area, due to their fames in the world, are probably not the best places to visit during National Day holiday. Major tourist sites are overwhelmed by huge crowds; and, many hotels may seize the chance to raise the prices of food and accommodation.