How to eat cheaply in Guilin!
Eating is a very basic requirement for all the people including travellers. So how to eat cheaply and well becomes a theme during the tour. Here are some food which you can fill your stomach with little buck!
Rice Noodle
Rice noodle is the most popular and famous food in Guilin. Restaurants selling rice noodle line alone the streets of Guilin. There should be at least one every 100 meters. Rice noodle is cheap and tasty and normally costs 2.5-5 yuan each bowl. As rice noodle is made up of grinded rice, it's insipid. But with Scallion, pickled radish & bamboo shoots, marinated beef and chilli sauce as seasonings, a bowl of flavour feast will appear!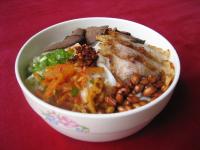 Glutinous Rice Ball with Ingredients inside
This kind of snack is usually sold in backstreets, appealing plenty of students and youngsters. The vender, also the chief will make different kinds of ball in size according to how much you pay. 1 yuan, 2yuan, 3yuan etc. The ingredients stuffed are probably sausage, pickled radish, fried biscuit, chilli sauce and minced/sliced meat. The rice ball is quite easy for holding in one hand, so you can eat while walking. The warm prompt:don't eat too much once, cuz glutinous rice is not so easy to digest.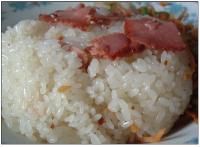 Chinese Fast Food
The restaurants making Chinese fast food are scattered all over Guilin as well. Most of them are simply decorated but look bright. Local people who is busy to make a mill and want a economic dinner lean to choose them. The prices vary from 7-20 yuan, depending on what kind of food package you choose. Service is not an advantage for them, so don't expect much from the servants, as you know they are really lowcost!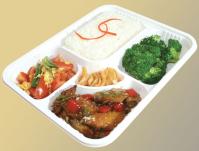 More diverse kinds of yummy are waiting for you in Guilin.Just come and eat your way!