300,000 Fry Were Released into Li River
Environmental action called "Beautiful Guilin, Dream Li River" was held in Elephant Trunk Hill scenic spot on May 18, 2013. Members of the action consisting of Li River environment-protectors, tourists and volunteers from all walks of life freed 300,000 fry at the riverside. In despite of drizzling, enthusiastic people untied the plastic bags containing fry and released them into the limpid waters, then tenderly push the waters in order to help them swim away.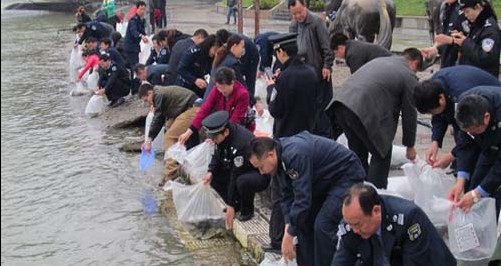 According to Guilin Administration of Fishery, the activity aims at arousing people's awareness of protecting Li River eco-system and advocating "no-fishing" in the Li River. From long time ago, Guilin government has put efforts on banning fishing in the Li River, notwithstanding, more and more people fish in the Li River in recent years. Effectual acts are urged by citizens who are keen to protect Li River's ecosystem.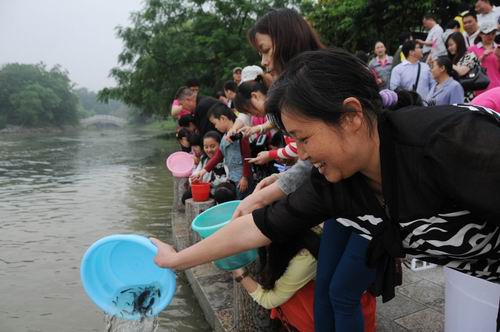 With this activity, we hope that the situation can be bettered and more people will help maintaining and improving the environment of Guilin!