Cruise around Guilin Two Rivers & Four Lakes
The Two Rivers and Four Lakes scenic area is a connecting round-the-city water system in Guilin downtown area. It can truly attest to Guilin's beauty as a city of rolling mountains and meandering rivers. Tourists would relax and enjoy all the best views by day and evening on a cruise trip. And, apart from cruise boats, go rafting is available as a new sightseeing way from June 15, 2013.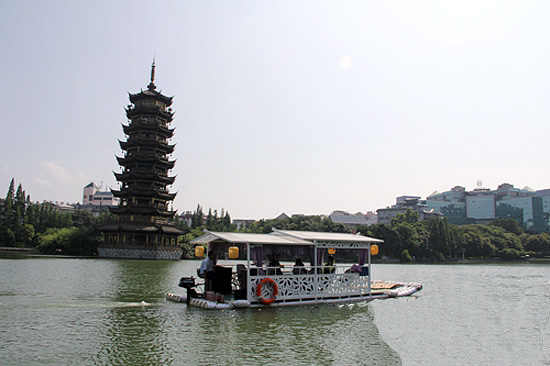 The four lakes, Shan (Chinese fir) Lake, Rong (banyan tree) Lake, Gui (Osmanthus tree) Lake and the Mulong (Wooden dragon) Lake, are linked by the two rivers, Li River and Peach Blossom River. The 7.33km-long waterway starts from Liberation Bridge to Mulong Lake, through Baoxian Bridge to Rong Lake and the pagodas of Shan Lake, before drifting down the Taohua River to Wenchang Bridge. The waterborne tour conveys tourists along a circuit of Guilin's lakeside and riverside scenery. At night, the scene of the lakes and rivers is particularly charming when the area is colorfully lit.