Beijing-Guilin high speed trains open to traffic
A high-speed rail line, connecting the Chinese capital of Beijing with Guilin, a popular tourist destination in southwest China, came into service on December 28, 2013.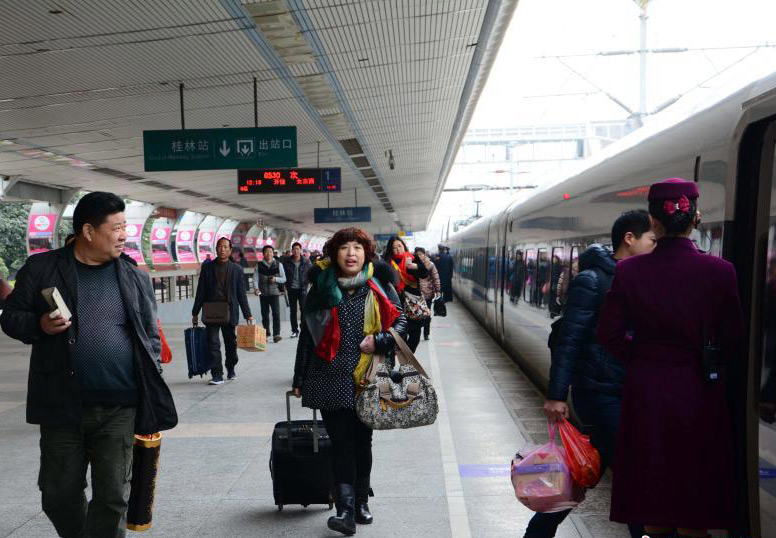 A new pair of bullet trains G529/30 is set to run along the 1958-km-long line every day; and the travel time between the two cities has been shortened from about 26 hours to 10.5 hours.
The high-speed bullet train G529 from Beijing to Guilin will set out from Beijing West Raiway Station at 7:46, stop in Zhengzhou East Railway Station at 10:53, Wuhan Railway Station at 12:53, and arrive at Guilin Railway Station at 18:18.
For the Guilin-Beijing West G530 train, it will dispatch from Guilin Railway Station at 12:15 and arrive at Beijing West Railway Station at 22:51.
The ticket price between Beijing and Guilin is 2,530 yuan ($415) for a business-class seat, 1,250 yuan for a first-class seat and 806 yuan for a second-class seat.
And across China, seven new high-speed rail links started operation on December 28. Thus, the national high-speed railway network consisting of eight major lines - "four horizontal and four vertical" - has taken shape. Guilin can be easy of access by bullet trains, from Beijing, Shanghai, Guangzhou and other cites on this network.
GuilinHoliday.com offers the train tickets booking service. Please view: http://www.guilinholiday.com/ticket-v1359-guilin-train-ticket-booking