Food celebration for Chinese New Year in Guilin China
Chinese festivals are always packed with good-luck foods. Surely, for Spring Festival, the auspicious food is essential to a healthy, happy new year in Chinese tradition. As China is a vast country, cooking varies widely depending on the region of China you're in. When in Guilin, eat as the locals do. Some typical Guilin dishes are served throughout the 15-day New Year celebration.
A family reunion dinner on New Year's Eve is a most important event of celebration. A typical feast consists of ten courses, given the elegant name of Shi Quan Shi Mei; and almost every dish has a symbolic meaning either because of the appearance or the pronunciation of its Chinese name.
The meal opens with a cold appetizer platter including bits of glazed pork ribs, sliced meats and pickled cabbage. Then, a big bowl of broth - thick with vegetables, meatballs and cellophane noodles - leads into the main courses. There follow four special dishes in Guilin, namely, Lipu taro & pork loaf, Egg-stuffed meat rolls, Pork stuffed fried tofu, and Fried vermicelli with preserved pork.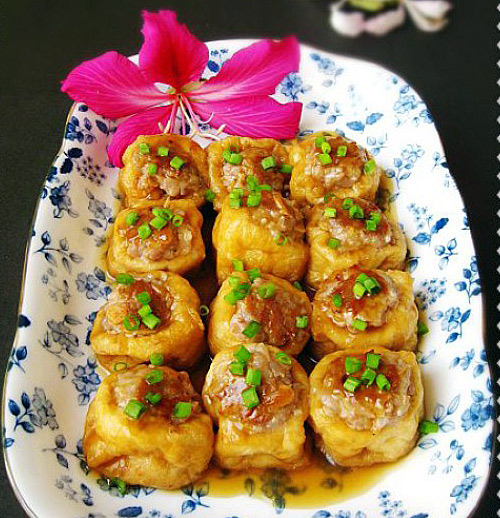 Pork stuffed fried tofu
It is customary to serve a whole fish, with the head and tail intact, for the New Year's Eve dinner. The Chinese word for fish sounds like the word for abundance. Moreover, the fish is never fully eaten to ensure that the family will have an excess of good fortune through the year.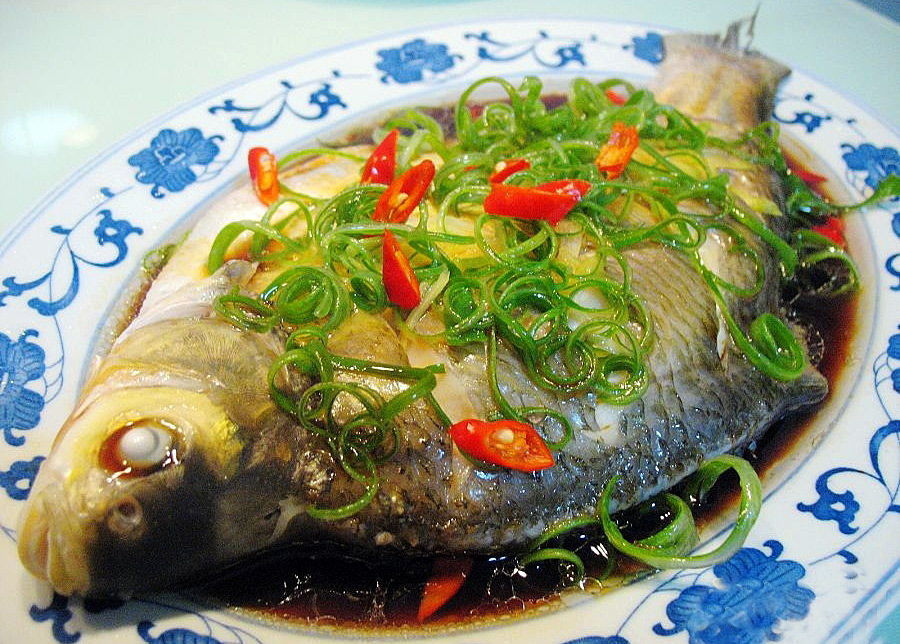 Fish
People said that most New Year dishes are prepared with uncut or whole ingredients. However in Guilin, a chicken could be made into three dishes - braised chicken, bai zhan ji (literally, boiled and cut chicken), and stir-fried chicken offal with celery. The Chinese pronunciation for chicken, "ji", is similar to the Chinese word for "good luck".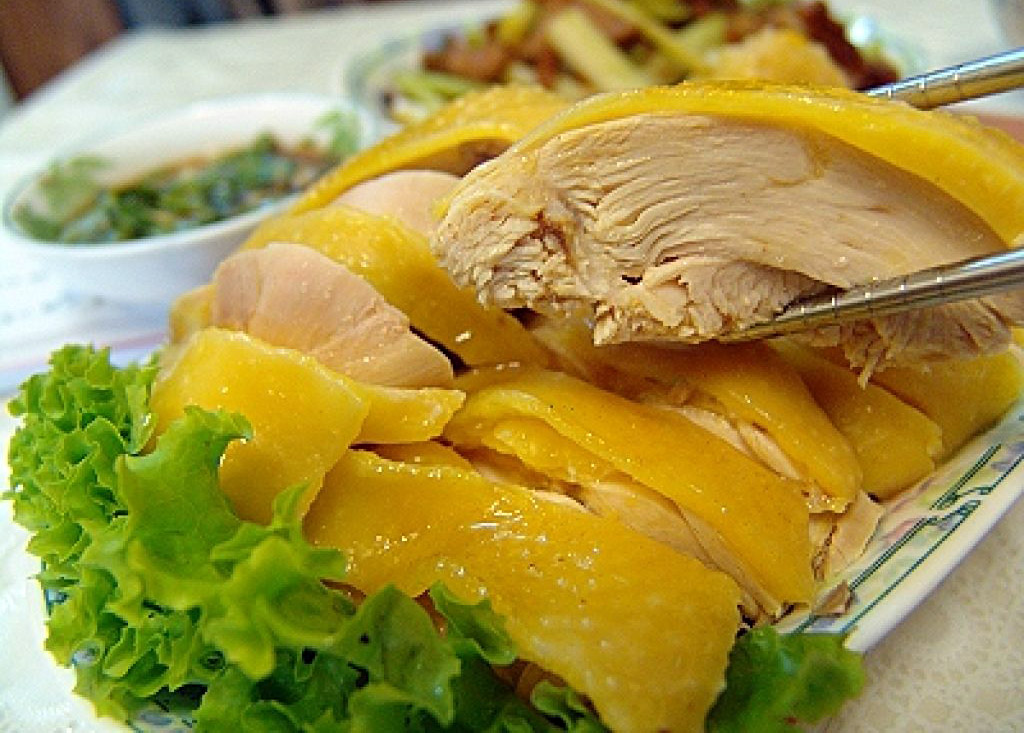 Bai zhan Ji (literally, boiled and cut chicken)
Of course, not only these ten dishes above for all banquets. Guilin cuisine is similar to the mild and fresh Cantonese style of Guangdong province to the east, but also strongly influenced by the strong and spicy flavor to its northern neighbors Hunan and Sichuan. There are customized 10-course feasts served in some restaurants of Guilin.
During the 15-day New Year celebrations, every household keeps their tables topped up with candies, fruits and nuts. Well then, they can welcome guests with a choice of festive treats.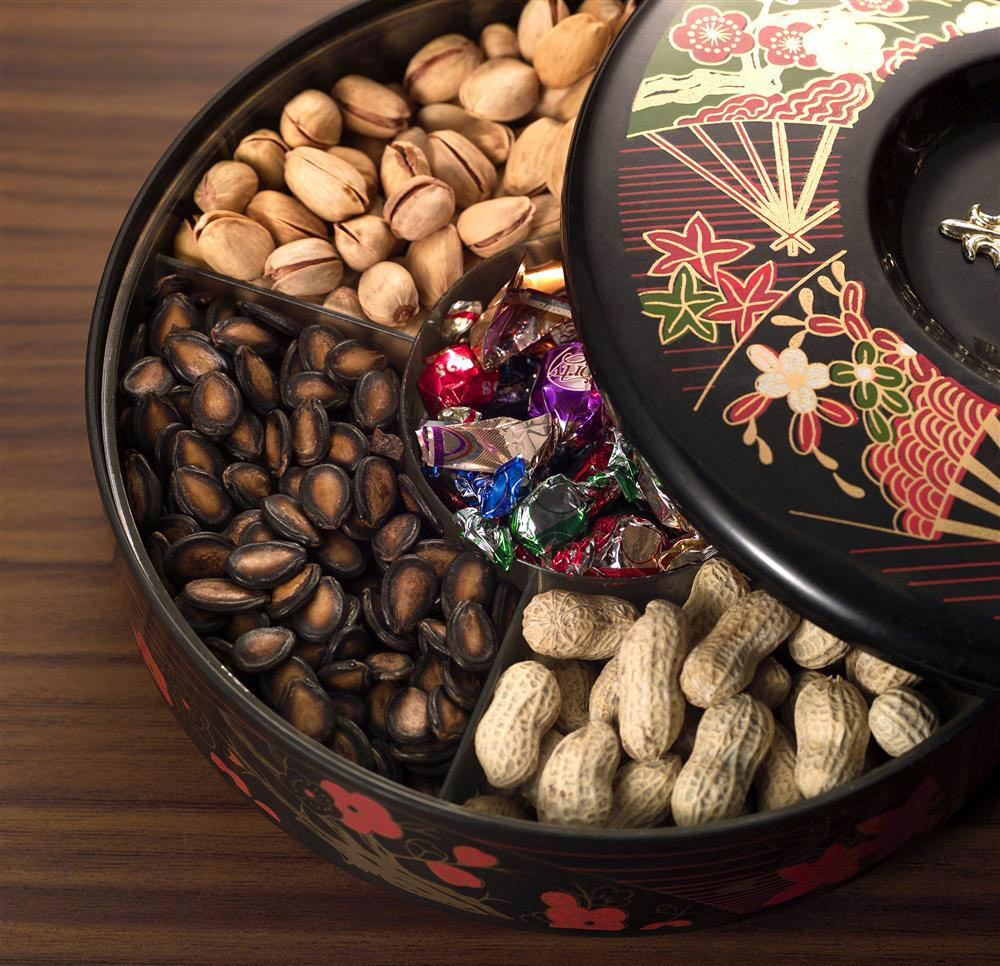 Mixed nuts in a compote dish
And, Nian Gao, which is a homonym for "higher each year", often given to relatives and friends as a gift. As for Tang Yuan, it is the poster food for Lantern Festival. These round glutinous rice balls are eaten to symbolise family togetherness and completeness.