Winter Getaway to Longsheng Hot Spring
During these days, it is chilly cold in Guilin. Thus, nothing can beats soaking in a hot spring for a winter day. On Feburary 9, my friend May and I set off from Guilin city, and it took us about 2 hours to the Longsheng Bus Station. Next came a 50-minute drive to Longsheng Hot Spring Resort.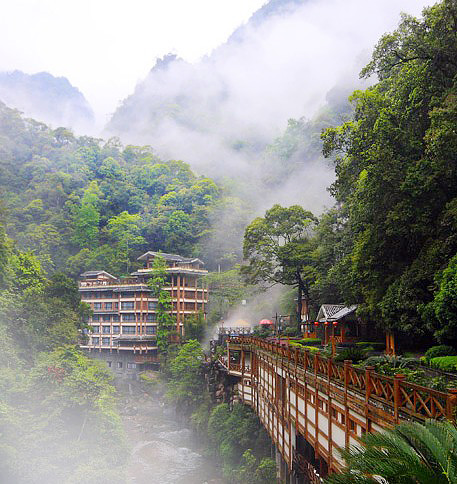 The resort has few hotels, looking good and worth a stay. We walked into a hotel and check in with a standard room. We changed into our swimsuits, as well as the bathrobes and slippers that the hotel offers, in the guestroom. A hot-spring corridor on the third floor corridor led us to the pools area. Walking outside, I felt quite cold by the blowing wind.

Even we didn't have much expectations but it was quite surprising! The water spring up from rocks that are 1200 meters below ground. You can see the hot springs running down the mountain - steam billowing into the air.

The hot spring water is captured into various pools of various temperatues ranging from the extreme 50 degree to the swimming pool at 36-40 degree. No smell of sulphur. The hot springs is colorless, tasteless, pure and clear. People said that this natural mineral water can be used for both medical treatment and drinking.
Some of the pools were far too hot but others were very comfortable. Laying down in the water, vapour rised slowly and slowly, finally surmount the verdant tree upon my head. Really felt like we were totally away from the bustling city life.
The pools are accessible till late for hotel guests. I would absolutely recommend a visit here to anybody who has time in the area.