Official 2015 Chinese public holiday schedule released
Lunar New Year falls on Feburary 19, 2015 and the week-long holiday starts officially on Feb. 18, according to the 2015 Chinese public holiday schedule announced by China's General Office of the State Council on December 16, 2014.

In China, there are just 11 day days for seven national public holidays out of the year. Except for calendar New Year, May Day and National Day, the dates of the lunar festivals are likely to vary from year to year. To make a longer holiday, the government will do specific arrangement each year by "borrowing" the previous and/or the next weekend(s). In that way, people will have three days or seven days off in a row.

For 2015, the New Year's holiday will be extended to 3 days from 1st to 3rd; Mid-autumn Festival celebrated with 2 days off on weekends, with no make-up. The Spring Festival (Feburary) and National Day holiday (the first week of October) remain week-long holidays. And still, there will be three days off for each of calendar New Year, Tomb-Sweeping Day, Labour Day holiday and Dragon Boat Festival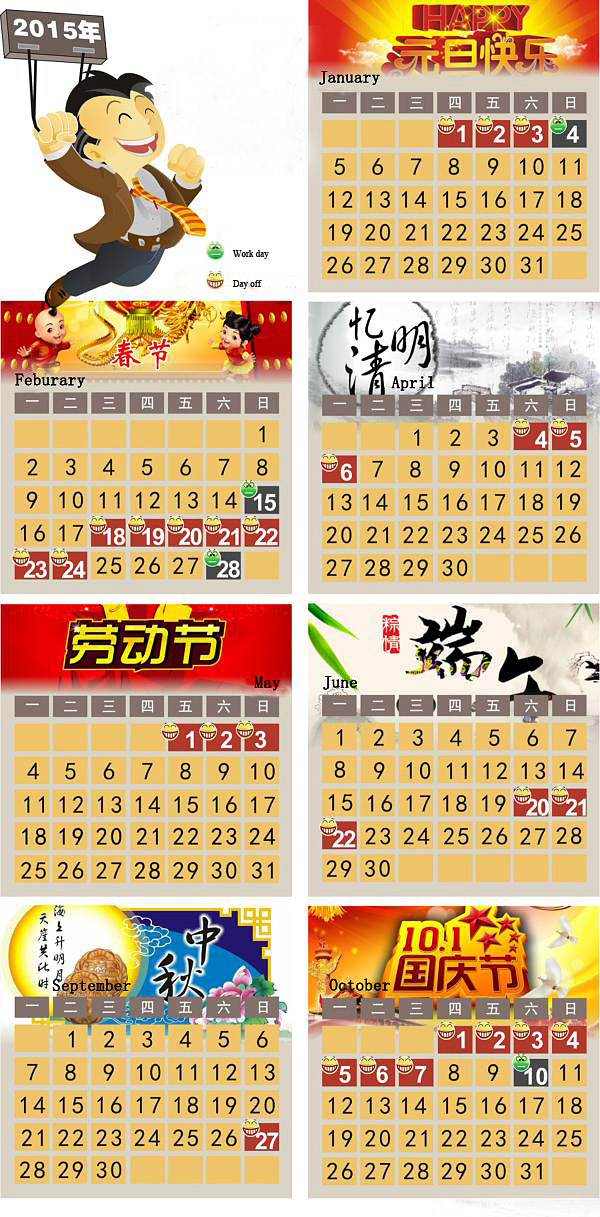 New Year's holiday:
OFF: January 1-3 (Thu-Sat)
ON: January 4 (Sun)

Spring Festival (Chinese Lunar New Year):
OFF: February 18-24 (Wed-Tue)
ON: February 15 (Sun), February 28 (Sat)

Tomb-sweeping Festival:
OFF: April 4-6 (Sat-Mon)

Labor day:
OFF: May 1-3 (Fri-Sun)

Dragon Boat Festival:
OFF: June 20-22 (Sat-Mon)

Mid-Autumn Festival:
OFF: September 27 (Sun)

National Day:
OFF: October 1-7 (Thu-Wed)
ON: October 10 (Sat)