Zhuhai-Guilin direct train service available from November 28, 2015
Zhuhai, a coastal city in Southern China's Guangdong Province, has launched rail line to Guilin starting from November 28, 2015. This is the first and only direct train service operating between Zhuhai and Guilin, taking about 4 hours.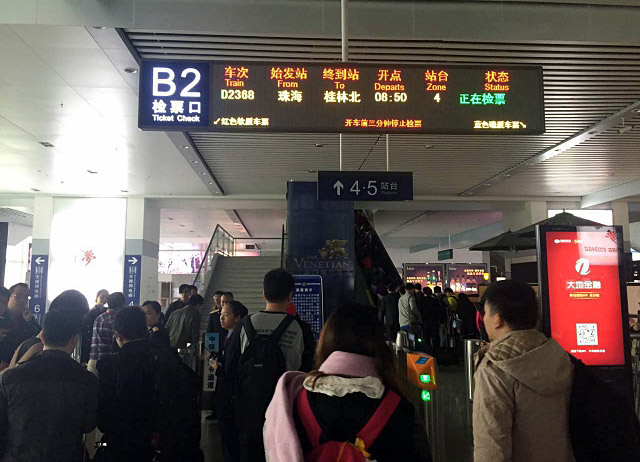 Train D2368 is set to depart from Zhuhai Railway Station at 08:50, and reach Guilinbei Railway Station at 12:48 the same day. And for the return trip, Train D2367 leave Guilin at 13:47, and arrive in Zhuhai around 17:50. Along the way, the train stops at various stations include Guangzhou South Station, Zhaoxing East Station, Guangning Station, Hezhou Station, and Gongcheng Station.
Fares are priced at a fixed rate of RMB207.5 for a (second-class) seat. Tickets have already been on sale via website, station ticket windows, agencies and telephone booking systems.
As there are over 25 bullet trains linking Zhuhai, Guangzhou and Guilin every day. People can choose to take one from Zhuhai to Guangzhou, and then change another train to reach Guilin. Within the same railway station, it will be not difficult to change a train in Guangzhou.