Our company year-end party 2016 at Zhaoxing
January often mark the end of one year to Chinese people, before Chinese New Year. Always, it is a tradition for our company to hold a year-end party. On January 13, we gathered for this annual event at Zhaoxing, a pretty Dong minority town in southeast Guizhou.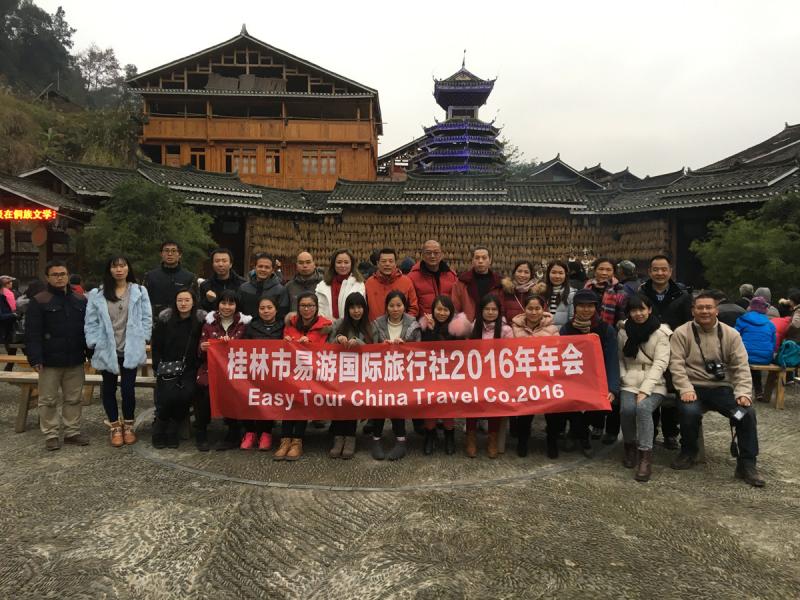 Zhaoxing was a remote destination in my mind. Now from Guilin, bullet trains will take you to Congjiang Station first - in just an hour - along Guiyang-Guangzhou high-speed railway; and then it is needed to have a 10-minute car ride to reach Zhaoxing.
Zhaoxing, my first impression, looks a bit touristy, similar to Fenghuang and Lijiang. The main street had gone through a face-lift. But just behind, there offer a glimpse into the local life of Dong people.
Distinctively, there featured Drum Towers, Roofed Bridges, and Opera Theaters of Dong minority. The local residences are wonder housing on stilts.
Zhaoxing area is actually a small cluster of Dong ethnic villages nestling in a valley, covering Tang'an, Xiage, Xiageshang, Yilun, Jitang, Dengjiang and Shangdiping. There allows some hiking through the terraced paddies fields from one to another. And among them, Tang'an is the must-visited one, renowned as the Eco-museum of Dong ethnic group.
Save