About 5 km northwest of the downtown of Guilin city, Reed Flute Cave is a must-visit tourist sites for any Guilin travel. It is a huge natural limestone cave system, formed 700,000 years ago. The cave got its name from the verdant reeds growing outside, which can be made into flutes with melodious sound.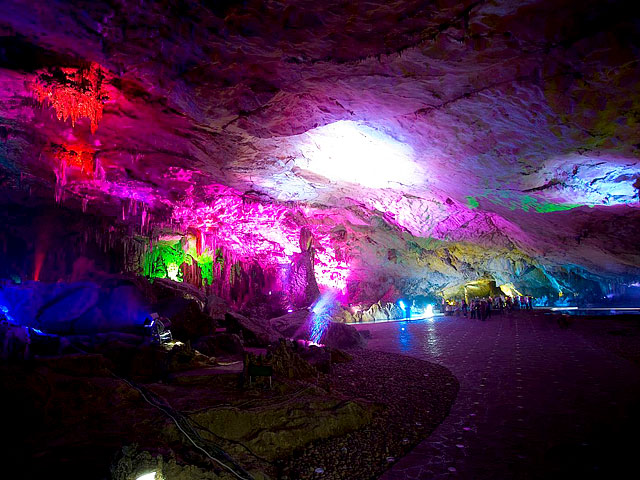 Inside Reed Flute Cave is a spectacular world of stalactites, stalagmites and rock formations in weird and wonderful shapes. And, artificial colored lighting emphasize the coincidental similarity of the rock formations to birds, plants, and animals. Impressively, almost all of these formations have unique Chinese names given to them based on their shape and representation.

The cave is about 240 meters long and a tour lasts about an hour. Along the U-shape sightseeing route, visitors will see different formations, each with its own story and unique name: Dragon Pagoda, Flower & Fruit Mountain, and much more. One grotto is called "Crystal Palace of the Dragon King" - an area that resembles a miniature Guilin, where can comfortably hold about 1000 people. It is quite fun to listen to the legendary stories while appreciating the dazzling sights.

On the cave wall, there are some 70 inscriptions written in ink, which can be dated back as far as 792 AD in the Tang Dynasty. These aged inscriptions tell us that Reed Flute Cave has been an tourist attraction in Guilin since ancient times.
Reed Flute Cave has been widely claimed as "Art Galley of Nature". People will be never disappointed with the exciting "cave exploration".
Admission fee: RMB 90 p/p;

Opening hours:
07:30 - 18:00 (April 1 - October 30);
08:00 - 17:30 (November 1 - March 31);

How to get there:
1. Take public bus No. 3, or 58(free), and get off at the bus stop of Reed Flute Cave(芦笛岩站).

Top Attractions in Guilin