Yangshuo, 65 kilometers southeast of Guilin, gains its fame worldwide for limestone karst mountains, clear rivers and idyllic countryside, etc. For thousands of years, Yangshuo scenery has inspired many poets and artists to subject lots of good works. Here, we will recommend the star attractions of Yangshuo to you.

If you come to Yangshuo, what you can't miss out is the famous West Street. It is a typical example of a southern China street for its courtyard-setting and marble pavement. Surrounded by the traditional folk life and international element, Yangshuo West Street will let you enjoy its leisure and cozy.

If you go hiking or bike riding in the countryside, Yangshuo has many scenic spots to offer. Firstly, have you ever seen a hill shaped like a moon? The natural arch of Moon Hill provides travelers a great bird's eye view of county farmlands. Then within Butterfly Spring Park, the different shapes, vivid and lively butterflies will catch your eyes along 400-meter-long butterfly cave. Besides, just 7 kilometers south of downtown Yangshuo, a 1,400-odd-year-old Banyan Tree epitomizes the best pastoral scenes.

If you want to enjoy the time by the riverside, Yulong River and Xingping Town can be your good choices. As a branch of Li River and the second largest river in Yangshuo, Yulong River is an ideal attraction for you to appreciate unique shaped limestone hills and rice paddy fields along it by trekking, biking or bamboo rafting. Moreover, Still waters, grotesque peaks, steep cliffs, and fantastic landscape are the features of Xingping Ancient Town. Here, you can walk up to Yangdi along Li River and see the landmarks like Mural Hill, Snail Hill, Lotus Crag, etc.

In addition, attractions like Silver Cave, Shi Wai Tao Yuan, Fuli Town will also show you the awe-inspiring scenery of Yangshuo.

List of Attractions in Yangshuo
Just a short walk from West Street, overlooking the Lijiang River, stands the towering Bilian Feng or Green Lotus Peak. It is of typical karst formation and looks like a green lotus bud on the Li River from a distance, hence the name. That is why the peak can serve as the last ...
More
Built in the early years of Tang Dynasty (713B.C), Jianshan Temple is one of the most ancient temples in Guilin. It is located at the foot of Yunji Moutain in Moon Hill Scenic Spot in Yangshuo. Tourists in Yangshuo travel there for its long history and culture.Jianshan Temple i ...
More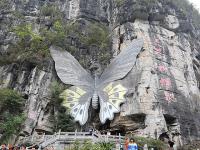 As a local which brings together both a unique landscape and a rural setting, Butterfly Spring Park is located in the best traveling place of Moon Hill Scenic Area in Yangshuo. Occupying an area of 36,000 square meters, Butterfly Spring Park is the largest live butterfly garden ...
More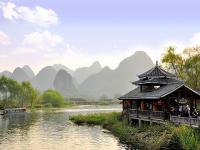 Shangri-La means the ideal living place in Chinese, equaling to the Elysium or heaven in the West. Shangri-la is a dream place for many people. While you can find a real Shangri-la is not far from Guilin. Shangri-La Park, also named Shi Wai Tao Yuan, is located not far away Yan ...
More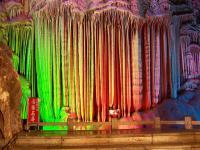 Located in the southeast of Yangshuo, Silver Cave is a karst cave running through 12 mountains with a 2,000-meters-long roundabout course. Various stalactites developed in different geologic ages in Silver Cave constitute awe-inspiring scenery. Being a real fairyland, Silver Ca ...
More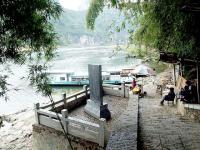 The town of Xingping, lying by the east bank of Li River, is an old town with a history of over 1,300 years. It is also a place which epitomizes the creams of scenes along the Li River. Xingping is well-known for its still waters, grotesque peaks, steep cliffs, and fantastic la ...
More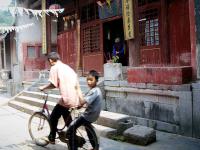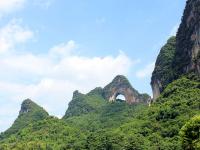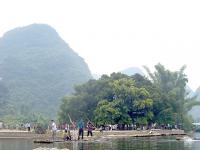 The 1,400-odd-year-old Banyan Tree located only 7 kilometers south of the Yangshuo County is a place that epitomizes the best of pastoral scenes of Yangshuo. Its branches spread out in all directions, and its roots twisting crisscross, and the tree takes six men to encircle its ...
More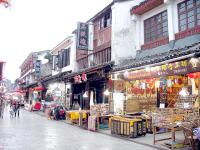 West Street (Xi Jie), situated in the town center of Yangshuo, was built during the Sui Dynasty around 590 AD. Though having experienced much wind and rain, it is well reserved and each year, approximately 100,000 foreigners come here to travel or attend advanced studies. Many ...
More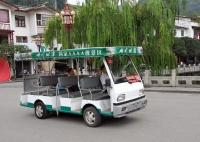 Yangshuo has beautiful and peaceful farmland and it is always one of the best places to enjoy both the unique shaped limestone hills and Chinese agriculture. It is also a good place to go close to Chinese farmers and know real China. However, the countryside dirt roads are narr ...
More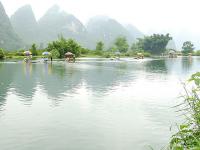 Yulong River, 43.5 kilometers long and 1 to 3 meters deep, is a branch of Li River and the second largest river in Yangshuo, Guilin. It originates from Linggui County of Guilin and flows through more than 30 different villages to the south to Yangshuo. It empties itself into th ...
More
Top Attractions in Guilin