Yulong River, 43.5 kilometers long and 1 to 3 meters deep, is a branch of Li River and the second largest river in Yangshuo, Guilin. It originates from Linggui County of Guilin and flows through more than 30 different villages to the south to Yangshuo. It empties itself into the Li River in Yangshuo. The water of Yulong River is always clear and flowing slowly. Thousand of unique shaped limestone hills and rice paddy fields are standing and can be seen along the whole river. Tourist boats can not be sailing on this river as many dams have been built in this river for the irrigation purpose. So the best way to visit this river is trekking, biking or bamboo rafting.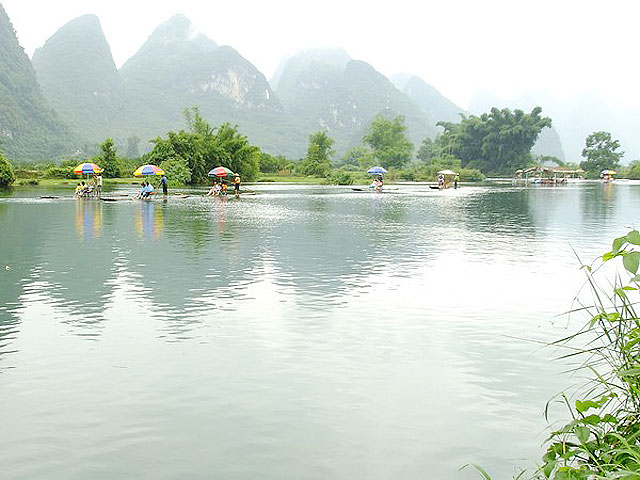 This river used to be unknown a couple of years ago, the fisherman along this river just used their own bamboo rafts for the fishing. But some of them found bamboo rafting on this river was a good way for the tourists to explore the beauty of Yangshuo and feel relaxed. Then more and more tourists do biking along this river and bamboo rafting on this river in recent years as this place is regarded as a good place to escape from the bustling cities. So Yulong River is a tourist must in Yangshuo now.
The bamboo rafting is a kind of leisure rafting, the water is flowing quite slowly, and some rafts have a big umbrella ready for a sudden rain and keeping the passengers in the shade in summer. You can easily get a peaceful and quiet mood when you are sitting on the bamboo rafts and enjoying the picturesque scenery.

Top Attractions in Guilin