The hill on the bank of the Li River, including the Yuyue Hill, the Siwang Hill, Crane Peak and Bright Moon Peak. In the past there were many osmanthus trees on the hill, so the hill was once called Osmanthus Hill. On the half way up is a cave called Wind Cave because wind blows in it all year round. The Wind Cave looks like a bottle gourd, wide at the two sides and narrow in the middle. The Wind Cave runs from north to south. A cool breeze blows here it in all seasons. It features 90 Buddha images of the Tang and Song dynasties, as well as dozens of ancient stone carvings. Along the narrow stone path up you will then find the Face-the-Cloud Pavilion and Over-the-River Pavilion, which provide well stops for the arduous journey up to the top of the Bright Moon Peak. The Bright Moon Peak is the summit of the hill, where the Catch-the-Cloud Pavilion stands. Standing on the pavilion, visitors can get finest views of Guilin.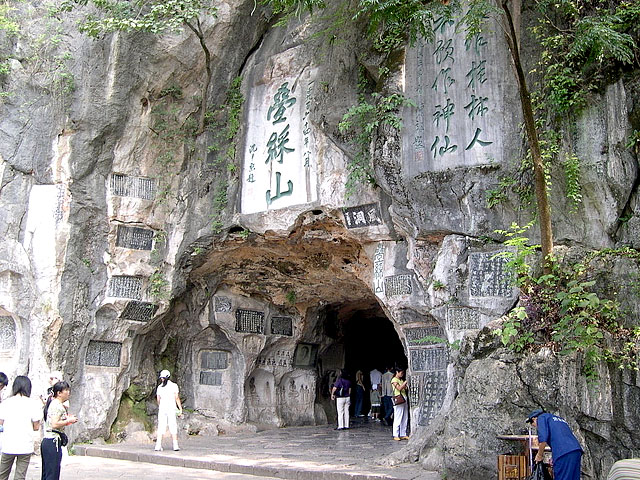 The main attractions in Folded Brocade hill include the Folded Brocade Pavilion, the Yuyue Pavilion, the Chengren Tablet of Masters Qu and Zhang, the Yangzhi Hall, the Wind Cave, the Brocade Building, the Wangjiang Pavilion and the Nayun Pavilion.
Admission fee: RMB 35 p/p;

Opening hours:
06:00 - 18:30 (April 1 - November 30);
07:00 - 18:00 (December 1 - March 31);

How to get there:
1. Take public bus No. 2, or 1, and get off at the bus stop of Diecaishan (叠彩山站).
2. Public buses No. 1, 18, 51(free), 99, 100, 203 and 1 will take you to the bus stop of Dongzhen Road (东镇路站) near the hill.
(Buses 51 is free, but the departure interval is very long).

Top Attractions in Guilin