On the western bank of the Li River, just 2km from Elephant Trunk Hill, Fubo Hill (Wave-Subduing Hill) stands in solitary loftiness with a thrusting peak. It got the name from the fact that the peak descends into the river, blocking the waves, and from a historical hero called General Fubo in Han Dynasty. The hill reaches the height of 213 meters and emerges 62 meters above the water. Standing on the hilltop, visitors can enjoy a bird's eye view of scenic Guilin city.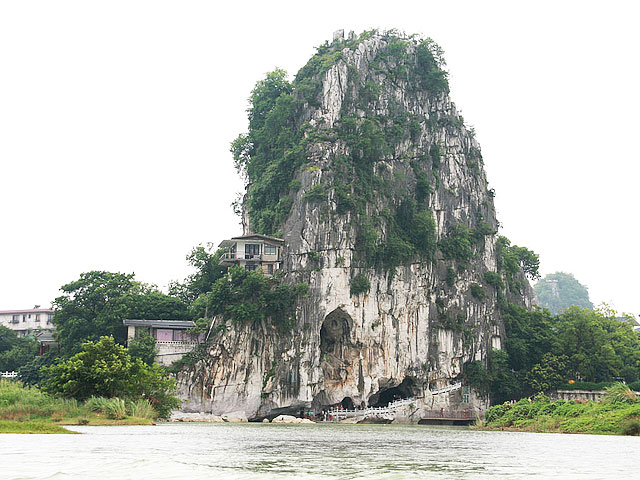 At the foot of the hill is Returned Pearl Cave, which takes its name from a local legend. The story goes that the cave was illuminated by a single pearl and inhabited by a dragon; one day a fisherman stole the pearl, but he was overcome by shame and returned it. Inside the Cave, a rock named Sword-Testing Rock hangs from the ceiling, nearly touching the ground. Surprisingly, it actually hangs at a distance of 1.3 inch above the ground. General Fubo is said to have tested his sword by cutting, which gives its present shape. Besides, more than 100 carved inscriptions of different dynasties were engraved on the cave wall.
Connecting with the Pearl-Returning Cave, Thousand Buddha Cave opens outside and overlooks the Li River. It boasts as many as 239 Buddhist statues, made in the late period of Tang Dynasty, and mural paintings from the Song Dynasty (960-1279).
Stone stairs wind up towards the hilltop on the western slope of the hill. Beside the steps is a huge cast-iron bell weighting 2.5 tons and an enormous cooking pot - Thousand People Pot, which is said to cook meals for over 1,000 people. On the eastern slope of the Hill, there are Fubo Teahouse, Waterside Corridor and Wave Hearing Pavilion.
Admission fee: RMB 30 p/p;

Opening hours:
06:00 - 18:00 (April 1 - November 30);
06:00 - 18:30 (December 1 - March 31);

How to get there:
1. Public buses No. 2, and 1 will take you to the bus stop of Fubo Shan (伏波山站) near the hill.

Top Attractions in Guilin