Located at north bank of Li River in Guilin City, Yu Hill Park features wonderful hill, deep and quiet cave, beautiful garden and divine temple. Its name derives from Yu Hill and the Emperor Yu Temple within. The park is the resource of Guilin scenery and the cradle of Guilin's history and culture.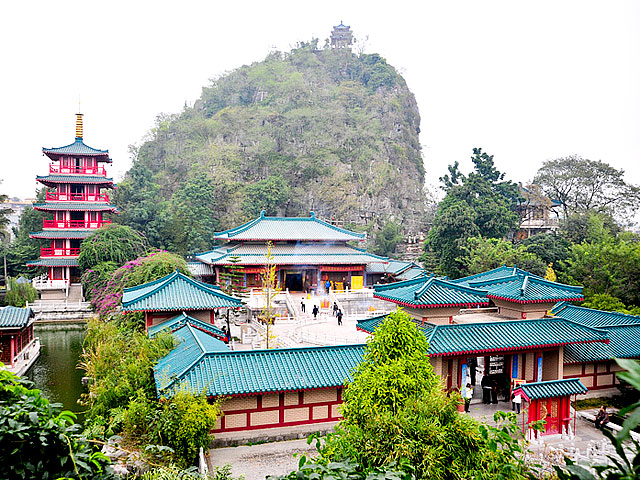 Yu Hill, with its towering crags and dense forests, is rather peaceful and secluded. There are totally 65 ancient carvings, among which, a carving of Goddess of Mercy with a history of 1,400 years is the most famous one. At its western foot, Shaoyin cave goes from north to south. When breeze runs through the cave, it makes a sound just like sweet music.
The delicate Yu Hill park is built around Yu Hill, with traditional and modern construction features. The north of the park stands springs, waterfalls, grasslands, and flowers, full of modern flavor. In the south of the Yu Hill Park, the Emperor Yu Temple has been rebuilt and is very imposing. Legend has it that the people of Qin dynasty set up the temple to commemorate the visit of emperor Yu. Being the earliest temple of Guilin, it has been regarded as a place of perfect happiness. Five Blessings Tower, which is named from the traditional auspicious words "Five blessings come to one's house", is bright and brilliant. Also, there are other scenic spots await you to discover their charms.
Admission fee: RMB 32 p/p;

Opening hours: 07:30 - 18:00;

How to get there:
Public buses No. 1, 2, 15, 18, 99, and 100 will take you to the bus stop of Beiji Square (北极广场站) near the park.

Top Attractions in Guilin