Crown Cave is located in Caoping Town, Guilin. And it's about 29 km (18 miles) south of Guilin. Due to the crown-shaped hill, the cave beneath was given the name Crown Cave.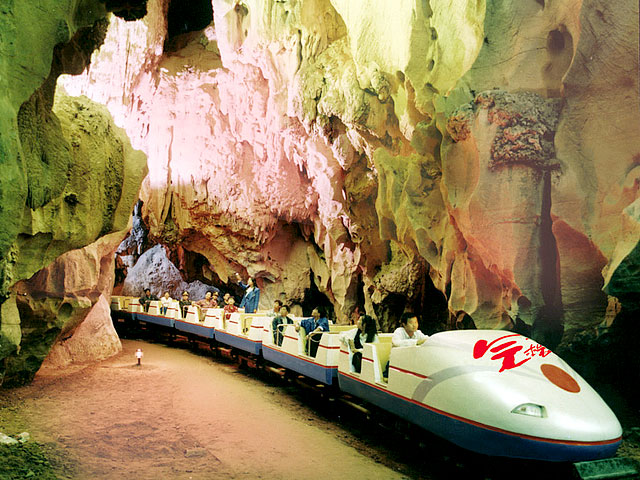 The overall length of Crown Cave is 12 km (7.5 miles). The 3 km (nearly 1.9 miles) near Li River has been developed and opened to the public. It is unique in ways of sight-seeing. Visitors can reach the mountainside by light rail and descend into the cave by elevator. There are altogether five caves connected together. The stalactites, stalagmites and stone pillars inside will capture all the visitors' imagination. Then visitors can take the light rail to Palm Hall. The tallest palm-like stone pillar among the four in the hall is taller than 50 meters, reaching the ceiling of the cave. Visitors can also take a small boat to explore the underground river there. This is a cave with all means of exploration including boating, hiking, taking light rail and elevator.

Crown Cave was listed in the Guinness World Records as a cave with the most ways of traveling inside.
Admission fee: RMB 80 p/p;

Opening hours: 08:30 - 17:30;

How to get there:
Take a direct bus from Guilin Bus Station to Crown Cave, with an interval of every 20 minutes. Earliest bus from Guilin at 07:30am; Last bus leaving Crown Cave at 18:30.

Top Attractions in Guilin