The 1,400-odd-year-old Banyan Tree located only 7 kilometers south of the Yangshuo County is a place that epitomizes the best of pastoral scenes of Yangshuo. Its branches spread out in all directions, and its roots twisting crisscross, and the tree takes six men to encircle its trunk with their arms stretched out.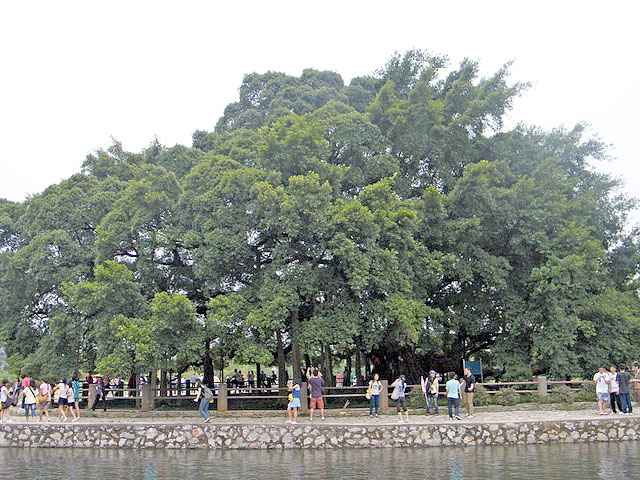 This centuries-old tree is 17 meters high and 7 meters around the trunk, and covers an area of 1,000 square kilometers. When we look closely we see that it has beautifully twisted roots and gnarled branches. Its crown is round with an exuberant growth of branches and leaves. It is as said a place where the famous legendary singer the 3rd Sister Liu pledged her love to a young man by the name of Aniu. Many scenes and pictures in the film of "The Third Sister Liu" which once prevailed in China and Southeast Asian countries were shot from here.
There is an ancient ferry crossing under the tree called "Rongyin Gudu (Aged Ferry under the Shade of the Aged Banyan)". Besides, to the south across the river there is the Moon Hill. The true village life under the hill makes you free from the hustle and bustle of metropolis.
Admission fee: RMB 20 p/p;
Opening hours: 08:30 - 17:30;
Location: in the middle of "Ten Miles Gallery", 7 km south of downtown Yangshuo;
How to get there:
1. There are regular buses operating from Yangshuo Bus Station to Gaotian Village every 10 minutes; and passengers can have a stopover at the Ancient Banyan Tree Park.
2. A bicycle path counstructed by the local government will lead travelers to the park; and it takes about half an hour.

Top Attractions in Guilin