Yangshuo Moon Hill, located 8.5 kilometers south of Yangshuo downtown, is one of the tourist musts in Yangshuo. Moon Hill has a limestone pinnacle with a natural moon-shaped hole penetrating the hill, hence the name of Moon Hill.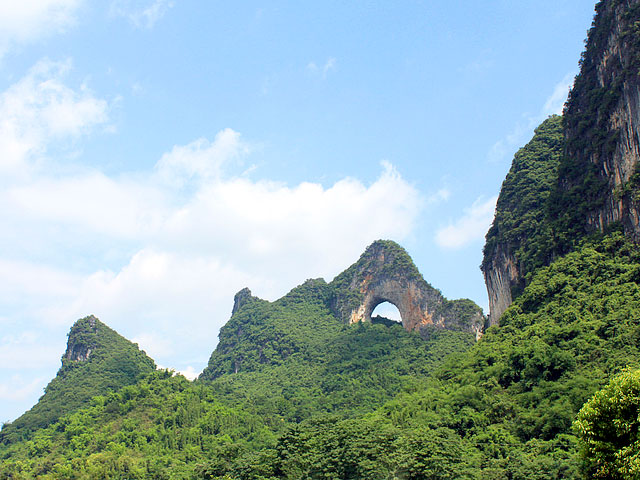 Moon Hill is about 380 meters above sea level and the ascent is about 230 meters with more than 800 flag stone steps leading to the top of the hill. And the natural moon-shaped hole is 50 meters in height and width, the hole itself is a wonderful place for rock climbing sport, sometimes rock climbing lovers can be seen and doing rock climbing here. When the weather is good and clear, it is quite worthwhile to go to the top where the natural moon-shaped hole is for a great bird's eye view of the beautiful Yangshuo farmland; but on rainy days, the steps are quite slippery.

As one of the most famous scenic sites in Yangshuo, the Moon Hill attracts many tourists coming. But it is important to know that some of the local farmers are always waiting at the foot of the hill, and follow tourists to the top and try to give some assistance when they are going up, those local farmers do not expect any tips but they would like to sell some cold water, soft drinks or postcards when tourists get to the top of the hill. If you accept their assistance while climbing, you will be expected to buy something from them when you get to the top or come back to the foot again.
Admission fee:
RMB 15 p/p;
Opening hours:
07:00- 18:30;
Location:
1 km southwest of the Big Banyan Tree; 2.5 km southwest of Butterfly Spring; and 8 km south of Yangshuo;
How to get there:
1. Bus from Yangshuo Bus Station to Gaotian village make a stopover at Moon Hill. You can get on the bus and tell the driver your destination, then the bus will drop you off there.
2. It takes about an hour for bike riding to reach Moon Hill from Yangshuo downtown.
Top Attractions in Guilin