Located in the southeast of Yangshuo, Silver Cave is a karst cave running through 12 mountains with a 2,000-meters-long roundabout course. Various stalactites developed in different geologic ages in Silver Cave constitute awe-inspiring scenery.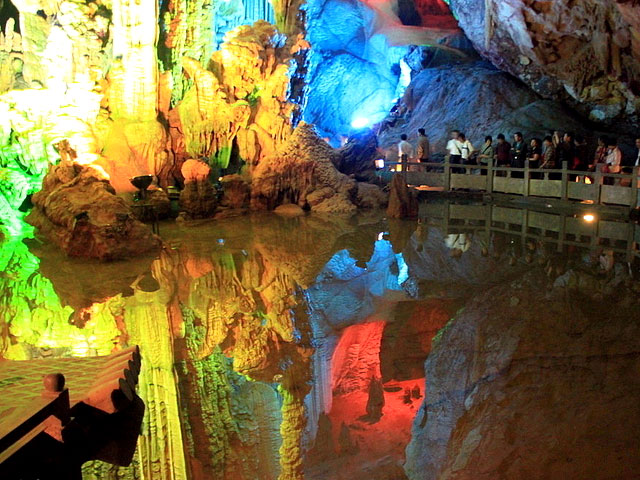 Being a real fairyland, Silver Cave is a place where you will be greatly impressed by its high hollow sky, deep Underground River, impending waterfall and dense stalagmite. Walking inside the silver cave, you will exclaim how nature can be so powerful to make such magnificent sights. Silver top of the cave makes you feel in a in a beautiful world of ice, snow and frost. When you walked across the stone cliffs, you will understand why it is called silver cave as they are shiny like silver. Inside the cave, each scenic spot will make you feel what is called lifelike and vivid.
Currently, about 2 kilometers of the cave has been presented to tourists, which is divided into three parts: the upper cave, the grand hall, and the lower cave. The most famous among all the spots in the cave include the "Three Unique": "Musical Stone Screen", the "Deep Moon Palace" and the "Waterfall on the Snow Mountain"; and the "Three Treasures", "Buddha Expounding Classics", the "Solitary Pillar Propping up the Sky" and the "Pearl-decorated Umbrella". All the rocks in Silver Cave contain mineral crystal. When lighting illuminates the rocks, they reflect a silvery sheen and glint like silver. Hence the cave is turned into a splendid underground palace by these star-spangled stalactites. The stalactites in the cave can be divided into four types according to their ages: the old, the middle-aged, the young, and the infantile.
Admission fee: RMB 90 p/p;

Opening hours: 08:30- 17:30;

Location: Silver Cave is in Lipu County, 85 kilometers to the south of Guilin.

How to get there:
1. Take a direct bus from Guilin Bus Station to Silver (7:00 - 18:30), for 2-hour drive.
2. There are regular buses operating (8:30 - 16:30) from Yangshuo to Silver Cave.


Top Attractions in Guilin