As a local which brings together both a unique landscape and a rural setting, Butterfly Spring Park is located in the best traveling place of Moon Hill Scenic Area in Yangshuo. Occupying an area of 36,000 square meters, Butterfly Spring Park is the largest live butterfly garden in China.
Due to a butterfly-like stalactite found in a grotto of this beautiful park, the name Butterfly Springs was therefore given. Once entering the park, you can see a huge Monarch Butterfly model mounting on a cliff beside the gate. The model looks so vivid that people may think the butterfly is waving its wings to welcome visitors. On both sides of the butterfly, the cliffs are the rock-climbing base. You can watch the show of rock-climbing, or you also can experience for yourself.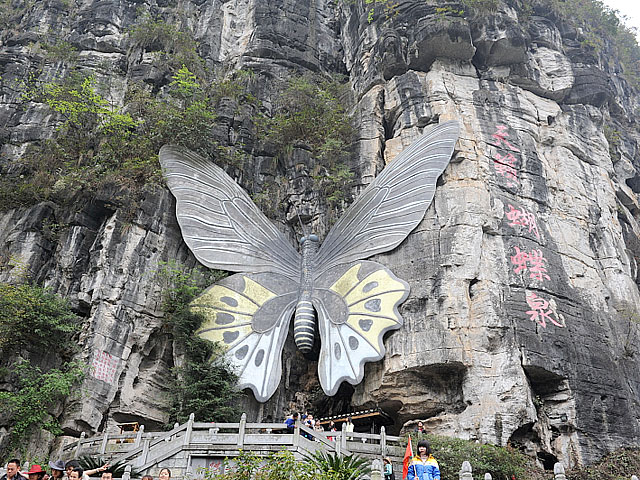 In Butterfly Spring Park, there is a 400-meter-long butterfly cave. Entering the cave, you can see stalactites which are like butterfly. They are in different shapes, vivid and lively. The most unique one is that there is a piece of stalactite is the very image of the couple of butterfly. It seems like that the two butterflies are whispering to each other. Other than that, there is a natural spring under the butterfly rock. Spring water oozes from the sandy layer in the rock every day and forms a pool. This is named the Butterfly Spring. Going through the cave, you can appreciate the waterfalls, which is up to over 40 meters high. The waterfall is famous for its comeliness, and is regarded as the dragon vein. Not far away from the waterfall, there is the aboriginal hanging bridge, it threatening but not dangerous. The whole bridge is more than 50 meters long and 30 meters high above the ground.
In addition, you can see millions of butterflies living and getting along with people harmoniously in Die Yuan, which is a well-marked garden for viewing butterflies in the park. You also can see thousands of specimens of about 300 butterfly varieties displaying on the Butterfly Exhibition Hall.
Top Attractions in Guilin