Hundred Families Banquet, also known as 100 Banquet,"folded rice", "long table dinner", is a big event for Dong nationality as they regard it as a time for family reunions, and they discuss family affairs, ask for blessings from Gods and pray for long-term peace. In 2007, the "Hundred Families Banquet" was list as a UNESCO Intangible Cultural Heritage.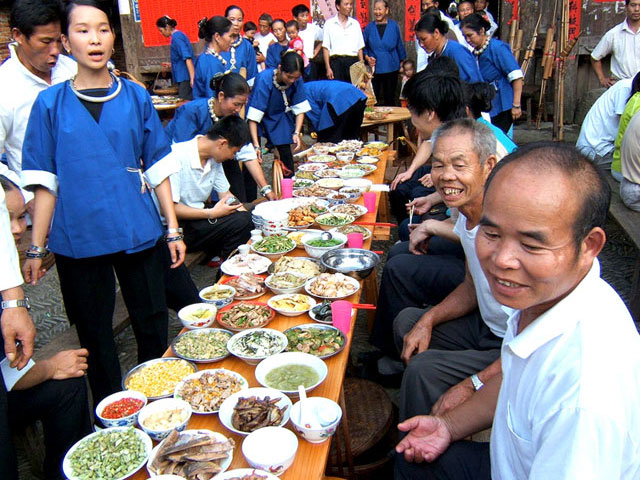 Hundred Families Banquet in Sanjiang Dong Autonomous County is the most spectacular large-scale Square "100 feast" (Banquet 100) activities at the history of the Dong areas. This activity has been circulating in Sanjiang County several centuries of history. It is prepared by one hundred Dong's families, each family cook some dishes and then, put their dishes on tables which are set on the outdoor square to entertain diners. The Hundred Families Banquet shows to guests that hospitality is the Dong people's respect for the guests and entertain guests the most courteous reception. In the Dongxiang area, there is a famous saying "eat 100 meals together 100 heart, flooding hundreds of evil, into a 100-like thing."
Before the banquet, "Dou Ye" ethnic group performance is held by Dong-young man and woman. They blow Lusheng, sing Dongzu dage, Dong nationality dance for the guests. At the end of the meal, diners will experience a toasting process from the locals. With the development of tourism, a more profound sense implies the unity and friendship, sincerity and joy has been integrated in the Hundred Families Banquet and gradually evolved into the present necessary for hospitality during the major festivals or important guests came to visit the ceremony.
Top Attractions in Guilin